Eat at Bucks
Eat at Bucks:
For 30 years, Bucks Restaurant set the standard for curbside and fine dining in Asheville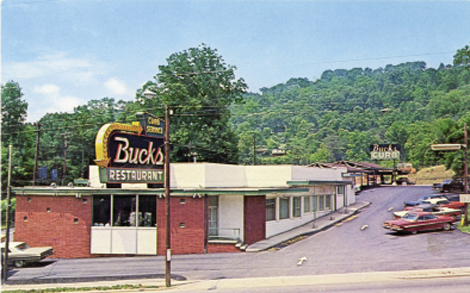 It's easy to forget that Asheville wasn't always a culinary mecca—and that there was a place like Bucks that paved the way for the city's vibrant dining scene.
An oasis on a stretch of Tunnel Road that was then nearly barren, Bucks was one of the town's earliest dining landmarks. Founded by John "Buck" Buchanan in 1946, Bucks started as a drive-in. A few years later, the establishment ramped up its curb service: One hundred carloads of hungry denizens could park there at a time, placing orders and noshing without leaving their vehicles.
The business grew until it spanned six acres and six dining rooms, including the upscale Red Carpet Room, a lavish lounge packed with leather chairs and featuring the suave sounds of an electric organ. During its heyday in the mid-1960s, Bucks had nearly 150 employees. One of the chefs reported that, on busy days, she prepared as many as 800 salads.
There was always plenty of casual fare, but Bucks also gained fame for its steaks and seafood, becoming a go-to spot for visiting celebrities, including the likes of boxing champs Joe Louis and Jack Dempsey, and actresses Mary Pickford and Grace Kelly. Buchanan's favorite regular, he explained after retiring, was longtime Asheville City Manager Weldon Weir, who served from 1950 to 1968 and finessed many a municipal dispute over lunches at a corner table.
In 1976, Buchanan sold the restaurant, and Bucks was no more. Today, an Applebee's and other national chains occupy the location. When the restaurateur passed away in 1995, an obituary in the Asheville Citizen-Times paid a fitting tribute: "Bucks was THE eating place for movie stars and mechanics, businessmen and politicians, civic clubs and sweethearts. It hosted 'power lunches' before anyone heard the phrase and became an institution."