Do the Fondue
Do the Fondue:
Party like it's 1965 with a fresh take on a retro recipe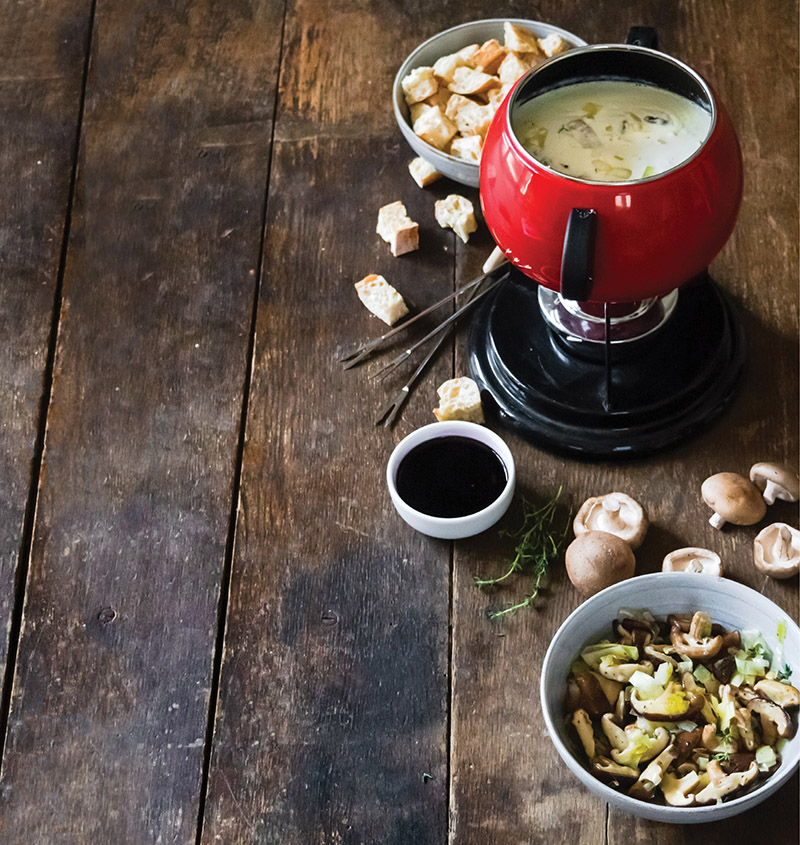 It's said that everything old is new again, and this is true for fondue. The traditional Swiss dish of gooey melted cheese used for dipping bread, fruits, veggies, and meats had its heyday in the '60s and '70s and is experiencing a renaissance, popping up on area menus, including the one at Blowing Rock's Gideon Ridge Inn. Executive Chef Hunter Womble isn't surprised by its resurgence. Besides being relatively easy and customizable, he says, "fondue is such a fun, social kind of experience. It brings everyone together." Dust off your fondue pot or grab a saucepan, because here, Womble shares his recipe for "creamy, earthy, salty, and sweet" fondue with red wine reduction that's perfect for the communal spirit of the season. 
Brie Fondue with Wild Mushrooms 
(Serves 8-10)
16 oz. triple cream Brie, diced
2 oz. Gruyère, grated
2 oz. Parmesan, grated
4 cups heavy cream
4 garlic cloves, minced
2 medium leeks, chopped
Salt & pepper, to taste
2 Tbsp. olive oil
24 oz. wild mushrooms, sliced (such as beech, oyster, or maitake)
2 oz. unsalted butter
Minced fresh herbs, to taste (parsley, chives, or thyme recommended)
1 baguette, chopped into cubes & toasted
Red wine reduction
Place cheeses and heavy cream into a traditional fondue or heavy-bottom pot. Add three-quarters of the garlic and half of the leeks. Bring to boil, continuously stirring and cooking until cheese is fully melted, about eight to 10 minutes. Pour mixture into a blender and purée until smooth. The longer you blend, the thicker the fondue will get. Return to pot to keep warm for serving. Add salt and pepper to taste.
Heat olive oil in a large pan and add mushrooms and the remaining garlic and leeks. Cook on medium-high until mushrooms are soft, about five minutes. Add butter and herbs. Once butter is melted, stir to incorporate and add salt and pepper to taste.
To serve, use fondue forks to dip bread, mushrooms, and whatever else you choose into the fondue. Serve alongside red wine reduction for dipping.
Red Wine Reduction
Pour a bottle of red wine of your choice into a saucepan. Add one cup of granulated sugar. Heat over medium-high, stirring to combine, until mixture is thick and syrupy, about 30 minutes.
------
Gideon Ridge Inn
202 Gideon Ridge Rd.,
Blowing Rock
(828) 295-3644
gideonridge.com