The Digital Dirt
The Digital Dirt:
Organic Growers School digs into online instruction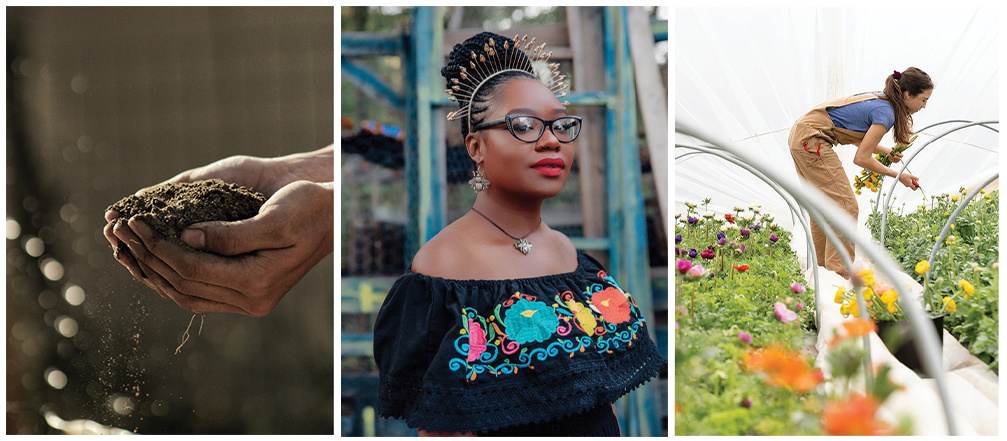 Samantha Foxx, owner of Mother's Family Farm in Winston-Salem (pictured above middle)
After 28 years of teaching laypeople how to farm and garden, you'd think that the Asheville-based Organic Growers School would have seen it all. But the pandemic has found these veteran educators supplementing their format with digital, remote platforms—a move that's had unexpected benefits. "It's provided an opportunity for more people to access the learning," says program director Nicole DelCogliano, noting that it has also expanded the diversity of both the student body and the teachers. For example, "most of our instructors in the Farm Beginnings course have been people of color, and ordinarily, we wouldn't be able to do that in Western North Carolina."
More varied and vibrant voices will also enliven the school's annual Spring Conference, taking place in mid March and also virtual this year. The 11 study tracks encompass more than 30 workshops, including cooking, farming, gardening, herbs, permaculture, sustainable living, and Cherokee foods, among others. Setting the vision for the event are three keynote speakers: K. Rashid Nuri, a local food and urban agriculture guru in Atlanta; Samantha Foxx, owner of Mother's Family Farm in Winston-Salem; and Eric Holt Giménez, a prominent agroecologist and former executive director of Food First.
The organizers emphasize that participants can register for the conference up until the day it begins and that there are several tiers of admission options. What's more, videos of the sessions will be available for three months following the conference, making continued and repeat learning a ready option. 
Spring Conference - March 13 to 21, 2021
For pricing, registration, and more information, visit organicgrowersschool.org or call (828) 214-7833.