Delicious Memories
Delicious Memories:
A new history shares the deep roots of Asheville's food scenes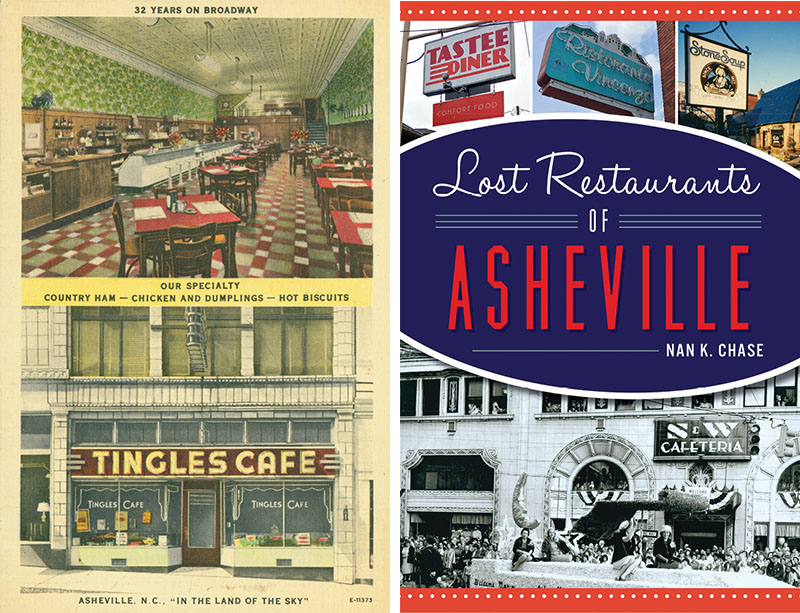 (Left) Tingle's Cafe; (Right) Lost Restaurants of Asheville (The History Press, 2019) by Nan K. Chase.
Today Asheville is known and marketed the country over as a bona fide Foodtopia, thanks in no small part to the wave of top chefs, brewers, growers, and others who have catapulted the city's reputation for good eats and drinks in the past 15 or so years. But Asheville's recipe for culinary success was born much further back, a revelation that jumps from the pages of the new book by regional historian Nan K. Chase, a frequent WNC magazine contributor.
Lost Restaurants of Asheville (The History Press, 2019) travels "from diners to fine dining" and covers an amazing range of eateries along the way, with many of them illustrated with archival photos, menus, and advertisements. Longtime Asheville residents and visitors will marvel at the level of detail and care Chase brought to this work, which will surely recast the city's food history to be both more expansive and inclusive.
Good Tastes - Chase fondly recalls such Asheville mainstays as the worker-owned Stone Soup (above) and Buck's drive-in (bottom).
There are the standout establishments—from the worker-owned, farm-to-table eatery Stone Soup to the venerable Biltmore Village greasy spoon Hot Shot Cafe to early elegant restaurants like Chez Paul—and lots of lesser known ones that were vibrant destinations for both sustenance and community, including mainstays for both blue collar white folks and oft-marginalized black ones. In all, Chase catalogues the rise and fall of 32 restaurants, each one of them adding something special to a veritable smorgasbord of local memories.