A Cut Above
A Cut Above:
Find fresh, quality meats, plus grilling tips, at local butcher shops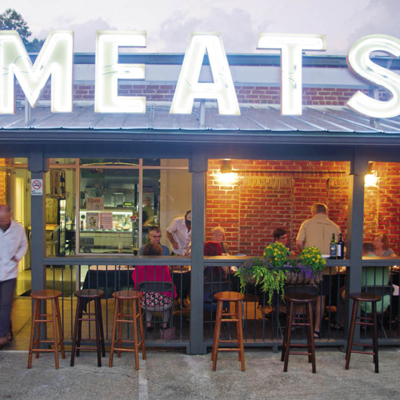 Mild WNC summers make us want to take everything outside, including the kitchen. On the grill, meats and veggies cook quickly with just the right combination of crisp and juicy textures, and the smoker—which you can pretty much fire up and forget—produces tender, flavorful results.
To find an optimal cut for your warm-weather meals, visit a local butcher shop. WNC's small farms mean you can buy fresh, quality meat from a butcher who can explain just how to cook it.
"Typically, there's a lot of conversation when a customer comes in," says Lauren Lightfoot of Rose Mountain Butcher Shoppe in Lansing. "I talk to them about how our animals are raised, how they're slaughtered and butchered …. We can give them recipes and tips about how to handle meat and custom-cut roasts."
Lightfoot recommends asking what the animals are fed. The most flavorful cuts are raised on diverse diets. The pork in the shop comes from owner Ann Rose's farm, where the hogs feast on acorns and pumpkin.
At one of the regions' oldest butcher shops, Nantahala Meats in Franklin, which opened in 1952, owner Bud Talley says customers are gaining confidence with new cuts. He's noticed an increase in demand for beef brisket over the last decade. "People are taking briskets and making beef barbecue out of that," he says. "Most people put them in the smoker, and it's a long process—12 or 14 hours of cooking—and it's a very tender cut of meat. It just falls to pieces."
Casey McKissick of Foothills Deli & Butchery in Black Mountain and Asheville agrees with the merits of this technique. He calls lean cuts like brisket and pork shoulder "more time, more adventure" and recommends cooking them at a low temperature for an extended time.
For the grill, McKissick suggests sausage. Foothills offers a variety of smoked links. High heat is crucial for this and other grilled meats such as pork chops, rib eyes, and New York strips, he says.
Butcher shops are becoming a popular choice for meat lovers in this region. Foothills opened a second location in Asheville in March, and McKissick says the business plans to expand further, as more home cooks catch on to the benefits of the butcher shop.     
 
---
Where to Shop
 
The Chop Shop Butchery
100 Charlotte St., Asheville
(828) 505-3777
www.chopshopbutchery.com
Foothills Deli & Butchery
1196B Old U.S. 70, Black Mountain (828) 669-8200
195 Hilliard Ave., Asheville
(828) 254-2367
www.foothillslocalmeats.com
Nantahala Meats
211 W. Palmer St., Franklin
(828) 524-2138
www.nantahalameats.net
 
Rose Mountain Butcher Shoppe
136 S. Big Horse Creek Rd., Lansing
(336) 384-1702
www.rosemountainbutchershoppe.com