Cultura
Cultura:
Restaurant Review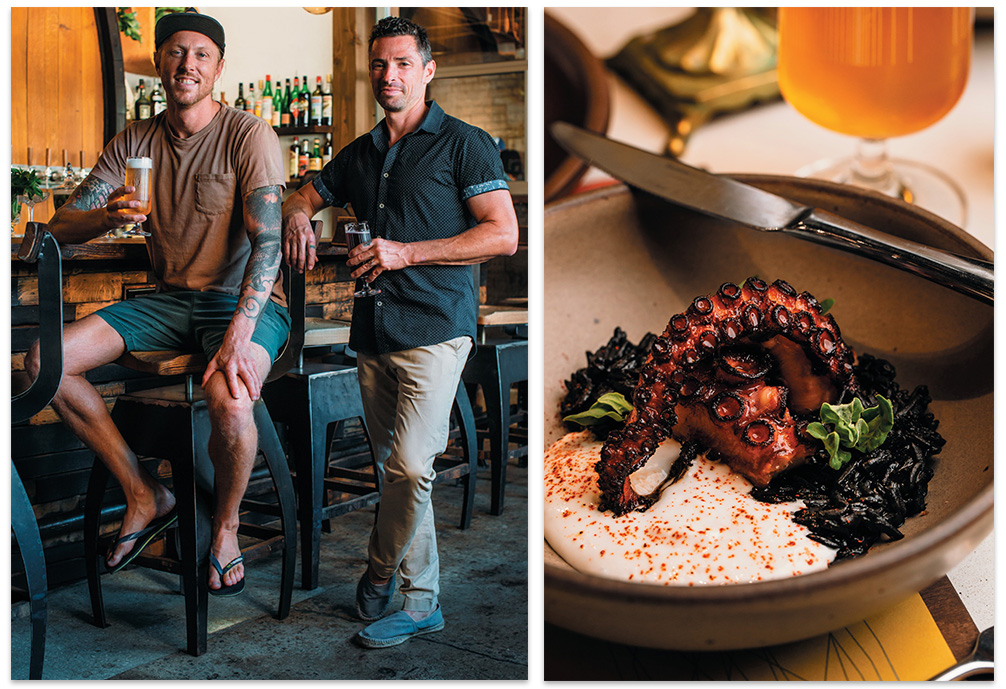 (Left) Wicked Weed cofounder Walt Dickinson (left) with Jacob Sessoms; (Right) Octopus on inked rice small plate
The holidays cry for excess. And at Cultura, the au courant restaurant adjacent to Wicked Weed's Funkatorium in Asheville's South Slope district, grandiose moments abound.
You know you've arrived at a spot to celebrate special occasions and spectacle when the menu boasts sections titled The Bacchanal and Feasts. A collaboration between James Beard-nominated Jacob Sessoms of well-loved Table (also Imperial Life and All Day Darling) and Wicked Weed Brewery, Cultura is about both style and substance. Every dish on the menu is built around one component (however minor) that is cultured through a process that parallels beverage fermentation.
Sessoms points to the sourdough bread that is risen with yeast from the brewery. The butter served with it uses the ambient lactobacillus as a natural culture. As creative director, Sessoms works with Chef de Cuisine Ben Hester to create a bounty of new experiences.
The restaurant's three distinct seating areas all feel somewhat theatrical. First, there's the cozy bar area with a backdrop of enormous barrels (aka foeders), from which taps pour an array of beers, including both Wicked Weed's standard brews and the Funkatorium's notorious sour beers. Mixologists sporting bespoke canvas and leather aprons create elegant fruit-forward cocktails, some with notes of smoke and spice. Most embrace seasonal flavors with muddled citrus fruits, rums, whiskeys, or sweet-bitter notes of amaros. A litany of natural and estate wines compose the remainder of the beverage menu.
Edible Extravaganza - From the octopus on inked rice small plate (at top) to the Charleston No. Six seafood feast (above left), the fare is ideal for sharing. The Slight of Hand cocktail (above right), changes color when a lemon elixir is added to the gin-based concoction.
In the otherwise cavernous hall, massive half-barrels yawn over the only two booths (cozy seating for four to six people). Smaller tables that can be moved together for larger parties compose the main dining area, while textured globe lights provide subdued illumination. Abstracts by Jeremy Russell currently brighten a dark wall, and Sara Mulvey's haunting collodion wet plate photographs peer from another. Succulents and other trailing flora burst forth from niches and planters, while samples of the stately East Fork Pottery dishware (that's also used for service) preen like sculpture on ledges.
The dramatic setting portends an extraordinary experience. From the moment the aproned server places a delicate amuse bouche before the diner, it's on. Choose from the à la carte menu, and your server will be your guide, concisely explaining each part of the dish and then they're off to bring more.
On my first visit, we sample an array of small bites, all beautiful in their plating and formidable in flavor—octopus on inked rice is unctuous and fresh at the same time with a lashing of cultured coconut cream and citrus. Soft-as-clouds ricotta gnudi atop chopped Swiss chard, accented with a delicate sauce and micro basil leaves, make us wish for 10 more rather than just the two. The venison loin entrée, with corn, hominy, and corn mushroom (huitlacoche), introduces the flavor of the forest in a perfectly sized portion.
All dishes have either an overt or an underlying note of fermentation, which Sessoms explains is inherent in the nature of Cultura's menu. "The processes and living cultures that we have relied upon throughout history to preserve foods directly mirror that of fermented beverages," Sessoms notes. "Cultura uses the cultures (bacterias & yeasts) that define Wicked Weed's beer in new ways."
Hoping to explore this concept further, we promise to try the Lobster crudo, with black sesame, Tokyo turnip, and seaweeds next time. For this dish, the restaurant makes a lobster chile salt by dehydrating roasted lobster shells and fermented sweet and hot chiles, grinding and then blending them with kosher salt. It's touches like these that elevate Cultura to more than just pageantry.
On a second visit, my guest and I decide to go for the gusto—we'll do the Feast! We're tempted by the grandiosity of the Charleston No. Six platter, a massive upended King crab, soft-shell-crab, crab-stuffed flounder surrounded by golden rice and dipping sauces. For the other Feast options (there are six total), adorable buckets of fried chicken and smoked duck pop out of the kitchen throughout the evening. The Racks on Racks are wrapped and bound spare ribs served on a wooden butcher board. Wilted greens, charred root vegetables, and a unique strawberry sauce add to the rustic adventure of this dish.

Refined Taste - In the bar area, brews on tap from Wicked Weed and The Funkatorium are dispensed from large foeder barrels. Craft cocktails and wines are also on offer. Right, olive oil cake, hazelnuts, chocolate ganache, and sourdough ice cream comprise the "Nutella toast."
We decide on the Country Club, a surf and turf in the form of steak and lobster. Our medium rib eye, sliced for us but with the bone still thick with meat, lies on one side of a silver platter, dotted with savory sautéed chanterelles, a lobster on the other side, and twice-baked potatoes in the middle. A sprinkling of seared baby bok choy and dressed greens is scattered around as well. Our server encourages us to use the house-made dipping sauces, including the lobster accompaniment sauce called "yum yum," which it is, but it overpowers the sweet, delicate lobster that cools surprisingly quickly. We leave the sauces barely touched, mainly because these staples are quite satisfying in their delicious simplicity.
Desserts range from the dense passion fruit and chocolate bombe to a light and lovely "Nutella toast," which is actually a deconstructed plate of olive oil cake sprinkled with toasted hazelnuts and chocolate ganache that should be packaged and sold by the pint, all topped with a dollop of tangy sourdough ice cream. Spun sugar puffs presented with the bill let the sweetness of the experience linger longer—plus it's fun to watch adults eat cotton candy (sprinkled with grapefruit essence and CBD powder).
With Cultura being so seasonal, many of the à la carte dishes our party enjoyed will transition to feature other ingredients once truly cold weather rolls around. Come spring, look for vernal dishes reflecting what's budding then. For now, enjoy the feast.
The Draw: New-agrarian cuisine that is seasonal, creative, and over-the-top in a celebratory atmosphere
The Drawback: If the dining room is at capacity, the cacophony can be too loud for conversation.
Don't miss: The Feasts—enjoy the wow factor and the rustic cuisine with accents of brilliance.
Cultura
147 Coxe Ave., Asheville
(828) 417-6970
wickedweedbrewing/location/cultura