Crystal Clear
Crystal Clear:
The Southern Outer Banks beckon with pristine beaches, wild horses, and 300 years of swashbuckling lore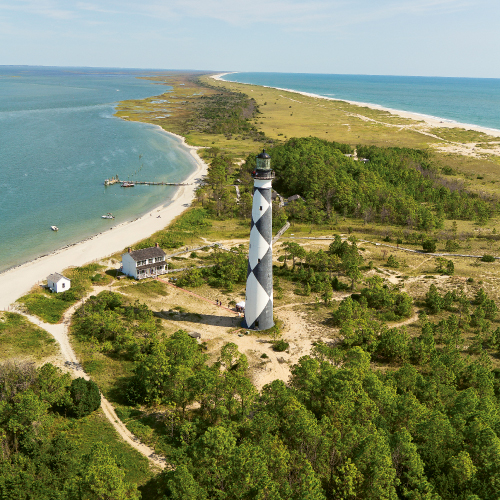 There's something about the Crystal Coast that stirs the imagination, even inspiring novelist Nicholas Sparks to set two of his best sellers here, in the historic port town of Beaufort (that's pronounced "Bo-furt" by North Carolinians). Stories unfold all along this 85-mile stretch of Southern Outer Banks coastline, framed by barrier islands and quaint maritime villages.
The iconic Cape Lookout lighthouse that watches over the Graveyard of the Atlantic bears witness to thousands of sunken ships, including Blackbeard's flagship, the Queen Anne's Revenge. Fort Macon gives testimony to the hard-fought defense of this land. And Shackleford Banks is a place where wild Spanish mustangs have roamed free for 400 years. Even charming Beaufort is steeped in 300 years of historic lore.
Today, the Crystal Coast is home to rugged individualists, generations of expert fishermen and boatbuilders, as well as chef-owned eateries that refuse to serve anything but the seafood caught that day from local waters. Commercialism doesn't dominate the place. And there has to be a good reason that one in three homes is owned by outlanders. Many who visit this part of the eastern seaboard want a piece of the simple, raw, and romantic way of life the Crystal Coast seems to breed.
From Western North Carolina, it's at least a five-hour drive to this southern coast. There are direct flights from Asheville to New Bern, though it's still an hour's drive to the beach. Either way, you'll want a car to enjoy this strand of pristine shoreline.
While a handful of small towns dot the Crystal Coast, make your home base in either Emerald Isle or Beaufort, which are a mere 23 miles apart. Emerald Isle offers uncrowded, white sand beaches and an endless array of vacation rentals (www.emeraldislerealty.com), while Beaufort allows for more of a timeless seafaring experience. A charming hamlet of white clapboard houses dating as far back as the late 1600s, Beaufort boasts a handful of historic B&Bs, an excellent maritime museum, and convenient ferry access to Cape Lookout National Seashore and Shackleford Banks. No matter where you unpack your bags, there's plenty to see and do all along the Crystal Coast.
SEE & DO
As you might imagine, there are many opportunities for fun in the sun on the Crystal Coast, including surfing, kayaking, or paddleboarding around rugged coastline and estuaries. You can take lessons from seasoned locals, book a tour, or rent equipment through Hotwax Surf Shop, located on Emerald Isle. It's $65 for two hours of surf instruction, and you'll be catching waves (or at least making a valiant effort) in no time. (252) 354-6466; www.hotwaxsurf.com.
There's more to do underneath the ocean surface: With more than 2,000 sunken ships, it's no surprise the Graveyard of the Atlantic is one of the top scuba diving destinations in the United States. From colorful sponges and corals to sand tiger sharks, each wreck is its own ecological microcosm. A plethora of operators offer chartered dive trips, gear rental, and certification courses. Take note: Many of the shipwreck dives require advanced experience, so do your homework. A good place to start is by browsing the operators at www.crystalcoastnc.org.
If swimming with the fish isn't your thing, you can still get a close look at our state's aquatic life at the North Carolina Aquarium at Pine Knoll Shores. River otters, sharks, a sea turtle nursery, stingrays you can pet, and loads of fish are on display in five galleries that span the mountains to the sea. Nimbus, an albino loggerhead turtle, lives here too. Big and little kids alike will have an educational ball in the hands-on Sea Turtle Rescue Hospital, an exhibit that teaches what it's like to work with distressed turtles. (252) 247-4003; www.ncaquariums.com.
A visit to Shackleford Banks, a narrow, nine-mile barrier island that's part of Cape Lookout National Seashore, is a chance to see wild Spanish mustangs, descendants of a core group that swam from sinking ships four centuries ago. The 100-plus horses are considered a heritage breed and are protected. Boat tours that circumnavigate the island offer the best chance for horse sightings, though for $10 to $15, you can catch a ferry from Beaufort and explore on your own. (Tip: It's easier to spot the horses at low tide.) www.shacklefordhorses.org
Another nearby attraction is the iconic Cape Lookout Lighthouse, which has warned ships of the dangerous coastal waters since 1859, and is accessible via ferry from Beaufort or Harker's Island. For $8 from May through September, you can climb the 188 spiraling steps to the top for spectacular views of the coast. Find ferry schedules and lighthouse hours by calling (252) 728-2250, or visit www.nps.gov.
Soak up more regional history by touring Fort Macon, built in 1826, after the War of 1812 proved how vulnerable American coasts were to attack. The state park, located on Atlantic Beach, hosts battle re-enactments, an education center, and concerts. While you can explore on your own, sign on for a free, guided tour to gain a greater appreciation for its history. (252) 726-3775; www.ncparks.gov
Whether you stay for a day or a week, the quaint fishing village of Beaufort should be at the top of any trip to the Crystal Coast. You can enjoy fresh seafood and drinks at a handful of waterfront restaurants, shop the boutiques along Front Street, or amble through the historic district of centuries-old white clapboard houses, many bearing plaques noting the date and family name of when the home was built. A fun way to get acquainted is to hop aboard the vintage 1967 double-decker bus for a history tour. Narrators spin legends and spout curious facts about places, including the graceful Old Burying Ground cemetery. www.beaufortnc.org, www.beauforthistoricsite.org
Gain a greater understanding of the area's seafaring history at the North Carolina Maritime Museum in Beaufort. In addition to exhibits on boating history and the local fishing industry, the museum is the official home of artifacts recovered from Blackbeard's Queen Anne's Revenge, which sank just offshore and is still being excavated today. Step across the street to peek inside the Harvey W. Smith Watercraft Center, a working boatbuilding facility. An upper observation deck lets you inspect the art and skill of the craft. The center even offers courses throughout the year if you've got a yen to learn. (252) 728-7317; www.ncmaritimemuseums.com; (252) 728-7317; www.thewatercraftcenter.com    
Eat Fresh
The Crystal Coast's Carteret Catch program guarantees fresh seafood, which is caught by local fishermen off the coast and brought in daily to some 85 participating independent restaurants. Here are three noteworthy spots to sample the local flavors:
On the waterfront of Bogue Sound in Morehead City, The Bistro By-The-Sea offers European flair and a piano lounge. Chef/owner Tim Coyne practically grew up in an Italian restaurant, but is equally skilled with fresh grouper or wahoo. (252) 247-2777; www.bistro-by-the-sea.com
Eclectic and creative, Circa 81 in Morehead City serves top-notch tapas and cocktails inspired by the island's bounty. Chef/owner Clarke Merrell even sources many ingredients from artisan producers around the state, including WNC-based Sunburst Trout Farms and Spinning Spider Creamery. (252) 648-8300, www.circa-81.com
Hungry Town Bike Tours offers culinary—and shrimp and oyster and more—bicycle tours around Beaufort. The three-hour rambles make a handful of stops, and might be the most fun way to sample and see the town. They also rent beach cruisers if you'd rather go it alone. (252) 648-1011; www.hungrytownbiketours.com
More Resources
THE BASICS
Crystal Coast Tourism Authority
3490 Arendell St., Morehead City; (252) 726-8148; www.crystalcoastnc.org
PLAY
Cape Lookout Lighthouse
Core Banks; (252) 728-2250; www.nps.gov
Fort Macon
2303 E Fort Macon Rd., Atlantic Beach; (252) 726-3775; www.ncparks.gov
Hotwax Surf Shop
200 Mallard Dr., Emerald Isle; (252) 354-6466; www.hotwaxsurf.com
North Carolina Aquarium
1 Roosevelt Blvd., Pine Knoll Shores; (252) 247-4003; www.ncaquariums.com
North Carolina Maritime Museum/Harvey W. Smith Watercraft Center
315 Front St., Beaufort; (252) 728-7317; www.ncmaritimemuseums.com, www.thewatercraftcenter.com
Shackleford Banks
306 Golden Farm Rd., Beaufort; (252) 728-6308; www.shacklefordhorses.org
EAT
Amos Mosquito's
703 E Fort Macon Rd., Atlantic Beach; (252) 247-6222; www.amosmosquitos.com
Aqua Restaurant
114 Middle Lane, Beaufort; (252) 728-7777; www.aquaexperience.com
The Bistro By-The-Sea
4031 Arendell St., Morehead City; (252) 247-2777; www.bistro-by-the-sea.com
Blue Moon Bistro
119 Queen St., Beaufort; (252) 728-5800; www.bluemoonbistro.biz
Circa 81
4650 Arendell St., Morehead City; (252) 648-8300; www.circa-81.com
Hungry Town Bike Tours
412 Front St., Beaufort; (252) 648-1011; www.hungrytownbiketours.com
The Village Market
7802 Emerald Dr., Emerald Isle; (252) 354-6592; www.villagemarketofei.com
STAY
Ann Street Inn
707 Ann St., Beaufort; (877) 266-7814; www.annstreetinn.com
Emerald Isle Realty
7501 Emerald Dr., Emerald Isle; (252) 354-3315; www.emeraldislerealty.com
Langdon House B&B
135 Craven St., Beaufort; (252) 728-5499; www.langdonhouse.com
Pecan Tree Inn
116 Queen St., Beaufort; (252) 728-6733; www.pecantree.com
RESOURCES:
Written by Denise Mullen & Melissa Reardon Photographs courtesy of Crystal Coast Tourism Authority