Up the Creek
Up the Creek:
Fishing and feasting in Murrells Inlet 80 miles north of Charleston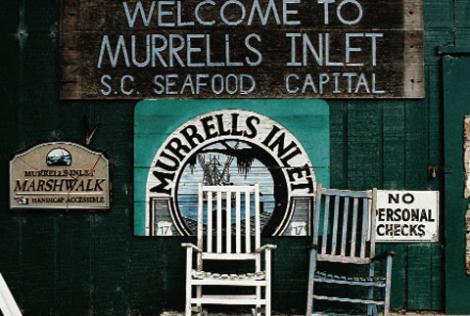 On a bright, windy morning, 70-year-old An Mathis Springs was going crabbing. She pulled on her rubber boots, coat, and hat and walked down to the dock on the creek toward her dinged-up aluminum boat.
She had two traps to put in that day and eight to pull, and she did it all easily—gunning her 15-horsepower motor, steering with the tiller, lifting traps from the chop, and shaking out the live catch into a bucket in the hull. Born in Vietnam, Springs explained that when she arrived in Murrells Inlet in the 1970s without a job, she started walking on the mud flats, setting minnow traps and selling bait to fishermen. Before long, she turned to catching blue crabs and still goes out several times a week to set and pull up her traps. She cooks the crabs and handpicks the meat, then makes thick crab cakes and delicate crab egg rolls to sell. This tiny, agile woman is a legend in Murrells Inlet, where the air smells like pluff mud and salt and, at night, of hush puppies frying. Along the main north-south road just inside the creeks of Murrells Inlet, there are more than 30 seafood restaurants set among houses and small businesses such as hair salons, boat yards, and bait shops.
For me, memories are locked into that scenery, that air. From middle school on, my family lived a few miles up the coast from Murrells Inlet, and on prom nights, my date and our friends would go out for seafood dinners there before the dance, already wearing our tuxedos, gowns, and corsages. Murrells Inlet was the place to go for special dinners with family. And during college breaks, we'd drive down to the boat landing and sit on car hoods, watching the marsh and moonlight.
This fall, I spent a couple of days and nights in the historic seafood town, having booked a room at the Brookwood Inn, the only motel right along the four-mile stretch of Highway 17 Business in Murrells Inlet. The Brookwood is a true 1950s-era motel, not modern in any way, and my room definitely was not luxurious or even cleaned very well beyond the dryer-sheet-smelling bed sheets, but it was inexpensive (just under $60 a night) and the managers were a very sweet older couple.
Once checked in, it was time to cruise through town, passing the large, mostly wooden restaurant signs decorated with fish and shrimp. In a world where so much has changed and is changing, it's a comfort to see so many lasting restaurants. There's still the Lee's Inlet Kitchen (in the same family since 1948) with its glowing sign and full parking lot; the century-old Oliver's Lodge restaurant (the original waterfront house is from the 1860s); and the best bar, Russell's, is still owned by a Vereen, which is one of the oldest families in Murrells Inlet. Russell Vereen is known to buy up old signs from the Inlet to save them from certain trash. He pointed at one on the wall of the barn behind his restaurant, a large "Welcome to Murrells Inlet—S.C. Seafood Capital" sign that he said had been cracked into several pieces by a runaway car. Russell put the planks back together, hung the sign, and says he often finds people sitting in the rocking chairs below, getting their picture taken.
Newer on the Inlet's seafood scene are Sean English and Denny Springs over at Harrelson's Seafood, a fresh fish counter where they also have a kitchen and are trying to be the very best at making a fried grouper sandwich. With every order, they cut a nice-sized hunk of fresh grouper, season it well, and don't over-fry it. And if you order the tuna tacos, the big, meaty chunks of fresh fish are blackened on the outside and still perfectly pink inside. In Murrells Inlet, extended families often own more than one business. That's the case with Harrelson's: An Mathis Springs is married to Denny's grandfather, and the boys sell her frozen crab cakes at Harrelson's and at the Crab Cake Lady Store they opened a couple of years ago on Highway 17.
We also visited the studio of Gaston "Buddy" Locklear, an old friend who used to paint designs on Perfection surfboards for Village Surf Shoppe, still open in Garden City. He now paints on canvas and wood and is one of the most prolific artists I've ever seen, sometimes covering his finished paintings in a coat of epoxy, just like with surfboards. Part of a co-op in Murrells Inlet called the Ebb & Flow, Locklear's studio is behind the gallery in a former chicken barn. That day, he showed us a just-finished painting of the marsh island in Murrells Inlet where Drunken Jack's Restaurant has been letting goats roam since the mid-1980s. (It seems there are a couple of reasons for the goats: they keep the brush down for better inlet views, and they attract tourists to the restaurant's rear deck, where seafood and cocktails are served.)
With so many restaurants in Murrells Inlet (and some of them changing names and owners practically with the seasons), it's always good to ask around for recommendations and try more than one place.
We had that good fish lunch at Harrelson's, tasty homemade clam chowder "red Inlet style" at Lee's Inlet Kitchen, and some excellent boiled-to-order shrimp at Cedar Hill Landing Restaurant, where most of the tables have holes cut out in the middle for tossing oyster shells. There's Murrells Inlet Seafood, one of the cleanest and friendliest seafood stores I've ever been inside, with its fresh seafood and refrigerator cases full of ready-to-eat seafood quiche, homemade pies, salads, peel-and-eat shrimp, and all kinds of special sauces. At the soda fountain counter at Lee's Inlet Apothecary, an old family drugstore, they serve ice cream malts in those heavy, footed fountain glasses, and if they make too much they'll leave the stainless steel cup on the counter so you can pour a refill.
My favorite of all on the Inlet's restaurant lineup, though, is the tiny pink-roofed house on the north end, the Inlet Crab House & Raw Bar. It's not on the water, and it's not fancy, but you can get a plate of clams casino with bacon and paprika, blackened grouper, or a perfectly fried softshell crab and a good Bloody Mary. I've been there in winter, too, for the oyster roasts and beer and always feel very comfortable in the room with booths, wooden tables, a worn concrete floor, and framed pictures of old fishing trips.
Murrells Inlet is changing, sure, just like all coastal places. But I'm saving my sentimental view. There's a terrific book—part memoir of lifelong resident Genevieve Peterkin and part stories of Murrells Inlet history—that was edited by William Baldwin a few years ago. In it, Peterkin describes the character of Murrells Inlet like no one else could, catching stone crabs bare-handed, weathering hurricanes, and swimming in the creeks. And the book's title? Heaven is a Beautiful Place.
Stay:
• Brookwood Inn: a 1950s-era motel. 5098 Bus. Hwy. 17, (843) 651-2550
Eat:
• Cedar Hill Landing Restaurant: oyster roasts on the dock. 5225 Bus. Hwy. 17, (843) 651-8706, www.cedarhilllandingonline.com
• Harrelson's Seafood Market: lunch cooked to order. 4368 Bus. Hwy. 17, (843) 651-5707
• Inlet Crab House & Raw Bar: fresh seafood and live music on weekends. 3572 Bus. Hwy. 17, (843) 651-8452, www.inletcrabhouseandrawbar.com
• Lee's Inlet Kitchen: traditional seafood recipes for 60 years. 4460 Bus. Hwy. 17, (843) 651-2881, www.leesinletkitchen.com
• Murrells Inlet Seafood: ready-to-go pies, boiled shrimp, salads, and more. 4886 Bus. Hwy. 17, (843) 651-9309
• Russell's Seafood Grill: bar and deck with walls of Murrells Inlet memorabilia. 4700 Bus. Hwy. 17, (843) 651-0553
Shop:
• The Crab Cake Lady: frozen crab cakes and casseroles to go. 4525 Wesley Rd., (843) 651-0708, www.thecrabcakelady.com
• Ebb & Flow Art Co-Op: original art and furniture. 4763 Hwy. 17, (843) 651-2386
• Lee's Inlet Apothecary & Gifts: soda fountain, jewelry, and postcards. 3579
Bus. Hwy. 17, (843) 651-7979
Do:
• Stroll the marshwalk at sunset or Morse Park Landing at sunrise.
• Take a guided kayak tour with Sail & Ski Connection, (800) 868-7245, www.sailandskiconnection.com, or a fishing or sightseeing charter from Captain Dick's Marina, (843) 651-3676, www.captdicks.com.
• Bike across the new bridge that leads to Huntington Beach State Park, Brookgreen Gardens, and Pawleys Island.