Crafted with a Conscience
Crafted with a Conscience:
Bella & Oliver Soap Co. brings unique, all-natural bath products to WNC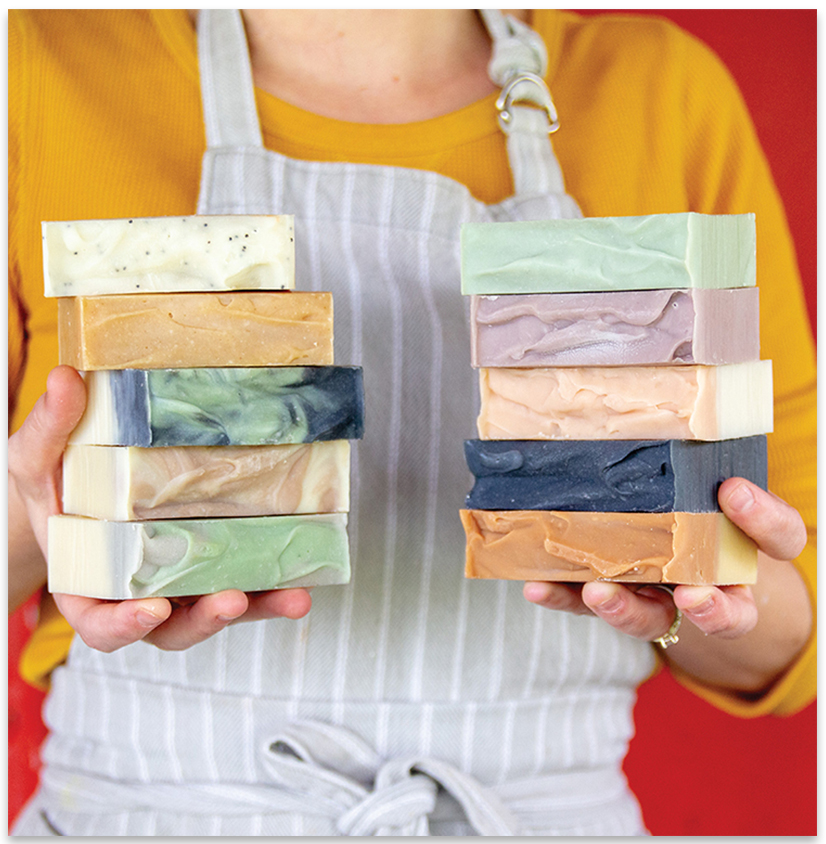 Stephanie and John Zara's bath products put the consumer and environment first, with artful customizations.
Stephanie Zara has always had a love for handmade soap. Even before moving to Asheville in 2012, she and her husband John would return from visits to the city with bags full of locally crafted bars. "John noticed my obsession and bought me a soap-making book for Christmas one year," she recalls. "I quickly started experimenting and making my own soaps. My passion grew and I started making soap for friends and family. With encouragement from everyone that tried my product I decided to start my own business."
The initial focus was on all-natural products, an emphasis tied to both the sourcing of ethical ingredients (palm oil in particular is avoided due to the industry's environmental ramifications and often-dubious labor practices), and dodging the skin-irritating qualities of chemicals in many commercial soaps. "As we have grown as a business we have honed into what our core values are," says Zara. "Our cold-process soaps are vegan and handcrafted in small batches. We use only natural, plant-based, and palm-free ingredients. We use 100% therapeutic-grade essential oils—no fragrances." And it is this careful attention to detail that has made Bella & Oliver's unique products sought after in the local market.
(Clockwise from above left) Stephanie Zara; Conscientiously Clean Bella & Oliver's products include—in addition to bar soaps—lip balms, body butters, insect repellents, and sea salt soaks.
Since initiating commercial operations, Bella & Oliver has partnered with local businesses like Buxton Hall BBQ, Shoji Spa, French Broad Chocolate, Sierra Nevada Brewery, and Biltmore Estate to create products custom tailored to each business's niche and ethos. These collaborations integrate ingredients for one-of-a-kind recipes to create specialized bars such as lard soap, signature tea soap, chocolate soap, beer soap, and wine soap. "We love working with local companies and creating these very special items," says Zara.
Bella (left) and Oliver (right), the company's beloved namesakes.
"Our products are unique because they don't contain weird, hard-to-pronounce ingredients," she continues. "We're proud to create skincare products that are cruelty-free and contain no artificial ingredients, dyes, preservatives, or chemicals. Plus, all of our packaging is eco-friendly: recyclable, compostable, and/or reusable."
The company's namesake is the Zaras' pair of beloved Spaniels, a dedication fitting for Bella & Oliver Soap Co.'s Earth-conscious and cruelty-free pledge.
Custom products The Shoji Signature Tea Soap (above left) is one of numerous collaborations between Bella & Oliver and local makers. These partnerships produce unique and inventive soap blends.
Bella & Oliver looks forward to opening a brick-and-mortar location in the near future, an opportunity to showcase the company's core values of care and conscientiousness through every facet of hand-creation. "Our deep passion for all-natural bath/beauty products and handmade soap is reflected in every step of our production. We'd love to share that production process with customers through educated facility tours so they can see our products being made in real time."
LEARN MORE - Visit Bella & Oliver Soap Co. at bellaandoliversoap.com