A Common Good
A Common Good:
Relationships are at the center of the Downtown Welcome Table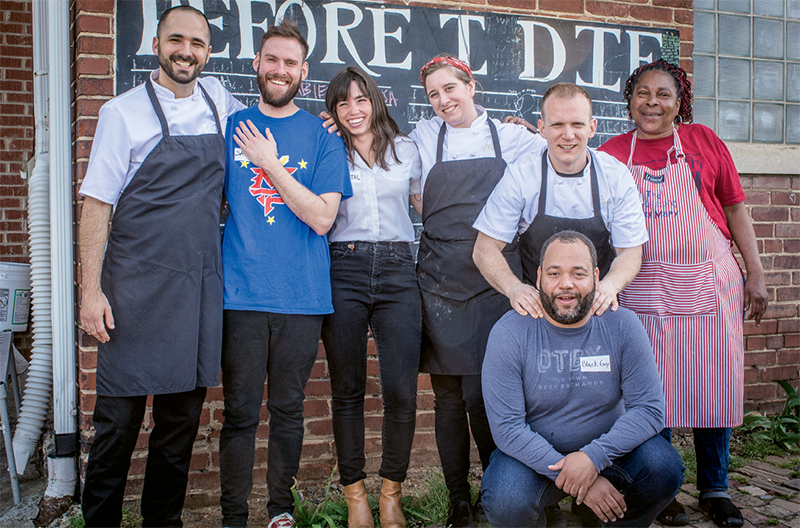 Posana is among the more than 50 partner restaurants.
Anyone who's ever enjoyed a meal over conversation with friends knows how soul-fulfilling the experience can be. "A shared meal has the ability to bring people together like nothing else can," says Laura Kirby, executive director of Haywood Street Congregation in Asheville.
Laughter, discussion, and fellowship mark what Laura describes as the "transformative encounters" at the Downtown Welcome Table, a program that offers free lunches on Wednesdays and breakfasts on Sundays. While most attendees experience food scarcity, homelessness, mental illness, or addiction, Laura explains that the event is truly for everyone. "The goal is for all of us to sit down and eat together," she says. "It's about breaking barriers that often divide people of privilege from people who are homeless or living in the margins." What began as a small Crock-Pot meal during a midweek communion worship service has become a seated event that serves more than 500 people every week.
(Clockwise from top left) Pastor Brian Combs; Haywood Street "companions"; The Downtown Welcome Table serves more than 500 people of all socioeconomic walks of life free meals twice a week.
The Downtown Welcome Table is one of the main programs of the Haywood Street Congregation, a United Methodist mission church and faith-based nonprofit organization founded in 2009 by Reverend Brian Combs. While Haywood Street has unique projects that particularly focus on helping the homeless, the goal is for everyone to create community and support the mission, "Relationship above all else." Another offering is Haywood Street Respite, a safe place where eight unhoused adults can feel at home following outpatient surgery or an inpatient hospital stay. Other programs include recovery groups, Bible studies, a clothing closet, and garden.
The Welcome Table is neither a soup kitchen nor a feeding line. Volunteers, known as "companions," bring food from the kitchen to be circulated family-style. At round tables, displaced friends are joined by retirees, single parents, working poor, students, and professionals.
Small touches like tablecloths, floral centerpieces, cloth napkins, and dishes donated by East Fork Pottery send the message that all guests are loved and cared for. "That's the biggest impact of the Welcome Table," says Laura, "creating a forum for relationships and community, and reminding people of their worth." The program partners with area nonprofits including the I Am Home Art Project, Steady Collective, and MANNA FoodBank, among others. Food is made from scratch either by Haywood Street or by one of more than 50 local restaurants and food trucks that are part of the partnership program, the Chefs @ Downtown Welcome Table. Many of these restaurants also participate in annual fund-raisers, such as A Seat at the Table in March and Welcome Fest in the summer.
Art with Heart - Christopher Holt (pictured top) spearheaded a team of artists to create the Haywood Street Fresco, which took years of fund-raising and three months to paint.
Also contributing to the nonprofit's good work are artists, as of late. Years in the making, the Haywood Street Fresco was completed in late September. At 28 feet wide and 11 feet tall, the fresco on the main wall of the sanctuary portrays Haywood Street's vision of community through the lens of the Beatitudes. Everyone depicted is part of the Haywood Street community. In the center is a table held up by many longtime companions. Asheville artist Christopher Holt spearheaded and organized the project and says it has truly been a team effort with fellow artists Anselme Long, Caleb Clark, John Dempsey, and Jill Hooper. "I hope that this fresco inspires folks to come to Haywood Street and see how this organization treats human beings," says Holt, "and let that be a representation of the Asheville that we are and want to be."
Give Back
Find info on Asheville's Haywood Street Congregation, the Downtown Welcome Table's weekly meals, and how you can volunteer at haywoodstreet.org. An open house and unveiling of the Haywood Street Fresco will take place November 14 from 5-7 p.m.
RESOURCES:
Photographs by (Pastor Combs) John Warner, Warner Photography; (Posana volunteers) Maureen Simon; (Companions, food, and flowers) Brook van der Linde