Comfort Zone
Comfort Zone:
A yoga devotee brings her passion to market with vibrant bolsters, meditation cushions, and more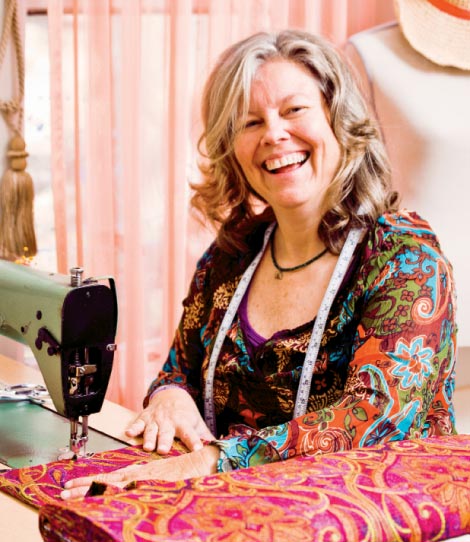 Central Florida. The Yucatan. Angela Ryals names destinations where she enjoys cave diving. The extreme recreation may seem an unlikely passion for someone who spends a great deal of time in the quiet world of yoga, but it was while floating inside the belly of a cave, deprived of light and sound, that Ryals found peace within and a name for her Barnardsville-based business. Inner Space Yoga creates handmade bolsters and other soft props. "I came out of that cave babbling about om and yoga. My diving partners must've thought I was nuts," she recalls with a laugh.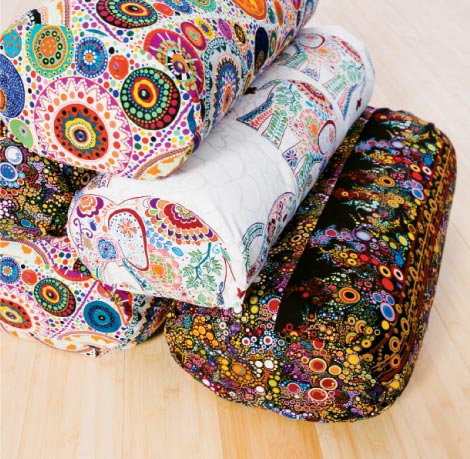 The initial inspiration for the business came in 2006. Ryals was a teacher-in-training at Asheville Yoga Center, and the owner asked her to recover the studio's bolsters, which are used to support the body in a variety of poses, enabling relaxation and stretching without strain. Ryals, a quilter, honed her sewing skills while studying the fabrication of the dense, cotton cushions. With encouragement and feedback from area yoga instructors, she launched her business in 2007.
Today, she is one of a few producers of yoga bolsters in the country and sells to studios nationwide. The labor-intensive construction requires assistance from Ace Baggott, who helps develop the patterns and sews. Ryals offers three bolster designs—round, oval, and flat—as well as meditation cushions and scented eye pillows, and all come in brilliant patterns. "I'm obsessed with fabric and color and beautiful things," she says. For that reason, her designs are decking out the beds and sofas of some customers—yoga practitioners and otherwise.
To order
Visit www.innerspaceyoga.net.