Clear Cut
Clear Cut:
Kenny Pieper's unbreakable passion for glass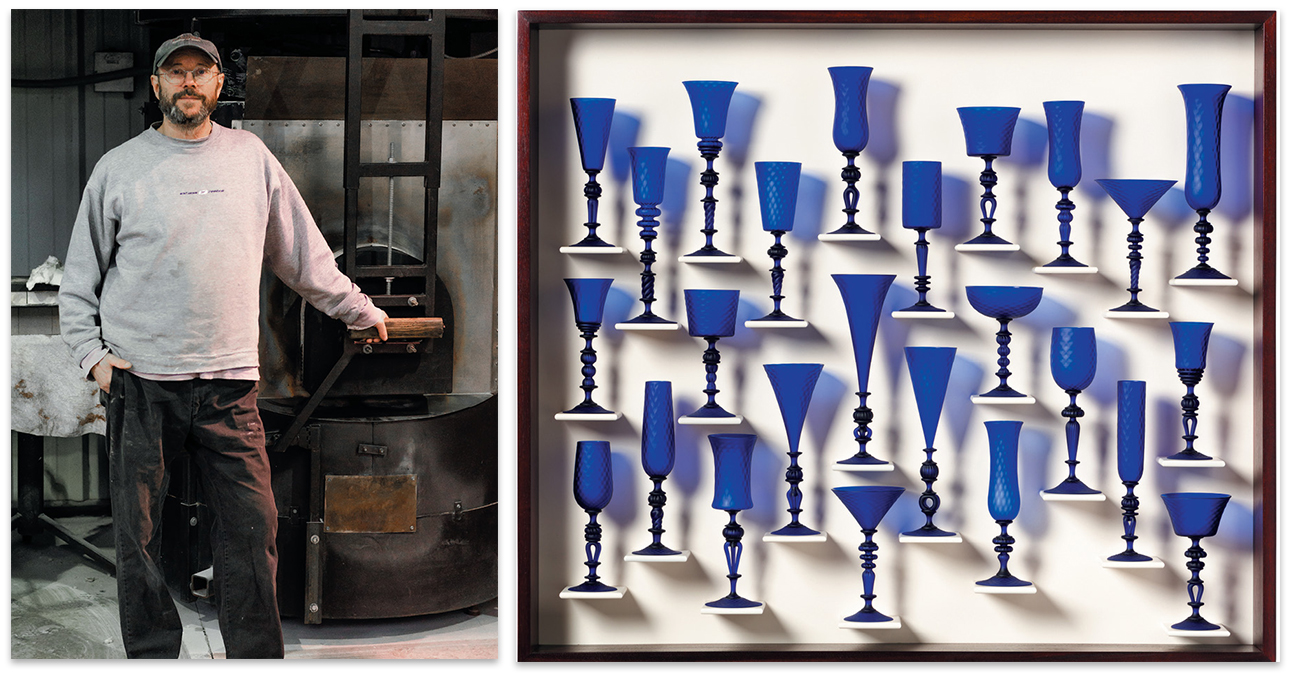 (Left) Kenny Pieper; (Right) FROM FUNCTION TO FORM - By grouping his functional, acid-etched and sandblasted chalices together in a wooden frame, Pieper elevates his Satin Goblet Studies to a work of fine art.
Glass blower Kenny Pieper's shop and studio in Burnsville are filled with jewel-toned pieces that range from the functional, including two-toned amberina glasses that invoke lingering, front porch sips with an old friend, to the decorative, like three-foot-tall abstract forms that hearken back to Italian glass blowing and "portrait vessels," works informed by folk art traditions that incorporate expressive human heads.
Pieper's influences are traditional, but he adds unconventional twists. His Satin Goblet Studies showcase chalices displayed together in an open frame and sold as a whole. "When you frame something it changes the context of what it is," he says. "It asks whether it's art or craft—or if it's even an important question."
INSTANT CLASSIC - For his Diva and Cane Goblet series, Pieper uses a reticello Italian technique and modern adaptations to create intricate patterns and luminous colors.
These pieces are forged in Pieper's hot shop, where he makes glass using silica, soda, and lime, plus colorants from elements like copper, cobalt, and gold. After working with the glass in a 2,100ºF furnace, he transfers pieces to the cold shop for cutting, grinding, and polishing.
The South Toe River provides a constant backdrop for Pieper's work. Having grown up in Spruce Pine, he came to glass blowing early. His childhood tutor, Jane Brown, was the wife of former Penland Director Phil Brown. Jane brought Pieper to Penland in the 1970s during the difficult teenage years, convincing the instructors to let him sit in. Classes at Penland are normally reserved for adults, but Pieper studied alongside ceramic and jewelry masters before graduating high school. "I was a 15-year-old punk," he laughs. "They broke a lot of rules for me."
INDIVIDUAL EFFORT - Pieper crafts faces for his Portrait Vessels and uses the Venetian incalmo technique to fuse shapes for his Cane Bowls.
He found his calling in a class with glass blower Richard Ritter. "I loved the fire and heat and the dance of it," he says. And while it takes years to develop the skills to be a good glass blower, he never got frustrated. "It's such a wonderful medium that you can make just a glob and it's still beautiful," he says.
After Penland, Pieper trained at Detroit's Center for Creative Studies and in California at Oakland's California College of Arts and Crafts and Cohn Stone Studios, where he spent 17 years as the main glass blower, cold worker, and manager. In 1996, he returned home to Penland, and ran the glass studio for six and a half years.
Pieper's own studio has garage doors on either side so that he and his assistant can pull cane (thin rods of glass) up to 120 feet long; it's part of a decorative technique known as reticello that results in a net-like pattern on the glass. Pieper is always looking for new challenges and techniques. "I get bored if I do just one thing," he says.
He just took his work to the American Craft Council in Baltimore, and he'll be heading to the Architectural Digest Design Show in Manhattan in late March. Closer to home, he has pieces at Blue Spiral 1 in Asheville, Highland Fine Art in Highlands, and Penland's gallery. And while he enjoys visiting cosmopolitan centers, he feels lucky to come home. "This area is beautiful," he says. "Having access to that and a vibrant craft community is so important." 
SEE THE WORK - Learn more—and see a video of Pieper in action—at pieperglass.com.
RESOURCES:
Photographs (artwork, 6) by David Ramsey; (portraits, 2) by Savanah Seevers