Circle 'Round
Circle 'Round:
Ugga Mugga Bakery's galette brings baked goodness to the holidays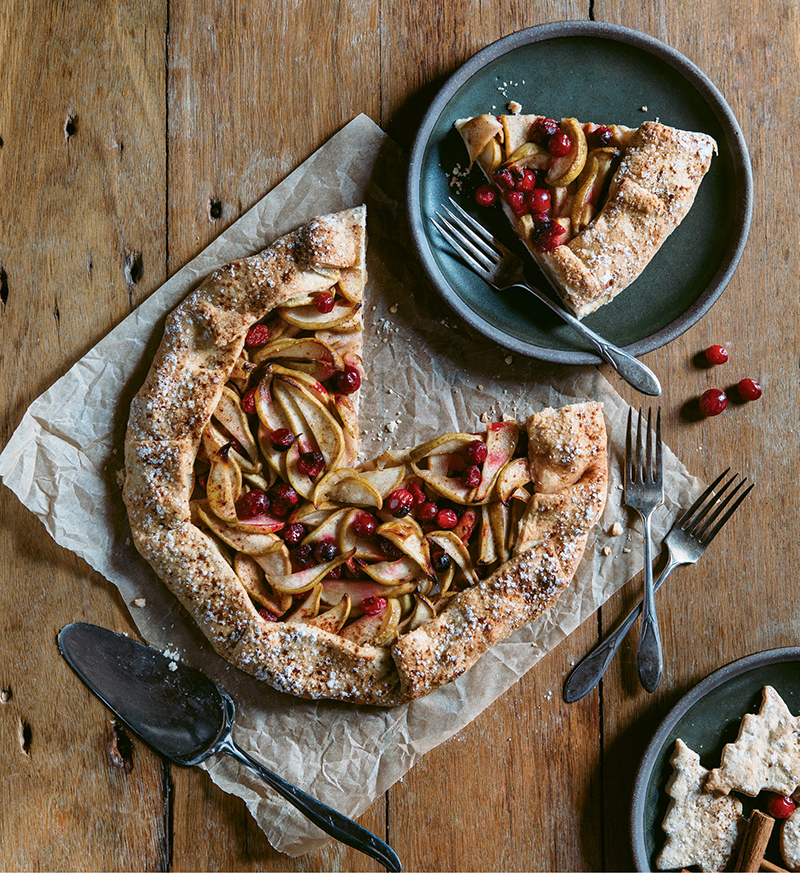 During the holiday season, pies often take center stage. This year, mix it up by serving a stunning galette instead. Blowing Rock's Ugga Mugga Bakery creates galettes filled with seasonal fruits like pear and cranberry or spiced plum, and embellished with decorations including snowflake cut-outs dusted with confectioners' sugar and cinnamon.
Galettes are big holiday business, according to bakery owner Beth Zagst. She loves creating beautiful baked goods for weddings, but when the season winds down, she turns to projects closer to home and hearth. "Holiday baking is my happy place," she says. "I watched my mom bake for every holiday, and it's at the center of my childhood."
Zagst started making galettes because they allow her more creative freedom to design the perfect product, and, she notes, they're easier to make than pies. She offers a couple of tips for baking them at home: Fold and knead the dough longer than for a pie to fully incorporate the fat, which could melt and create a hole in your finished product. And make sure you set your galette on a baking sheet before filling it. "You won't be able to transfer your raw galette after you fill it," she says, laughing. "It's easy to forget that."
Try her Spiced Pear and Cranberry Galette recipe at home or go straight to the source.
Spiced Pear & Cranberry Galette
(serves 10-14)
1 cup fresh cranberries
4 cups ripe pears, sliced thin
1½ cups brown sugar
2 tsp. lemon juice
1 Tbsp. cornstarch
1/2 tsp. salt
1/2 cup all-purpose flour
1/2 tsp. nutmeg
1 tsp. cinnamon
3 Tbsp. cold butter, cubed
1 pie crust (store-bought or homemade)
Butter or oil and confectioners' sugar for crust
In a large bowl, mix cranberries, pears, brown sugar, lemon juice, cornstarch, salt, flour, nutmeg, cinnamon, and butter. Cover and place in fridge for four hours or overnight.
Preheat oven to 350°F. Roll out pie dough into a 14- to 18-inch circle. (If the dough is made from scratch, be sure to knead it thoroughly so that butter chunks are not visible.) Transfer to a parchment-lined baking sheet. Stir filling, taste, and adjust sugar accordingly, as fruits can vary in sugar content. Spoon filling into center of pie dough, reserving the juice. Fill to within two inches of the edge. Fold over edges of dough to encircle the filling, then pour remaining juice into the galette center. Any leftover dough can be cut into shapes for decoration. Brush the outer crust with melted butter or oil and sprinkle with sugar. Bake for 25 minutes, or until crust is golden brown. To avoid burning, check regularly after 20 minutes, but do not open oven door. If crust starts to burn before 20 minutes, cover galette loosely with parchment paper. Once cooked, allow galette to cool for 15 minutes. Dust the outer crust with confectioners' sugar before serving.
---
Ugga Mugga Bakery
1107 Main St., Ste. B
Blowing Rock
(724) 799-1334
www.uggamuggabakery.com
RESOURCES:
Photograph Plates courtesy of East Fork Pottery