A Cinematic Getaway
A Cinematic Getaway:
From famed film locations to captivating vistas, Lake Lure and Chimney Rock have it all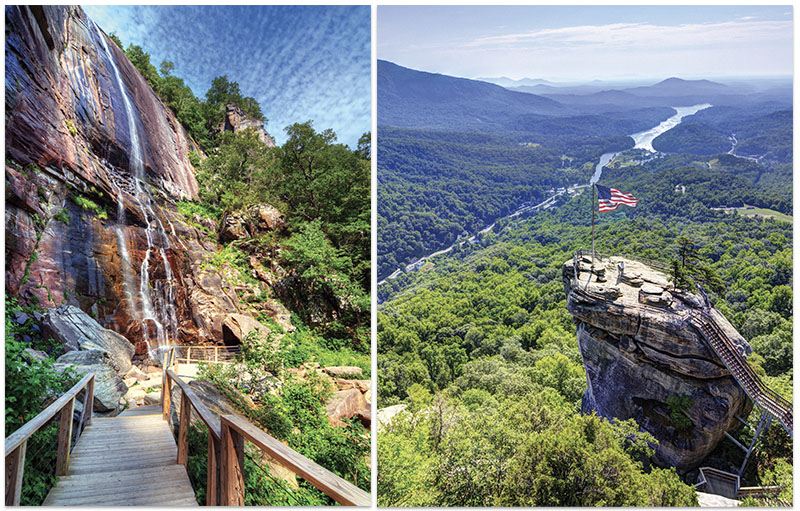 For location scouts working on big-budget films, the world is their oyster: doors to privately owned estates swing open wide for them; there's no landscape too remote. That's how they typically find a jaw-dropping locale that can end up stealing a scene from its stars. The kind of dramatic place that makes you say, "I have to go there." Luckily, when it comes to the craggy mountainside and towering cascade featured in the final moments of The Last of the Mohicans, you actually can—easily. It's right in our backyard, in the majestic Hickory Nut Gorge, a 14-mile-long canyon that cuts through 20,000 acres of pristine forestland, granite cliffs, and waterfalls and is home to the village of Chimney Rock and neighboring town of Lake Lure.
These destinations provide the opportunity to take in countless stunning vistas (including some from another well-known movie), participate in all manner of outdoor adventures, learn a bit of history, lounge on the beach (yes, a beach in the mountains!), shop, and enjoy delicious dishes and drinks.
Park It
"That waterfall" has a name: Hickory Nut Falls. Located in Chimney Rock State Park, you can hike to the top or bottom of this impressive natural wonder, one of the tallest falls in the Eastern United States. Of course, you can hike to the top of the park's 315-foot eponymous rock, too. The 535-million-year-old monolith affords 75-mile panoramic views of the gorge. (An elevator ride can get you close to the top, if you're unable to hike too far; check in advance to see if the elevator is running.)
The park is the vision of Dr. Lucius B. Morse, a Missouri-born physician who came to WNC in the early twentieth century for its climate, hoping it would help heal his tuberculosis. Plan to spend at least a few hours or even the better part of a day exploring. There are seven trails in the park in total, along with a gift shop and the Animal Discovery Den for all ages. And, you can do more than just look at the cliff faces, with chances to rock climb and boulder as well.
Mountaintop to Main Street
Access to the park is right off Main Street in the village of Chimney Rock's walkable downtown. You can even stroll along the Rocky Broad River Walk, which offers easy access to an array of dynamic businesses and the soothing sights and sounds of the Rocky Broad River. For more outdoor fun, play a round of putt-putt at the riverside Chimney Rock Mini Golf Adventure. Grab outdoor clothing and gear, along with souvenirs and gifts, at Bubba O'Leary's General Store—a favorite haunt of visitors and locals alike.
When hunger strikes, there are ample places to choose from, many with great views of Chimney Rock and the famed falls from below. Grab a farm-fresh breakfast, lunch, or dinner from Medina's Village Bistro, or enjoy a bite with a local brew from Hickory Nut Gorge Brewery. If wine's more your thing, and award-winning wine at that, stop in Burntshirt Vineyards Tasting Room and Bistro. (Note: The winery and vineyard are just down the road in Hendersonville and are open for tours.) Top off your meal with a scoop, or two, from the old-timey ice cream shop Village Scoop, which doubles Baskin Robbins' legendary number—they offer more than 60 flavors. (Pro tip: Make sure to have cash in hand, as credit and debit cards aren't accepted.) Or, grab a cup of joe and a baked good at Coffee On the Rocks, where, perhaps unexpectedly, you can also participate in an old-fashioned saloon photo shoot with your family, friends, and even pooch, complete with costumes and props like guns and liquor bottles.
There's also the restaurant at The Esmeralda Inn, which in addition to regular dining service offers an immersive Chef's Table experience. Checking in? You'll receive a fresh-baked cookie upon arrival, and a sit-down breakfast when you wake up. The inn also houses a spa. Chimney Rock wasn't just discovered by Hollywood in recent decades. In the early 1900s, the Esmeralda (which has since been rebuilt and restored due to fire) was a beloved hideout for silent movie stars like Mary Pickford and Douglas Fairbanks.
Get Lured In
Lake Lure, also the brainchild of Dr. Morse, lies just minutes from the village. On your way down the road, stop at the Lake Lure Flowering Bridge, a 1920s arched overpass closed to traffic in 2011 that now overflows with lush gardens. The pedestrian pathway, a designated Monarch Waystation and Certified Wildlife Habitat, is planted with hundreds of colorful blooms and features a Sensory Trail designed to allow visually impaired guests to appreciate the wide variety of plants through smell and touch.
The town is built around the namesake man-made lake and its 27 miles of shoreline; it's the lake from Dirty Dancing. Experience the water by boat, and learn more about its history and lore as well as starring role in the film, via Lake Lure Tours; if you want to recreate a little Baby and Johnny romance, consider a specialty Sunset Dinner Cruise. Looking for more of an adventure? Try wakeboarding, canoeing, kayaking, tubing, or water skiing—fishing, too. Or just sit back and relax on the sands of its beach, which also boasts a water park.
You can also enjoy the water through a lakeside meal, at the LakeHouse Restaurant, which serves up Southern fare along with a noteworthy wine list and craft cocktails, or at Legends on the Lake at Rumbling Bald Resort. This 2,900-acre resort offers several dining options, lake activities aplenty, a wellness center, tennis courts, and more.
Although Chimney Rock and Lake Lure have a combined year-round population of only about 1,500 residents, they attract tens of thousands of visitors annually. It's easy to see why, thanks to the area's rich (and cinematic) history and abundant chances for fun and relaxation.
If You Go
Chimney Rock
Chimney Rock State Park
431 Main St.; (800) 277-9611
https://www.chimneyrockpark.com
Chimney Rock Mini Golf Adventure
339 Main St.; (828) 625-8870
https://chimneyrockadventuregolf.com
Bubba O'Leary's General Store
385 Main St.; (828) 625-2479
http://www.bubbaolearys.com
Medina's Village Bistro
430 Main St.; (828) 989-4529
http://www.medinasvillagebistro.com
Hickory Nut Gorge Brewery
461 Main St.; (828) 436-7047
https://hickorynutbrewery.com
Burntshirt Vineyards Tasting Room and Bistro
438 Main St.; (828) 436-2490
https://www.burntshirtvineyards.com/chimney-rock
Village Scoop
439 Main St.; (828) 625-0052
https://www.facebook.com/villagescoopnc
Coffee On the Rocks
435 Main St.; (828) 625-2064
http://www.coffeeontherocks.net
The Esmerelda Inn, Restaurant & Spa
910 Main St.; (828) 625-2999 
https://theesmeralda.com
Lake Lure
Lake Lure Flowering Bridge
https://lakelurefloweringbridge.org
Lake Lure Beach and Lake Lure Tours
2930 Memorial Hwy. ; (828) 625-1373
https://www.lakeluretours.com/beach-2.html
LakeHouse Restaurant
1020 Memorial Hwy.; (828) 625-4075
Rumbling Bald Resort
112 Mountains Blvd. ; (828) 694-3016
https://www.rumblingbald.com
RESOURCES:
Photographs (Lake Lure) Shutterstock/ digidreamgrafix; (Flowering Bridge) by Emily-Ann Trautman