A Christmas Story
A Christmas Story:
In a quest to hold onto his twins' childhood innocence, a father attempts the most cheerful family intervention of all—complete with elves, trees, trimmings, and a glut of hot cocoa—in a funny and heartwarming adventure played out in the Rockwellian hamlet of Highlands.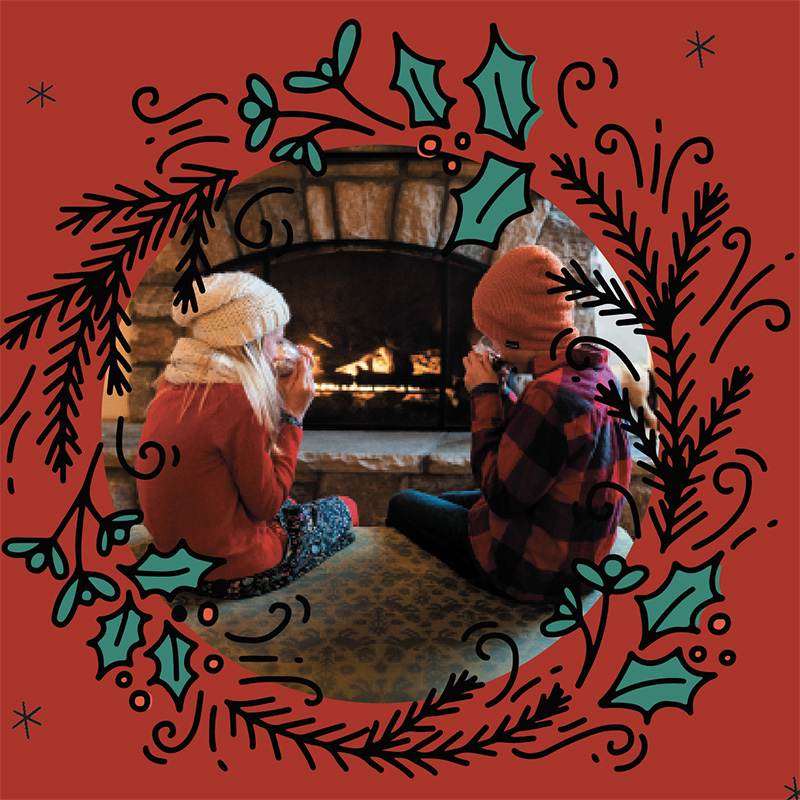 The elf is perfect: bells on her shoes, ruffles around the edges, and glitter under her eyes. She's a ball of red and green, right out of a fairy tale, and her name is Twitch, which might be the greatest elf name ever. She's here to read our kids a bedtime story. Specifically, The Polar Express, which is all about kids teetering on the edge of belief and nonbelief. It's a poignant choice because our twins, Cooper and Addie, have hit double digits and are "at that age" when attitudes about Christmas begin to shift. My wife and I are hoping Twitch can help with that. We've brought our kids deep into the mountains, to the small town of Highlands, to bombard them with Christmas cheer. We've stacked an itinerary full of elf visits, ice skating, shopping, a holiday parade, and tree hunting in order to kick-start the family's holiday spirit. Call it a Christmas intervention, and ground zero for the covert plan is Old Edwards Inn & Spa, a sprawling European-style resort that encompasses more than three blocks of downtown, with a mix of suites and cottages.
From the outside, the inn is a meandering tangle of warm stone, iron fences, and well-manicured gardens. Step inside during the holidays, and the buildings are decked in garland and twinkling lights. Fireplaces crackle and tall trees tower in the corners of great rooms. And the build-your-own hot chocolate carts in various communal spaces don't go unnoticed by my kids. Wander into the Hummingbird Lounge, a room lined with rich wood paneling, and there's a man on the piano playing festive tunes to a crowd sipping seasonal drinks. The inn doubles down on the holiday vibe by offering a Christmas package that includes a Christmas tree from a nearby farm and an optional Elf Tuck-In, where Twitch or one of her tiny cohorts treats your kids to cookies and fine literature.
That's where things begin for us, with Twitch's rendition of The Polar Express. It was a performance so great, it had us wondering what our own elf names would be.
"Jingle? Or Jangle?" My daughter, Addie, suggests.
I counter with "Happy" and "Slappy."
"Those are dwarf names, dad," she says.
Wait, are dwarves related to elves? I want to ask Twitch, but I'm worried the question might be offensive. Maybe dwarves and elves don't get along.
Old Edwards is the perfect base camp to soak in all of Highlands' natural seasonal charm. I know Highlands is a vibrant small town with full-time residents who have jobs and lives, but I'll be damned if this quaint hamlet wasn't designed specifically for Christmas, with its picture-perfect main street adorned in greenery and ribbons. There's a skating rink on the edge of downtown lined with evergreens that comes complete with a concession stand selling coffee and hot cocoa. Yes, Highlands is a great place to stage a Christmas intervention—to stop time, if you will, or at the very least, slow it down for just one more year in our desperate attempt to hold onto our kids' childhood innocence for a little longer. I suggested stunting their growth with a steady diet of cigarettes and caffeine, but my wife said no. So, we opted for a weekend at Old Edwards instead. The only problem I see is fitting all of the Christmas fun into two short days.
The kids can't get over how fancy everything is at Old Edwards. At breakfast, the waiter drapes napkins over their laps and they almost lose their minds. I'm not a fancy guy, but I welcome the bit of refinery; at home, we can't even get our kids to use forks at dinner. They just eat with their hands, like a couple of animals. Also, my son, Cooper, discovers Benton's Bacon at breakfast, which is really the gift that keeps on giving. It might be the closest we come to a Tiny Tim, "God bless us, every one" moment.
When my wife and I were planning this weekend of Christmas cheer, we imagined a light blanket of snow on the ground and some flurries blowing in the wind. Not hard snow, just enough to add highlights to our hats and mittens—you know, for the photos. If any town in North Carolina can give you that ambiance, it's Highlands, which sits at a lofty 4,118 feet in elevation. The town gets snow, but as we walk out of the hotel to find a spot in town to watch the holiday parade, it's 55 degrees and raining.
"Global warming," my son says, picking up on the fact that I'm bummed by the weather. His mood changes when strangers start handing him candy, though.
The grand procession is straight up Rockwellian, with a homecoming queen riding on the back of a pickup, dogs in Christmas sweaters marching down the street, and cheerleaders and politicians in classic cars waving to the crowd. They throw candy from the windows of their vintage trucks and Mustangs. Nobody seems to mind the rain. The street is full of smiles as the kids lining the thoroughfare scramble to pick up peppermints and lollipops. Someone throws my son a Christmas bell, and he and his sister take turns holding it up to their ear to see if they still have the Christmas spirit, just like in the book Twitch had read to them.
"I hear it! Do you hear it, dad?"
By the end of the parade, both of my kids have pockets full of candy, enough to either keep them alive for seven days in the woods or cause diabetes, depending on the situation. Since the skating rink is closed because of the weather, we take our sugar rush straight into the aptly named Toy Store to escape the rain and spend nearly an hour ogling Star Wars LEGOs and shooting plush arrows at each other with a toy bow. The kids constantly revise and expand their Christmas lists as we make our way through the shelves stacked with the latest and greatest. Then we hit Dutchmans Designs, a furniture store full of frocked trees and potpourri that smells like Christmas Eve, and ornaments made from birch trees and pine cones and glitter—so much glitter.
The weather still won't cooperate, so we retreat to Old Edwards where my wife can escape to the spa for an hour to warm up in the steam room and massive whirlpool hot tub, while my kids and I bounce from lounge to lounge, fireplace to fireplace, hitting the build-your-own hot chocolate carts as we go. Every time I turn around, my daughter has a fresh cup in her hands, overflowing with tiny marshmallows and candy canes. The smile on her face grows as she drinks. The kids are excited to see what's around every corner of the late-1800s hotel, which still holds its handsome Victorian-era decadence. If it weren't for all of the Christmas trees and decorations, it would be the kind of place my kids might think is haunted.
Instead of our tight itinerary, we finally surrender and happily idle through the day, enjoying the hotel and the town without really worrying about hitting all of the Christmas hallmarks we were so determined to bag. My kids make a game of counting the cups of cocoa they drink. My daughter hits number four by the time we make it to the Kelsey Game Room in the bottom floor of Old Edwards' Lodge building.
The Kelsey is the ultimate suburban basement, the room we all wish we had as children. There's a cabinet full of board games, pool and poker tables, arcade games lining the walls, and over-stuffed couches and recliners facing big TVs. This is where we really get into our groove, moving from game to game until we settle on an all-family, cutthroat contest of Candy Land. Winner takes all. My daughter throws the game early so she can escape for another cup of cocoa. She's rapidly approaching double digits. And all the while, nobody's found their true elf name yet—I'm leaning towards Crikey.
Despite my kids' sugar-induced states, there's something about the slower pace of the day that reminds me of holidays in my own home as a kid, when my father would take time off work and I'd convince him to play game after game of chess until he'd finally let me win. My wife and I were hunting for the perfect Christmas moment, and I feel like we might've stumbled onto it here in the basement game room.
The sun comes out the next day, so we decide to head straight for Tom Sawyer Tree Farm, near Lake Glenville. Even if we've abandoned our stacked Christmas itinerary and intervention, we still need a tree. Tom Sawyer is proof that not all Christmas tree farms are created equal, because this one comes complete with a thriving elf village. Tucked into a holler below the expansive farm is a series of log cabins, barns, and a chapel, all connected by stone paths through the woods. A small stream runs through the property on its way to a pond, and the village is bustling with children dressed as elves as they make their way from cabin to cabin, completing holiday crafts and playing elf cornhole and other games of skill along the way. The origin story of the village goes something like this: in 1945, an elf crashed Santa's sleigh into the side of the hill. The elves liked the area so much, they decided to set up a second home, and the village sprouted from there. You can even find the original sleigh crash site, tucked into the hill off one of the paths.
We spend an hour hiking around the farm until we find the perfect tree, but the real prize from the excursion is discovering our true elf names. Tom Sawyer Tree Farm has a sign with an algorithm that pairs everyone with their elf name, based on their birthday and the first letter of their first name.
Finally, the mystery is over: my elf name is Bubbles Sugarplum. My wife is Angelic McSprinkles and the kids are Twinkle & Sweetie Sugar-Socks.
We spent a weekend hunting for Christmas spirit in the picture-perfect small town of Highlands. Is it easier to find there, with its twinkling main street and cozy Old Edwards Inn? Probably. The town is gorgeous and knows how to play to its strengths. But with an evergreen strapped to the top of my minivan and my kids making fun of my elf name from the back seat, I know that the Christmas spirit is also present in the simple things, like a cup of hot cocoa or a board game shared with family.
Trip Planner
Want to create your own family holiday adventures in Highlands? Here's how:
STAY
Around the holidays, rooms fill up fast at Old Edwards Inn & Spa, so plan ahead. Luckily, the inn offers multiple accommodations to suit couples as well as large families, and oversees several sister properties, all with the same caliber of polish and hospitality as the historic inn. Check the website for special holiday packages. 445 Main St., Highlands; (866) 526-8008; oldedwardsinn.com
If you stay at Park on Main, you don't have to leave Fido at home. Each elegant room is well appointed with modern country furnishings and a dog bed and bowl. Distinguished paintings of various dog breeds hang throughout the inn. 205 Main St., Highlands; (800) 221-5078; theparkonmain.com
Also pet-friendly by request, the white clapboard Main Street Inn offers immense charm and history; it's operated as an inn for 130 years. Opt for a deluxe room that comes with an antique claw-foot tub and private balcony. The on-site Bistro on Main, with indoor and patio seating, serves lunch, dinner, and drinks. 270 Main St., Highlands: (828) 526-2590; mainstreet-inn.com
DINE
For an ultraluxe fine dining experience, Madison's at Old Edwards Inn is hard to beat. Choose from expertly prepared farm-to-table cuisine complimented by perfectly paired wine, as recommended by the sommelier who visits each table. It's open for lunch and dinner, while breakfast is offered to inn guests only. 455 Main St., Highlands; (828) 787-2525; oldedwardsinn.com/dining/madisons
Another worthy splurge is Wolfgang's, which serves elevated classic fare, some of which reflects the chef and owner's German roots. Like Madison's, the wine list here has earned the restaurant a Wine Spectator Best of Award of Excellence for many years running. 474 Main St., Highlands; (828) 526-3807; wolfgangs.net
Open for lunch and dinner, Wild Thyme Gourmet is a popular spot serving American cuisine with a touch of international influence. Lunches bring fresh and light sandwiches and salads to the table while dinner presents many hard-to-resist entrées that will appeal to meat-eaters, seafood-lovers, and vegetarians alike. 343 Main St., Highlands; (828) 526-4035; wildthymegourmet.com
SHOP
The easily walkable Main and 4th streets are lined with countless shops and boutiques that could occupy you for days. Here are a few to set you on your way.
Annawear: Women's clothing, shoes, and accessories, plus designer jeans. 355 Main St.; Facebook: Annawearnc
Bardo: Eclectic furnishings and home décor, plus unique antiques. 460 Main St.; Facebook: Bardo49
The Dry Sink: An expansive kitchen store selling Le Creuset and other cookware, gadgets and appliances, glassware, and gifts. 450 Main St.; thedrysink.com
Dutchmans Designs: Two floors of furnishings, home décor, and gifts. 342 Main St.; dutchmansdesigns.com
Highland Hiker: Gear and clothing for hiking, fishing, and other outdoor adventures. 601 Main St.; highlandhiker.com
The Oak Leaf: A gardener's paradise selling plants, pots, accessories, and gifts. 133 S. 4th St.; oakleafstyle.com
T.J. Bailey's: Classy men's apparel and accessories. 343C Main St.; tjbaileys.com
The Toy Store: Toys, games, and books for newborns to big kids. 364 Main St.; Facebook: The Toy Store of Highlands
PLAY
If you're looking to visit around the first weekend in November, don't miss the Highlands Food & Wine Festival. Details at highlandsfoodandwine.com.
For more on planning your trip to Highlands, visit highlandschamber.org.
RESOURCES:
Photograph (ice rink) courtesy of Old Edwards Inn & Spa; (Old Edwards and Madison's) courtesy of Old Edwards Inn; (mountains) by Serge Skiba; (sign) by Nick Breedlove