Chill Out
Chill Out:
Celebrate the cold season at two regional winterfests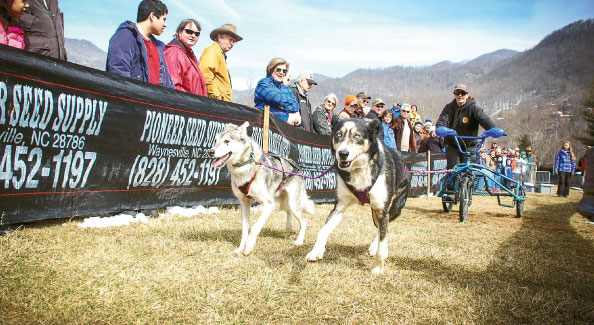 For many, winter is an annual excuse to hide indoors and curl up around the fire. Instead of resorting to that, embrace all aspects of this frosty season by attending winter festivals in Blowing Rock and Maggie Valley.
"The motto of WinterFest is 'Don't Hibernate. Celebrate!' and we mean it," says Billie Rogers, event director for Blowing Rock WinterFest, happening January 28-31. Donning costumes—from wedding dresses to penguin onesies—visitors take a leap on the wild side, cannonballing into the frostbitten Chetola Lake for the Polar Plunge. If submerging in 34-degree water sounds too numbing, opt to test your taste buds and recipes at the Chilly Chili Cookoff, or watch as university students participate in the festival's first ice-carving contest. The four-day celebration also boasts a WinterFeast dinner, fashion show, wine tasting and auction, dog show, and a new barefoot hot coal performance.
From February 26-28, hone your wilderness skills at WinterFest Smoky Style in Maggie Valley. Attendees can learn knife, fire, and rope skills from Spencer Boljack, star of Hillbilly Blood and head instructor at Land of Sky Wilderness School. There will also be dog sled demonstrations, and the award-winning Haywood Community College Timber Sports Team will be on hand to demonstrate their skills, such as ax-throwing and block-chopping.  
WinterFest Smoky Style
February  26-28
Maggie Valley Festival Grounds
3374 Soco Rd., Maggie Valley
$5, $3 ages 6-18, free 5 & younger (828) 456-3021
www.winterfestsmokystyle.com
                                                         
Blowing Rock WinterFest
January 28-31
Downtown Blowing Rock
Prices vary, some events free
(877) 295-7801
www.blowingrockwinterfest.com