Cherokee
Cherokee:
Explore history, modernity, and beauty in this one-of-a-kind town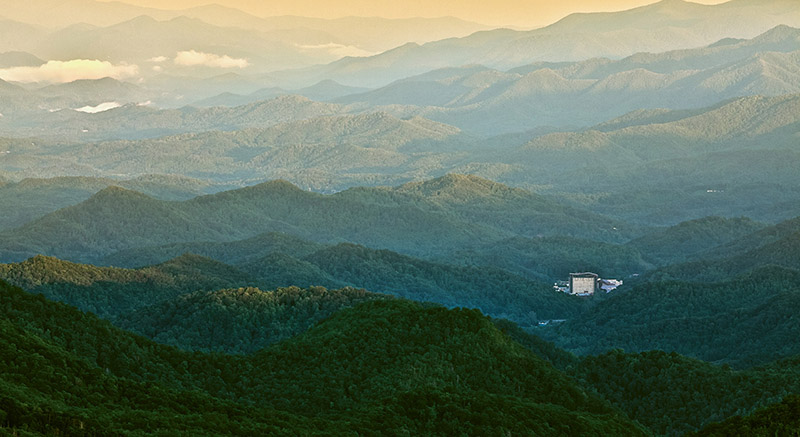 One of the first things you notice as you drive into Cherokee is the glowing red business sign a few feet off of US 19 advertising Granny's Kitchen. Southerners know grandmothers are master chefs, and the buffet-style country cooking here reflects this. Enjoy breakfast until 10:45 a.m. (including favorites like biscuits and homemade sausage gravy) or lunch and dinner until 8 p.m., which serves up dishes like fried chicken and a 25-item salad bar. Whatever you choose, it will be great fuel for a day spent traipsing about.
Located at the entrance to Great Smoky Mountains National Park and the southern end of the Blue Ridge Parkway, the town of Cherokee is the de facto capital of the Eastern Band of Cherokee Indians, a sovereign nation that's home to some of the most unforgettable attractions in the state. One such draw is the Museum of the Cherokee Indian, which chronicles the remarkable history and evolution of the Cherokee people in America.
Almost directly across the street is Qualla Arts and Crafts. Featuring the works of over 250 Cherokee artists, it offers a wide array of wares, such as baskets, pottery, beadwork, and wood and stone carvings. Just up the hill, you'll find the Oconaluftee Indian Village living history museum and the newly renovated, 2,800-seat Mountainside Theatre, home of the renowned outdoor drama Unto These Hills. Introduced in 1950, the production vividly portrays the struggles and triumphs of the Cherokee people.
Perfect for outdoor adventures, Fire Mountain Trails, is a multi-use trails system with more than 10.5 miles of trails suitable for walking, jogging, and biking. Trails interlace through the Great Smoky Mountains and are marked for all skill levels.
The rich history of the region is matched only by its stunning natural beauty. This is perhaps nowhere more apparent than majestic Mingo Falls. At roughly 120 feet tall, it's one of the tallest waterfalls in Southern Appalachia. A short but steep hike to the top reveals breathtaking views.
No visit to Cherokee would be complete without a stop at Harrah's Cherokee Casino. Its gambling options include over 4,000 slot machines and traditional table games like blackjack and roulette. On Thursday afternoons from noon to 1 p.m., the casino offers a free slot tournament. Upstairs, you'll not only find upscale shopping, but a buffet featuring foods from every continent. The casino's newest attraction, the family-friendly UltraStar Multi-tainment Center, features 24 bowling lanes, 54 arcade games, a sports-style restaurant, two full bars, and a stage for live and virtual entertainment. For $9, you can enjoy unlimited bowling on Mondays. For those who'd rather hit the links, the Eastern Band also operates a world-class par-72 championship course, Sequoyah National Golf Club.
Don't leave town without stopping into Sassys Sunflowers Bakery & Café. This bright, airy eatery offers hearty breads baked in-house, as well as palm-sized cookies, muffins, and cakes. The café also makes fresh smoothies and juices that can be enjoyed inside or on the dog-friendly patio. And for the ultimate sweet treat, grab some homemade fudge from Country Maid Fudge.
Plan a Visit
Find more activities, entertainment, and lodging in Cherokee at www.visitcherokeenc.com.
RESOURCES:
Photographs courtesy of EBCI Destination Marketing