Changes Aloft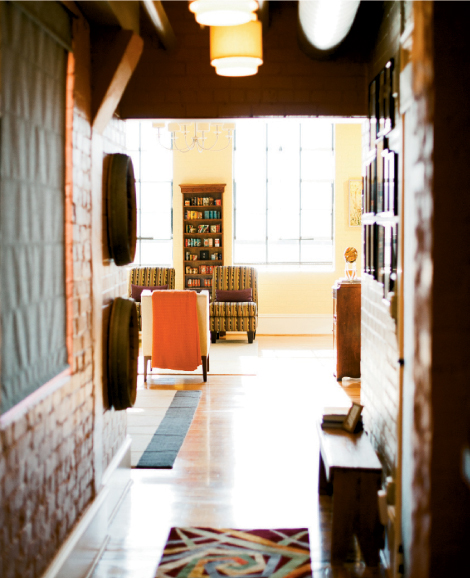 When Peggy and John Harwell left their traditional 1940s two-story home in North Wilkesboro, they weren't just relocating  to a new place down the street.
They were moving into a new reality, downsizing from a large house filled with antiques to a chic condo inside a rehabbed factory.  

As with any move, this one called for a style re-evaluation. The couple found themselves embracing a contemporary design aesthetic that seemed a natural fit for their new space with high ceilings, oversized windows, and exposed brick. But just as the building blended aspects of old and new, the Harwells held on to select pieces from their former home to complement the clean lines of their new furnishings. And with the help of interior designer Jim Lyall of jimmy.L's Living Designs, the two styles came to live harmoniously in the space.

"The developer was all about saving the building and not losing its character," Peggy says. "It was exciting to be part of saving the history of this area."
Named to the National Register of Historic Places in 2008, the former factory was erected in 1923 with handmade bricks and massive posts and beams designed to hold Wilkes Hosiery Mill's knitting machines.
Hundreds of workers and millions of men's socks streamed through the building until it closed in 1957. Owned and operated by other textile concerns during the next few years, it was then bought and inhabited by Key City Furniture Company until 2003.
Real estate developer Gene Rees, who won a Preservation North Carolina award for a factory-to-condo conversion in his hometown of Mount Airy, bought the structure in 2009 and set about playing up its attributes, leaving the posts, beams, and brick walls exposed.

Peggy, a retired bank teller supervisor, and John, an executive with North Wilkesboro-based building materials manufacturer ECMD, have long been attracted to historic structures. John, who's spent his career in the furniture and millwork industries, has seen many factories shuttered and demolished. The Key City Furniture Company building had been empty for about three years before Rees began work. And when he did, locals were excited.

"I talked to a number of people that had worked here or had family who worked here," Peggy says. "They were pleased to see that the building wasn't going to be left empty or vandalized."   

Peggy feels the loss of historic structures in a more visceral way. When she was 12, her family's 80-acre homestead was submerged during the creation of Lake Norman near Charlotte. "We couldn't go back anymore,"she says. "I think that influenced me to love and want to rescue everything old." That rescuer instinct showed in the couple's former style, which looked heavily to the past.

But with two grown sons living in Asheville and Richmond, Virginia, and a granddaughter soon to arrive, the Harwells wanted a home they could lock and leave. They knew streamlining their lifestyle, also meant paring down possessions.

Lyall, who operates taupe gallery in downtown North Wilkesboro with Steve Key, helped her through the process. "Peggy is the type that if she keeps something, there's a reason she kept it," Lyall says. With this in mind, he encouraged her to reserve just the items with personal meaning. "I didn't want to take them completely out of their environment," he says. So Peggy and Jim settled on keeping just one or two antiques for each room.

Today, the space looks like a comfortable, lived-in art gallery. The vibrant colors in chairs by Taylorsville-based Mitchell Gold + Bob Williams based and La-Z-Boy bring out the dark wood of older pieces, such as the five-drawer lawyer's bookcase that holds a china collection. The dining room table was purchased from Johnston Casuals Furniture, a local manufacturer that also made the occasional tables and kitchen barstools. "It was really important to us to buy locally made furniture," Peggy says.  

They loved Lyall's suggestion to incorporate contemporary art into the design. Paintings by Boone outsider artist Cher Shaffer and Asheville's Philip DeAngelo hang in the sitting and dining rooms. Fourteen paint colors were used throughout the condo,reflecting the palette of the forest in fall.  
The Harwells antique treasures fit in seamlessly. A jadeite collection displayed in glass-paned kitchen cabinets accents the greens, blues, and browns of the tile backsplash. In the living room, John's vintage tobacco tins line a custom cabinet, which stands between tall windows that let sunlight pour into the open living room and kitchen.

"Amazing sunlight," Peggy says as she looks out across the rooftops of neighboring houses to the Brushy Mountains. The light reflects off a stainless steel-topped island crafted by Jesse Walsh of Legacy Millwork in Taylorsville. When it's not pushed against the exterior wall to accommodate quiet suppers for two, the island can be rolled into the dining room to serve as a buffet when the couple entertains.
There are imprints of character throughout the loft that tell of the building's manufacturing past. "You see these little brown circles here?" John says, pointing to marks on the original oak floor near the dining room table. Chairs coming off a conveyer belt left the marks during the space's former life. When the floors were refinished, Peggy made sure these vestiges weren't sanded out.

The guest suite, which holds Peggy's sewing station, is the only room with new flooring. Though the hardwoods gleam, the room keeps a casual feel, thanks to a headboard, bed skirt, and pillows crafted from  playfully patterned feedsacks her mother collected.  

"That was one of the neatest things that happened" during the collaboration, Jim recalls. "When we were talking about the guest bedroom, I told her we could create the headboard on a budget with different kinds of fabric. She went to her closet and pulled out all these feedsacks and said 'like these?' "

The brick-walled passageway that connects the sitting room to the kitchen and living room reminded Peggy of the wine cellars she and John toured in California's Napa Valley. She completed the motif by mounting two wine barrelheads on the wall.
 
A door in the hall leads to a balcony that overlooks a courtyard composed of  open-air landings. Their neighbor below installed a fountain that he turns on for Peggy's enjoyment as well as his own.

Friendliness among the residents is one of the reasons the Harwells believe this is the last move they'll make. "It's just been a good blending of people from different locations, people at different stages in their lives," Peggy says. "It's nice having 31 neighbors and knowing them all."