Carving Legacies
Carving Legacies:
Anneliesse Gormley carves and casts heirloom goods for future generations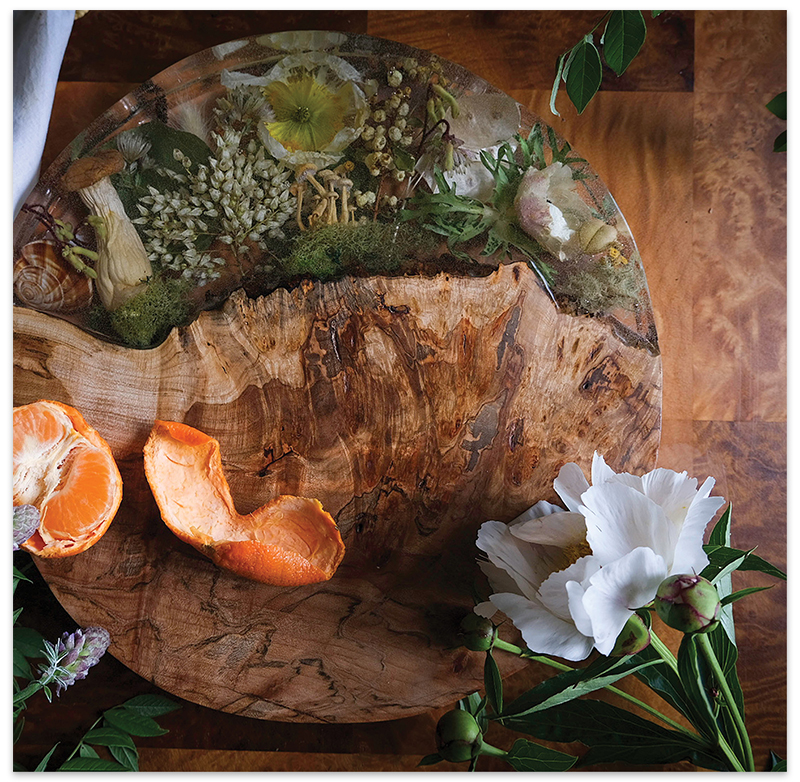 Featuring elements of natural whimsy, "A walk in wonderland" is designed to be passed down for generations.
Heirlooms can come in all shapes and sizes. A great grandfather's pocket watch, a fifth generation cast iron skillet, or a pearl necklace passed down for generations. But whatever they are, someone had to make them, and odds are that the craftsman behind them did not realize the legacy they'd leave behind. Anneliesse Gormley, on the other hand, actually set out to build heirlooms; ornately carved and cast spoons, cutting boards, and serving tools that can be passed down for generations to come. In fact, her whole woodworking company Spoon + hook began when she inherited a family heirloom.
"Years ago I was going through a big life transition; breaking up with someone, living on my sister's couch, and just trying to figure out who I was, when my grandma came into town," she recalls. "She gave me a spoon that had been in my family for generations, one that she can trace back to the Macon Valley Bird Clan—a Cherokee tribe in Kentucky. It's so fragile and so delicate, and it was so impactful to be entrusted with it."
(Left) Spoon + hook founder Anneliesse Gormely; (Right) Each Spoon + hook piece contains elements of nature, including mushroom-shaped serving sets.
That wooden spoon inspired Gormley to try her hand at making her own. She bought a hook knife and began teaching herself to carve wood. "I was not very good at many of the other things that I'd tried, but [woodworking] was one thing that made a lot of sense to me and I was genuinely excited about it."
She learned resin casting and began incorporating flowers and botanicals into her work. And has since built a regular practice of casting bridal bouquets and funeral flowers, but it doesn't stop there. She's been asked to cast everything from a late pet tarantula to baby teeth.
"It's amazing what people ask for now that I've never even considered to be a possibility! But the core of what I'm trying to do is not only create something that is a unique, one of a kind piece, but something that holds up forever. I need to do some research if I'm going to cast your child's teeth into a spoon, but if I find out I can do it, I will." "People look at it as if you are freezing something in time for them, almost like fossilizing them—which I am, in a way."
Spoon + hook offers dozens of handmade products crafted not only from wood, but clay, glass, resin, and more. Spoons adorned with floral imagery (right).
Her work beckoned a host of dedicated customers who hope to pass on their memories to their loved ones for generations. "If I could dream up the perfect career for myself, it would be telling people's stories in a way that turns them into heirlooms that can be passed down," she muses.
"It's not only the idea that an heirloom is something that has been passed on through generations, but to know that you are trusted with it," she says. "It's so rare now for people to put trust in anyone, really, so to hold something that has been in a family and to know that someone trusts you to tell that story again and hand it down is just everything!"
LEARN MORE
Visit Spoon + hook at spoonandhook.com