Canyon Kitchen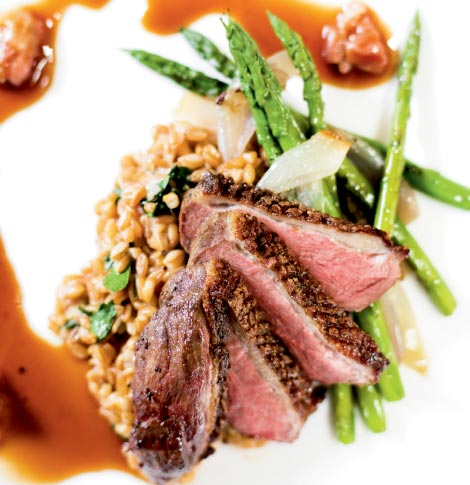 The truth is, I didn't go to Sapphire looking for Canyon Kitchen; I went to find John Fleer, the Southern chef who presides over the restaurant and was a 2011 finalist for the James Beard Best Chef in the Southeast award.
Fleer rose to fame across the mountains in Tennessee at Blackberry Farm where, for almost 15 years, he made the internationally acclaimed resort a mecca for people serious about farm-to-table cuisine. He scoured the hills for local produce, heirloom vegetables, artisan cheeses, and fresh, honest-to-goodness buttermilk, all of which he used to elevate contemporary Southern cooking to a new status.
Now, Fleer surprises and delights diners who make their way to the Lonesome Valley Community and Old Jennings Barn, which houses the restaurant. Canyon Kitchen evolved from a prep location for catering to a fine dining establishment, requiring Fleer to create a model that would please diners and allow his creative juices to flow. The result is a prix fixe menu, replete with fresh produce and herbs from the on-site garden and local fare such as figs, raspberries, and goat cheese, all expertly prepared and artfully presented.  
Fleer begins the meal by sending out snacks to the table, believing the informality of passing food and discussing it creates community. Our group was treated to a melon and stone fruit salad with Three Graces feta and roasted rhubarb vinaigrette; short rib cannelloni with Rogue Creamery blue cheese cream; brava potatoes with romesco mayonnaise; and PEI mussels steamed with chorizo and locally brewed Highland Gaelic Ale. The mussels in the hearty broth stole my heart.
With a wine list ranging from a $20 Italian prosecco to a $200 California cabernet sauvignon, selecting one to pair with the diverse appetizers was a challenge met by a recommended and versatile 2007 riesling from Davis Family Vineyards.
We had a choice of two entrées: grilled flat iron steak served with Anson Mills rice polenta and paired with a robust Bodega Numanthia Termes; or seared wild striped bass and Jolly Farms summer squash with steel-cut oat risotto and roasted asparagus complemented by a 2010 Kermit Lynch Côtes du Rhône blanc. I chose the steak and was so amazed by the delicate texture of the polenta that I checked the menu to make sure it was in fact polenta.
Two exquisitely executed desserts capped the meal. I enjoyed a Neapolitan that defied the notion of a typical layered dessert; it was composed of chocolate buttermilk cake with strawberry mousse, vanilla bean sherbet, and warm spring berries served with red wine. The second choice was a delectable raspberry cinnamon roll with Cognac-brown butter ice cream, stewed raspberries, and praline pecans. Both were extraordinary for their simplicity and ability to delight the palate, and a delectable finish to a day of willful  discovery.