Cabinet of Curiosities
Cabinet of Curiosities:
Flamework artist Kit Paulson creates intricate glass menageries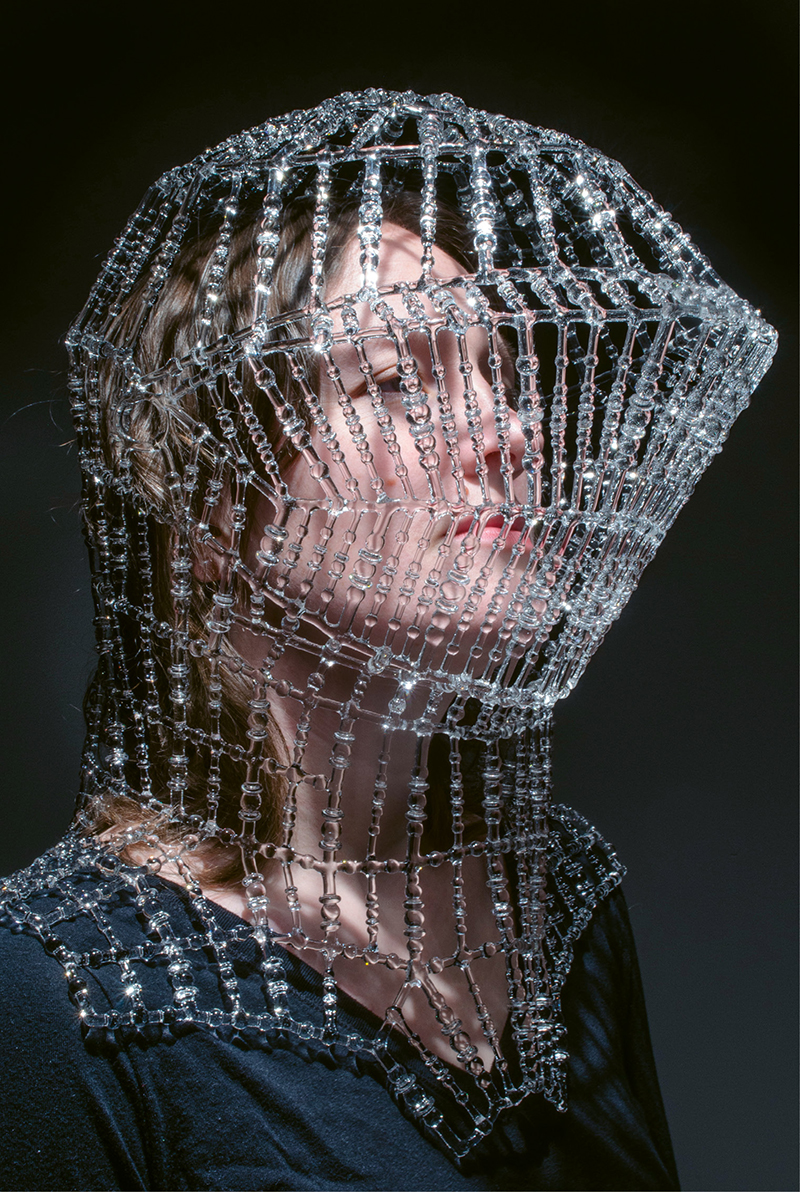 From elaborate headpieces like Carapace II (shown above), Paulson's work explores the meaning and stories of an object and its life cycle.
Stepping into Kit Paulson's studio at Penland School of Crafts feels like peeking into a Victorian house filled with several lifetimes' worth of oddities—and that's exactly what she's going for. The poised, quietly articulate Paulson personifies the crystalline grace of her delicate pieces, the products of a studious but whimsical nature and a careful hand.
Roller Skates
In the second of a three-year residency at the renowned school, Paulson uses flameworking to craft everything from bonnets and intricate masks and headpieces to sewing implements all in glass in what she calls her Magpie Museum of Disorderly Inquiry, the space occupying the front half of her studio. Like any good cabinet of curiosities, part of the joy of the menagerie for Paulson is that "it's filled with blatant fakes. They're not even fabricated in the right material."
Paulson, who grew up outside of Chicago, was exposed to glass arts in the early 2000s during her BFA program at Alfred University. She worked in the hot shop for several years before heeding flameworking's siren song. That process hooked her during a workshop at the Corning Museum of Glass during her master's studies at Southern Illinois University. "I wanted to make tiny things," she says, "and you can't create on that small level or build structure in the hot shop."
Opaline Corona
Unlike glassblowing, flameworking allows her to connect many pieces over an extended period of time, a process enabled by borosilicate glass, which is more stable than the standard material used in glassblowing. In her studio, Paulson uses a bench torch to melt and pull glass rods and tubes. With a hand torch, she then sculpts her pieces, working closely over drawings outlined on a piece of heat-resistant ceramic kiln shelving.
Telephone
The resulting artworks have titles ranging from the literal (Model of the Movement of a Blackbird's Wing) to the imaginative (glasses embellished with flowers are Eyeglasses for Concealing Oneself in the Undergrowth). Other titles are pulled from Appalachian ballads, and still others are stories, complete in themselves. "One reason I call it the Magpie Museum is because someone once told me to be a magpie of ideas," muses Paulson. "Because if you see something interesting and keep it in mind, you might come back to it later."
Gloves
Paulson's studio is open to visitors, and her work is on display at the school's gallery and in Asheville at Momentum Gallery. Besides new curiosities for the Magpie Museum, she's working on functional pendants, like reliquaries containing four-leaf clovers, that still convey her passion for unusual things. This month, she'll be part of a group show at Momentum featuring leaf-inspired work. It's an appropriate subject, since she's been looking to the natural world even more than usual since her arrival at Penland. "It's so beautiful here," she says, "and there's so much to look at all the time."
On View
See Paulson's work at Penland Gallery & Visitors Center (3135 Conley Ridge Rd., Penland), Momentum Gallery (24 N. Lexington Ave., Asheville), and online at kitpaulsonglass.com.
RESOURCES:
Photographs (Telephone, Roller Skates, Opaline Corona headpiece) by Kit Paulson; (carapace II helmet and gloves) by Andrew Calise