Bye-Bye, Bottle
Bye-Bye, Bottle:
Say hello to small, portable vintages debunking the box-wine reputation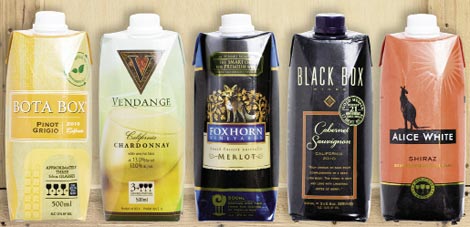 Just as any French citizen, I adore old-fashioned bottles with their unwieldy corks, voluptuous shape, and inherent mystique. But I'm also practical, and can't help being somewhat seduced by today's Tetra Pak wines that line up so neatly in their brightly colored jackets.
Designed to be portable, durable, and shatter-resistant, these cartons fit easily in a refrigerator door or on a shelf. The following five wines also won't shatter your budget. So suspend your judgment of what could be considered a "box wine" and sip away.            
             
Bota Box Pinot Grigio 2010 »  $5
Bright and full of acidity, this white pinot is reminiscent of a Loire Valley muscadet. Light and clean, it would be a good accompaniment to oysters, sole meunière,
or catfish.
Vendange Chardonnay »  $4
Very light and sporting a slight pepperiness, this is a wine to serve with those difficult-to-complement vegetables, such as artichokes and asparagus. Try it with salade niçoise, featuring slender green beans and chunks of tuna.
Foxhorn Merlot » $3
Young, fruity, and singing of grapes and plums, this merlot hints of tannin and cassis. Pair it with grilled meats or marinated vegetable skewers.
Black Box Cabernet Sauvignon »  $7
Pungent and aromatic, this peppery, gently tannic wine hints of mulberry, blackberry, and currant. Pair it with a pork roast marinated in mustard and sage or slow-cooked pheasant or rabbit.
Alice White Shiraz » $5
Rich in blackberry, cassis, and spice overtones,
this wine holds a surprise note of coffee, which makes it an excellent choice to close a meal. Try it with lamb or a thick steak, or let it stand on its own.