Buzz Feed
Buzz Feed:
Herbs and spices mingle in the bright concoctions at Asheville's Scarlet Bee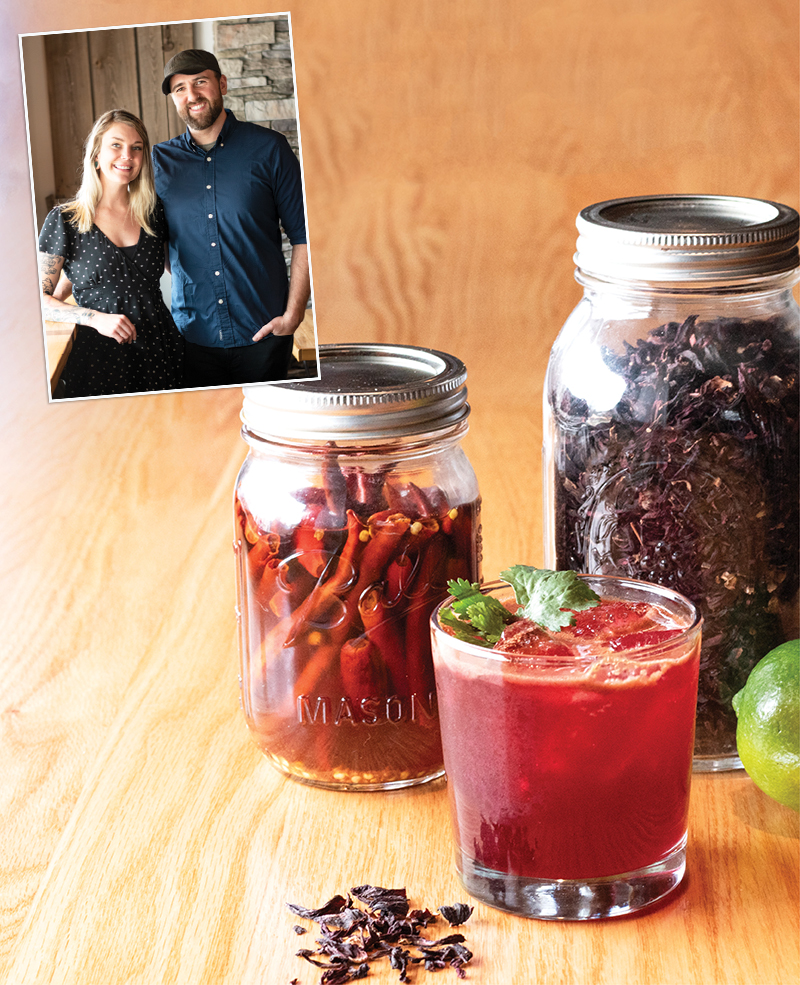 Just as the brilliant red plumes of scarlet beebalm lure creatures of the buzzing nature, The Scarlet Bee in North Asheville—named after the perennial herb—has locals in-the-know abuzz over its Mediterranean cuisine and herbed cocktails. Launched last May by Matt and Kristin Sawaya (pictured inset), the restaurant offers a simple menu of savory spiced dips, mezze dishes like cauliflower shawarma and tenderloin kebabs, and a few traditional desserts best enjoyed with sweet, cardamom-tinged Turkish coffee—all passed down from Matt's Lebanese family's recipes. Kristin, who's a certified health coach and studied herbalism, works with Matt and bar manager Catie Conroy (formerly of Asheville's Limones) to craft the cocktail menu, which features house-made shrubs and syrups and medicinal herbs and flowers. The result is a refreshing blend of elixirs that are both good and good for you. One to enjoy this summer is the Sweet Heat, which blends aged tequila, chile de árbol, lime, crimson hibiscus syrup, and aromatic cilantro for a libation that is delicately sweet-tart with a spicy kick. "Hibiscus is good for your liver, depression, lowering blood pressure," says Kristin. Try it at the restaurant for the real deal, or give the recipe a spin at home. Conroy recommends, if you want less heat, substitute jalapeños and less of them. 
Sweet Heat (Serves 1)
1 oz. hibiscus syrup
2-3 hot chilies (árbol recommended)
Big pinch cilantro
1 oz. lime juice
2 oz. reposado tequila
To make the hibiscus syrup, place half a cup of dried hibiscus flowers, half cup of water, and a half cup of sugar in a pot and bring to a boil. Remove from heat and let rest for 20 minutes. Strain and store in fridge for up to a month.
In a shaker, muddle chilies and cilantro. Add lime juice and muddle again. Add tequila, hibiscus syrup, and ice. Shake and double strain over fresh ice. Top with cilantro.
The Scarlet Bee
853 Merrimon Ave., Asheville
(828) 552-3838
thescarletbee.com
Photographs: Savanah Seevers