Bring that Beat Back
Bring that Beat Back:
From the practice room to the stage to the studio, WNC's garage rockers forged an indelible sound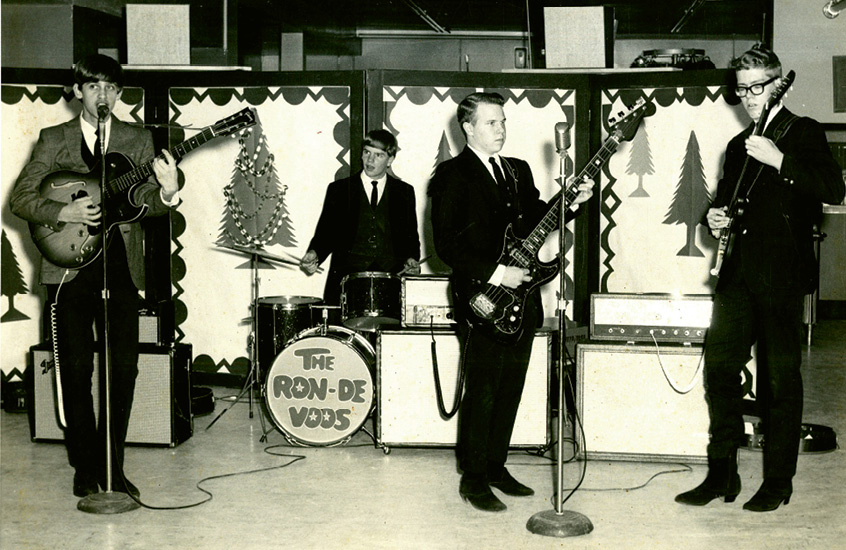 The Ron-De-Voos did their best to channel the Fab Four. "We all think the Beatles are the greatest things to hit the earth," the group's bassist, Mike Baker, said at the time.
"The starting point has to be the Beatles," says Mike Baker, one of Asheville's earliest rockers. When he was about to turn 13 in February 1964, he was glued to the family's TV set when the Fab Four debuted on The Ed Sullivan Show. The Rolling Stones followed with a US tour in June, and the Beatles returned to the states in August. The two groups dominated the American record charts the entire year, inspiring American teens into action.
In cities and towns throughout the country, garage bands—so called because their teenage members often practiced in their home garages—sprang up to emulate their British Invasion heroes. Pop culture historians estimate that no less than 40,000 garage bands existed between the years 1964 and '67. These bands were often as untrained as they were earnest, but all of them dreamed of whatever they might designate as success: local acclaim, adoring female fans, a bit of pocket change, or all of the above.
The garage scene in Western North Carolina was no different: Scores of local groups got together, played dances, and took part in Battle of the Bands competitions. Some even wrote their own songs, and a surprising number cut a record or two. And while few went on to widespread fame, the cherished musical memories remain even today.
Trip So Wild
Baker had already been interested in music, pre-Beatles. His dad played "an old, cheap, $80 Kay guitar," he recalls. "He loved to play the country classics, and one day, he said, 'Come here, boy. I want to show you something.' He showed me how to play C, F, and G chords." That was in late 1963.
Baker began writing songs. "You quickly learn," he says, "if you have any instinct at all, how to create a mood with carefully chosen minor chords." With a few tunes under his guitar strap, he formed The Ron-De-Voos with some friends: Doug Kilgo, Bill Graham, and Ron Watts. They initially played covers of the Dave Clark Five, but Baker's bandmates soon found out he was writing songs and took a shine to them. "At first, I was kind of shy about it," he remembers.
All of the band members were students at Hall Fletcher Junior High in West Asheville. Their local template for success was a group of older musicians then attending Lee Edwards (now Asheville) High School: The Fabulous Wunz, described by Baker as "Asheville's first great garage band. We really looked up to them. When you're 13 or 14 like I was, a 17 year old seems like an adult."
Baker wrote the song "Trip So Wild" when he was only 14. Released on vinyl in 1967, the song's chorus depicts something deeper than run-of-the-mill teenage angst: "Don't look at me / I'm in a bad way / I took a trip so wild today / I'm lost and I can't find the way / If you color me, color me gray." Critics have characterized the song as "acid folk," but Baker stresses, "I was never a drug addict." The song's subject matter was "purely imagined," he says. "I wanted to write a song of despair. And actually, I was thinking of heroin, not LSD."
Into the Studio
Back then, Asheville was not the regional center for professional music that it is today; recording studios like Echo Mountain and Sound Temple wouldn't appear locally for nearly another 40 years. And even if such studios had existed, it's unlikely that garage bands like The Ron-De-Voos could have mustered the cash to pay for even a one-song recording session.
So for them and other WNC bands, a trip to Mark V Studio in nearby Greenville, SC, was the most practical choice. There were a couple of other regional studios—Galaxie III in Taylorsville and Arthur Smith Studios in Charlotte—but Mark V was the go-to breeding ground for aspiring rock stars on a shoestring budget. "By today's standards, I think you'd say that the recording session was rather crude," says Baker. But the studio's quality was sufficient to capture "Trip So Wild"'s ambiance, if not the drums (which are all but inaudible on the record). "The speed was off; too slow. I was crestfallen with disappointment," Baker remembers. But in another sense, he was thrilled just to have made a record.
It's not as if that record went onto retail shelves, anyway; boxes of records were instead delivered to Baker. But an important local figure did take notice. WISE-AM disc jockey "Little" Joe Brown "fell in love with 'Trip So Wild' and played the holy hell out of it," Baker says. "We actually had a little spell when we signed autographs at junior high school. It was quite a heady thing." The band's live performances were few, however, and limited to the occasional dance or party.
Like many records cut at Mark V, "Trip So Wild" and its B-side, "Run Run Run" were issued on the studio's in-house label, Mastertone. Today, no one can say just how many copies of The Ron-De-Voos' 45 were pressed, but used copies—when they surface—remain in high demand among collectors. Equally rare is "If I Cry," a 1966 single written and recorded by The Fabulous Wunz. Luckily, the original recordings of both songs can be found on YouTube (see sidebar for an online playlist of WNC garage tunes).
Some groups ventured even farther from home to record: Haywood County's The Shadows cut their moody single "She's Like That" in Nashville in 1967, releasing it on Gold Standard, a label that released hundreds of one-off singles in the '60s. (Even better was the bands' earlier single, the rocking "Tell Me," recorded at Arthur Smith in 1966.) Asheville had its own label, Bandit, and most Bandit releases were cut at Galaxie III. Few of any of these regionally recorded singles would see national distribution, and fewer still got significant airplay, but that hardly dims the fervor documented in these records.
The Garage Aesthetic
There's a sense of immediacy to recordings made by the early garage bands. Studio time cost money, as did the magnetic tape that captured the sounds. So when teenagers showed up for their session, they were expected to set up their gear quickly, wait for the red light to come on, and then play their song—often just the one—live and in one take, if possible. Luxuries such as second takes, overdubbing, and other studio sweetening were simply not part of the mix.
The bulk of the bands didn't stay together long. Their members lost interest, headed off to college, or were drafted and sent to fight in Vietnam. "Most of what we strictly consider garage groups were white kids," notes Vance Pollock, a local music historian and host of the weekly "Riffin'" radio program on Asheville FM 103.3. But he notes that Asheville was home to some "salt-and-pepper" bands: often an African-American vocalist backed by white musicians. "Some older folks didn't appreciate these black and white kids making music together, but it happened, and the kids thought nothing of it."
The Scene Lives On
Pollock's Carolina Rock 'n' Roll Remembered Facebook group is a vibrant online gathering place for fans of regional garage bands. With more than 1,600 members, the group shares stories, images, and recordings that preserve the bygone era. "I would say half of the members are veterans of groups that may have played a Battle of the Bands or school dances," Pollock says. "Most never cut a record. In a lot of cases, their one claim to fame might be that they got to open up for a national touring group in a local club."
Pollock is by no means the only music buff with a keen interest in North Carolina's '60s garage band scene. Greg Cartwright, leader of garage revivalist band Reigning Sound (and also a deejay at Asheville FM) spins 45s from his personal collection every Friday night at the Double Crown in West Asheville. He's emerged as an accomplished singer, songwriter, and guitarist who's also a chronicler of the garage era. What's more, the archivists at Pack Memorial Library's North Carolina Room, along with volunteers like Pollock, have been conducting oral histories with community members who speak fondly of the garage rock days. "You had kids that, if they played music at all, were playing it in school bands," Dan Lewis, a longtime local musician, recalled in one of the interviews. "And all of a sudden [garage rock] planted seeds and created energies to where kids wanted electric guitars or drum kits."
Though most of its participants have long since moved on to other things—Mike Baker, for example, hasn't picked up a guitar since around 1970—the cherished memories of a special time in modern American culture remain part of our musical history. With luck, modern-day enthusiasts will continue to dig deep and further document WNC's part in the garage band era, and the beat, as ever, will go on.
---
Way Back Playlist: Local music historian Vance Pollock's top WNC garage rock gems
1. The Satyrs, "Don't Be Surprised" (1965)
Asheville pioneers of the new rock sound recorded this perfectly raw rendition after hours in a hi-fi shop on Biltmore Avenue using just two microphones. A clean copy of the resulting 45 has changed hands for $1,000 in recent years.
2. The Fabulous Wunz, "Please" (1966)
Asheville's answer to The Beatles, The Wunz produced a lone 45 at Arthur Smith Studios in Charlotte. This flawless B-side was composed en route to the studio and captured in a single take.
3. The Soul Set, "Will You Ever Learn" (1967)
One of the finest so-called salt-and-pepper (racially integrated) soul groups in the region hailed from Western Carolina University.
4. The Ron-De-Voos, "Trip So Wild" (1967)
Barely out of junior high when they recorded this brooding tale of substance abuse, this Asheville band had no such real life experience to draw on.
5. Willie Hobbs, "Game of Love" (c. 1969)
One of the most prolific black soul voices of the region, Hobbs was often backed by local white kids such as The Dirte Four, aka Centurions of Asheville.
6. The Electric Love, "She Wants to Be Free" (1968)
The first release on Asheville's Bandit label was recorded by the group formerly known as The Sandy Mush Electric String Band.
7. Johnny Bell & The Jaguars, "Tee-Shirts and Mudflaps" (c. 1969) 
The house band of Asheville's budding hippie culture recorded this harmonica-driven boogie at Galaxie III Studios in Taylorsville, NC.
8. Shirley Hughey with Orange Purple Marmalade, "Pink and Green" (1969) 
A cult favorite, this song was written and performed by a group from Hendersonville featuring female drummer Theresa Crouch and her future husband Terry Justus on guitar before they split town to play the New England beach club circuit that summer.
9. Sunn Cycle, "Acid Raga" (1969)
This wild psychedelic jam could have rivaled the likes of Hendrix or Grand Funk. The group was later courted by Capricorn records and played shows with early "Macon sound" artists but never had another release.
10. The Shadows, "Tell Me" (1967)
This frantic rocker out of Waynesville featured a young Dennis Robbins on guitar. He went on to a respected career as a Nashville songwriter.
RESOURCES:
Photographs courtesy of (Ron-De-Voos) Bill Graham; (Bee Bumble, Sunn Cycle) Carolina Rock 'n' Roll Remembered; Wunz) by Juanita Wilson, courtesy of Gary Garner