Bright Prospect
Bright Prospect:
The Gem Capital of the World holds a sparkle uniquely its own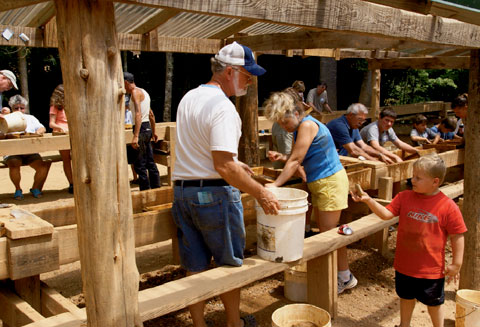 Walter Taylor is asking me if I've seen the movie Braveheart. I'm nodding yes, of course, but this isn't the topic of conversation I'd expected on my trip to Franklin. Here at the Scottish Tartans Museum, believed to be the only one of its kind in the Western hemisphere, I am learning more about William Wallace, Mary, Queen of Scots, and other pivotal figures in Scotland's history than I did in my European history classes. Taylor shakes his head with obvious disappointment and explains that Wallace wouldn't have been able to walk if he rode bareback in Mel Gibson's costume. The film Rob Roy, he says pointing to a mannequin representing the folk hero, did a better job of painting an authentic picture.
Most visitors know Franklin for its ruby- and sapphire-rich earth. And with nine mines, six gem shops, and two mineral museums, that's understandable. But natives and locals are also clued in to the strong Scots heritage it shares with much of Appalachia. The Ulster Scots were key to the settlement of this corner of Western North Carolina, as well as the state. As Taylor says, "the kilt was seen and bagpipe heard very early on in Macon County."
This museum is just one of the cultural links that fortify the character of this town. With a population of about 3,500, Franklin has an understated, conservative appeal. And if you simply buzz through on your way to nearby Highlands, Nantahala National Forest, or Georgia's Rabun Gap, you'll miss out.
Play
The Tartan Museum [86 E. Main St., (828) 524-7472] is well worth the humble $2 admission charge. Whatever your heritage is, the Scots' influence on the region is fascinating. If you're there on a Friday, ask Taylor to show you around the place. His stories and asides give the tour personality and deeper perspective.
On the opposite end of Main Street, you can broaden your knowledge of the town's backstory at the Macon County Historical Society & Museum [36 W. Main St., (828) 524-9758]. Housed inside the J.R. Pendergrass Building, which served as a dry goods store for decades, a menagerie of artifacts include a column scroll from Dixie Hall, the Franklin home where Confederate forces made their last surrender east of the Mississippi River. Behind the original store counters, check out the display devoted to Pendergrass, who could often be found playing checkers at a table out front. If he was in the middle of a good game, customers had to go outside to pay for their purchases.
If you want to take home a tangible piece of history, panning for the rubies and sapphires that have been in the ground for thousands of years lands on the must-do list. You can unearth an authentic mining experience at Mason's Ruby & Sapphire Mine [6961 Upper Burnington Rd., (828) 369-9742], where amateur prospectors fill buckets with dirt and use one of the flumes to reveal their reward. There have been some enviable finds, most recently a 73-carat sapphire. But big or small strike, you're not likely to go home empty-handed.
EAT & DRINK
There's a surreal quality to dining at Caffé REL [457 E. Main St., (828) 369-9446]. This chic, French-inspired restaurant stands in stark contrast to the neighboring businesses: the Hot Spot gas station that shares the building, Bennett's Gun Exchange, S&S Auto Parts, and a Domino's Pizza advertising a $5.99 special. But chef and owner Richard E. Long picked the location with a preferred clientele in mind: "The reason we're in this gas station is to keep all the pretentious people away," he says. Fortunately, Long's days of training and cooking at high-end restaurants, didn't make him a snob. He still remembers what it was like not to be able to afford a fine meal out, and the lesson is reflected in attainable prices.
Highbrow appetizers like lamb lollies ($9.25) and brandied chicken livers ($6.50) share the menu with substantial sandwiches like The John Gotti ($6.25) — capicola, pepperoncini, salami, provolone, and balsamic vinegar on French bread—and entrées like rack of lamb ($23.95). After the first spoonful of the rich blue crab bisque ($4.95), you'll feel sorry for those saps who opted for the pizza special across the street.
Rathskeller Coffee Haus & Pub [58 Stewart St., (828) 349-0598] serves macciattos and Cuban espressos, as well as house-made cheesecake and biscotti, but the ambience is more akin to the Germanic meaning of its name, a tavern below street level—in this case, under Main Street. Here, you're likely to catch a few locals gathered at the bar starting the weekend early on a Friday afternoon with a stout and a Landjaeger jerky stick. By the end of the night, a crowd will be listening to Don Mader on keyboards and raising toasts to two days of freedom with hard ciders, which they'll use to wash down calzone-style wraps stuffed with spinach, mushrooms, and provolone.
SHOP
Just like mineral veins, biking trails crisscross the region. And if it's time to say happy trails to your old bike, you can pick up a new riding companion, whether it's a hybrid, mountain, or road model, at Smoky Mountain Bicycles [179 Highlands Rd., (828) 369-2881]. Owners Pam and David Forshee can also point you in the direction of great backcountry riding spots. But you don't have to make a purchase to pedal through town: The shop offers rentals to explore the four-mile Little Tennessee Greenway, which you can access behind the shop.
It says something good about a town when a gallery can leave handcrafted stoneware outside its front door for purchase on the honor system. If Christy Barber, the co-owner of Naturally Yours Fine Art & Craft [19 Iotla St., (828) 332-0047], needs to run home to pull work out of the kiln, customers can still pick out a mug, vase, or pitcher and leave a payment in the mail slot. "A lot of people love it," she says. "I've even caught people paying when I'm coming to open the shop and they still want to drop their money in the slot just for the novelty of it." Christy's husband, Mike, throws each functional piece, glazed in blues and browns, and she etches leaves, vines, and other natural patterns into the clay. Inside, her watercolors of wildlife and nature scenes fill the gallery. And as the sign out front states, if you're a couple dollars short on your purchase, don't worry, the next person might cover the difference. It's just what people do for one another in Franklin.