Branching Out
Branching Out:
Adam Laufer's treetop retreats blend modern living with childlike wonder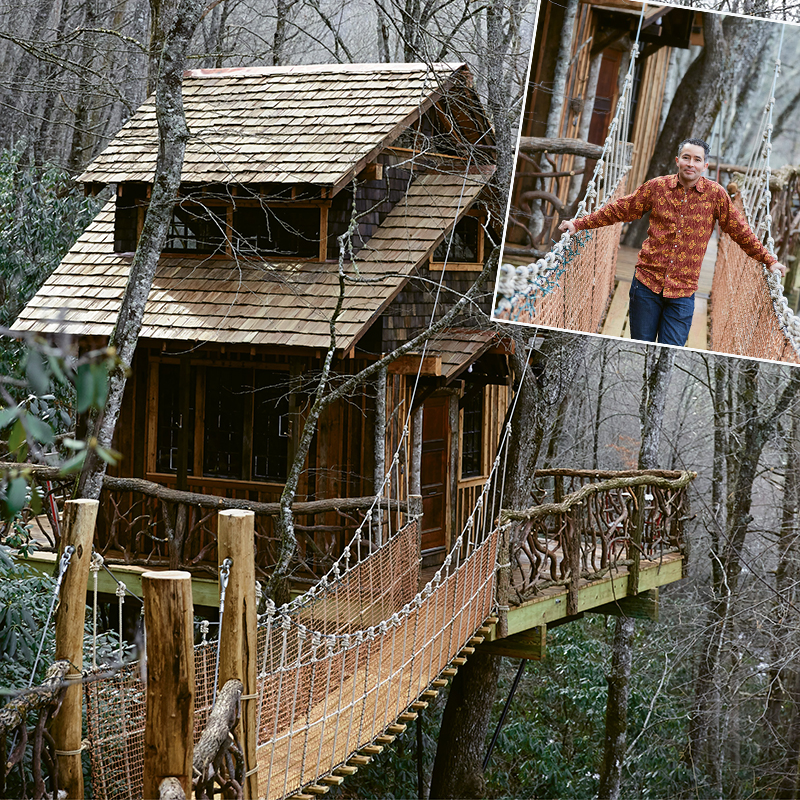 Built in 2018 by World Treehouses, this nearly 400-square-foot tree house serves as a quaint guest bedroom for a client in Panthertown Valley; (Inset) Adam Laufer
Dappled sunlight flows through the soaring sanctuaries created by Adam Laufer, owner and lead builder of World Treehouses, a venture he launched in 2016 from his home in Weaverville. "Spiders build webs. Birds build nests. I build tree houses," he says.
But these aren't your average playhouses among branches. Laufer's designs, which can be 40 feet off the ground and up to 400 square feet in size, serve as meditation retreats, offices, art studios, and bedrooms in the sky. There's electricity, but no plumbing. The first of the company's three completed tree houses, built in Brevard in 2016, incorporated decorative tin, recycled windows, and paneling milled from trees on the land. Doors and flooring came from an 1880s structure. Other designs have incorporated shake siding, circular windows, and many of the materials used in constructing houses on the ground. He stays in synergy with the natural forest, using branches and twigs for railings.
"The most important part of building a tree house is allowing the living, growing tree to continue to be its beautiful self," Laufer says. "From the beginning, we plan for the tree's health. I have to let the tree guide how to build. I pay attention to the branches, the distance from one to the other, and use my imagination."
Laufer incorporates recycled wood and trees and branches from each property into the overall design.
The aerial carpenter started in residential construction in the mid '90s, and elevated his skill set in 2011, when he took a position with Bonsai Design, a company that builds zip lines nationwide. Laufer worked on one in Knoxville and, in 2015, helped build Navitat in Barnardsville. "A lot of the time, you have people who know how to climb trees but don't have the carpentry skills," he says.
Unlike a conventional builder, Laufer uses ropes, harnesses, and rigging gear more akin to an arborist. The block and tackle pulley system is how he maneuvers heavy loads into place.
Tree houses have been Laufer's joy since childhood. "My dad built a tree house for me as a kid," he says. "I had a rope swing and a bungee line. Building meant time outside with my dad. He was a large influence."
Top, the Panthertown Valley bedroom tree house; above left, Laufer's wife, Erin Everett, for whom he built one of his early tree houses.
Laufer's dad thought of what a kid would need to feel happy playing in the trees, and Laufer brings the same consideration to the work he does for his clients. After an initial site assessment, Laufer lets his creativity flow. Each tree house has a unique structure based on surrounding natural beauty and the owners' aesthetic preferences. Measurements must be one hundred percent accurate. Laufer works closely with Michael Stam, lead designer and cobuilder for World Treehouses, and one or two other workers. Together, they can complete a project in about six months.
Laufer feels comfortable dangling 40 feet above the earth. He enjoys the scent of the air and the feel of the breeze, working in all kinds of weather. "I'm safer in the trees than I would be standing on a ladder," he says. "The most dangerous part of my job is driving to work."
World Treehouses
(828) 458-7393
worldtreehouses.com