Bourbon Barrel Beef & Ale
Bourbon Barrel Beef & Ale:
Bourbon Barrel is an anchor for the growing revitalization of a once-busy commercial district that had fallen on quiet times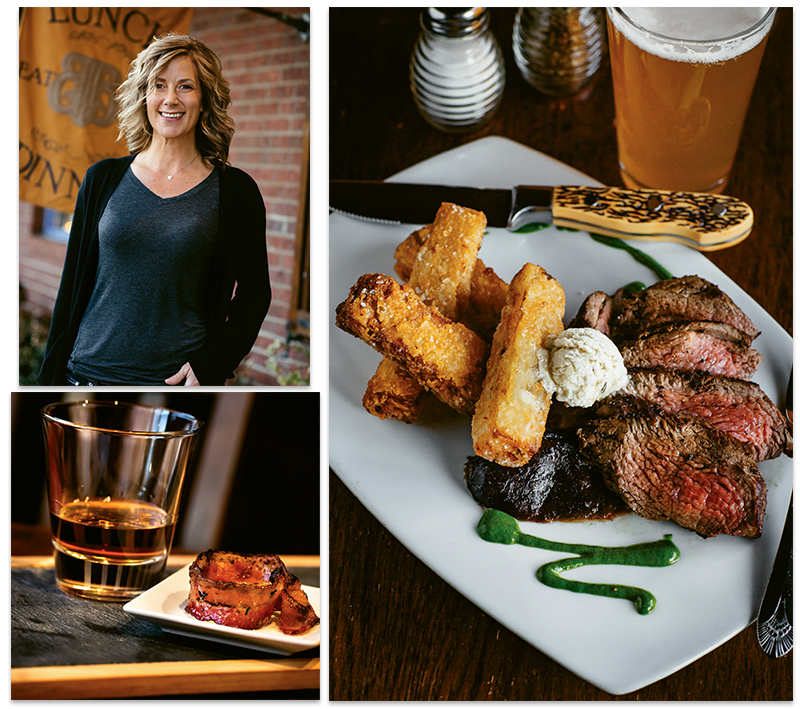 (Clockwise from top left) Owner Ashley Owens;  Garlic- and herb-marinated beef medallions with béarnaise butter and au gratin fries; The popular Bourbon and A Bite appetizer features the bourbon of the day alongside a starter: on this day, it was sweet and salty candied bacon.
In this corner of North Carolina, with new restaurants and thematic eateries opening left and right, it's easy to forget how satisfying well-crafted simplicity can be. Bourbon Barrel Beef & Ale, now in its seventh year, has perfected that notion with sincerity.
Tucked into Waynesville's Hazelwood neighborhood, Bourbon Barrel is an anchor for the growing revitalization of a once-busy commercial district that had fallen on quiet times, with boarded-up storefronts. It sits smack in the middle of a tiny main street near a bakery and coffee house, bookstore, thrift shop, and boutique.
After a culinary turn in Jackson Hole, Wyoming, and helping open Nashville's well-regarded Miel, Haywood County native Ashley Owens returned to her hometown to launch this steak-centric restaurant that offers elevated sides and stupendous desserts. A graduate of Western Carolina University's hospitality management program, Owens originally planned to partner with individuals to open restaurants, developing a professional staff and "watching how the business falls into place from the beginning of the vision … whatever that vision may be," she recalls. But now, her focus is on staying put and offering a steady menu of favorites for regulars, which was created with former partner and Chef Gary Cormann and is now executed by Chef Davon Culler, who earned his chops working his way through the ranks since Bourbon Barrel opened.
Warm Welcome - The grilled Firecracker Shrimp with creole-seasoned tomato sauce over smoked Gouda grits; The bourbon selection, displayed at the bar decked with bourbon barrels.
The interior is a minimalist composition of cream-colored tile floors, dark wood paneling against ochre walls, a mix of wooden chairs and tables, and wide booths of leather with brown and gold brocade banquettes. Arresting oil portraits of horses and black and white photography provide a touch of art.
The small bar at the far end of the dining room seems always crowded with regulars. Bourbon barrels stacked on a shelf above the liquor bottles create an appropriate backdrop for a litany of specialty bourbons and other liquors.
The crowd during my visit was equal parts date night, equal parts family outings. Servers, most of them male and clad in black, affably greet diners. As I settled in on a cold, drizzly evening, the Bourbon and A Bite starter proved a particularly appealing way to warm up from the inside out: it was the bourbon special of the day, served with a small plate of smoked candied bacon. The onion soup, with a gooey Gruyère-crouton melted topping, comes highly recommended, as well.
Spicy, grilled Firecracker Shrimp and fried green tomatoes with horseradish cream and salsa verde seemed an obvious choice, but I veered from my comfort zone and ordered "hot fried" oysters instead. Select shucked oysters, dusted in corn flour and lightly fried, were velvety smooth past a satisfying exterior crunch. Sweet-hot sauce and lashings of thick house-herbed mayonnaise were perfect counterpoints.
While Owens planned the restaurant as primarily a steak house with a large variety of cuts, a broader selection of dishes appeals to diners. The bone-in, orange-chili glazed double-cut pork chop, caramelized-onion smashed potatoes, and braised collard greens appeared on several tabletops throughout the evening. Applewood-smoked bacon surrounds the meatloaf. For vegetarians, Owens offers the crispy eggplant stack, with feta, roasted peppers, smoked mushrooms, and basil pesto over herbed quinoa.
I chose to have one of my roughly twice-a-year steaks here: the herb- and garlic-marinated, pan-seared Teres Major. It's a tender shoulder cut served with béarnaise butter and curious au gratin fries. These are au gratin potatoes baked, sliced and, yes, fried. A guilty pleasure indeed, they pleasingly absorb juices from the brightly acidic balsamic stewed tomato.
Meating Expectations - The double cut, orange-chili glazed bone-in pork chop; Bourbon-glazed bread pudding with vanilla ice cream.
Never a big fan of grits, I tested a smoked Gouda grits side dish. I'll take this version of grits over average mac and cheese any day. Creamy and cheesy, with only the subtlest hint of smoke, it is the perfect partner for sautéed Brussels sprouts and leeks as an additional side.
None of these dishes have been on my culinary to-do list, and yet, they were the divine collection of comfort on a plate this particular evening, and I would order them again in a heartbeat. Even the steak was cooked to my, perhaps, off-kilter preference of "medium with the slightest nod towards well."
Who eats dessert after a hearty steak dinner? Plenty of folks, it turns out, so I indulged as well. A traditional crème brûlée or bread pudding, with bourbon sauce that utilizes one of the many unique bourbons on offer, enticed; however, chocolate pot de crème with chocolate whipped cream atop captivated. The supple chocolate ganache-like custard had me swooning. The generous portion in a crisp white crock could easily serve two, but I relished every bite. Then I turned out into the dark, wet evening, mollified by the sweet simplicity of meat and potatoes, bourbon and chocolate in the best possible way.
The Draw: Affable service in a comfortable neighborhood steak restaurant that elevates on various fronts
The Drawback: Dark but unflattering recessed lighting
Don't miss: After the steaks, do enjoy the bourbons and dessert, particularly the chocolate pot de crème
Bourbon Barrel Beef & Ale
454 Hazelwood Ave., Waynesville
(828) 452-9191
bourbonbarrelbeefandale.com