Bounteous Beaujolais
Bounteous Beaujolais:
Check out a few of France's light and fruity vintages with staying power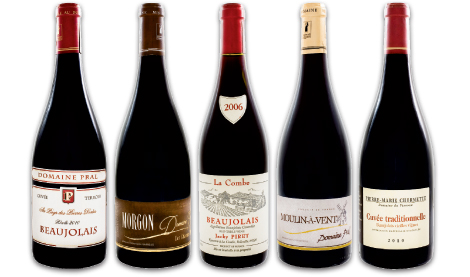 November is synonymous with the grand entrance of Beaujolais Nouveau. This light, almost transparent red is generally aged only seven to nine weeks and is joyfully consumed within a month of its release. In all the hype, the classic Beaujolais from a 35-mile corridor north of Lyon, is often overlooked. Made from the gamay grape, these wines are meant to be enjoyed after a ripening of years.
Domaine Marion Pral, Cuvée Terroir 2010  »  $16
The hand-harvested gamay grapes that went into this sustainably produced wine were grown on granite soils, which explains the mineral note that creeps in to accompany hints of blackberry and raspberry. Pair it with a fresh fruit tart or a mild curry.
Morgon (Domaine Marion Pral) 2010   »  $20
A woodsy magenta, this cru has a lively hint of white pepper coupled with the distinct flavor of grapes, and medium acidity. The fruit was harvested from 30- to 40-year-old vines, and aged in old oak. Baked salmon sprinkled with fresh fennel seeds is an excellent foil.
Jacky Piret, La Combe 2006    »  $15
Subtle and sweet, this bottle is reminiscent of pastry on the nose. With a depth and complexity lent by its years, this 2006 vintage brings layers of character (think ancient stone or brick) to the palate. Pair it with a rib eye or classic burger.
Moulin-à-Vent (Domaine Marion Pral) 2010     »  $20
Crafted from 40 plus-year-old vines, this cru is aged for nine months, yielding hints of spices, coupled with notes of red fruits and berries.
A Lyonnaise sausage would be a perfect dish to accompany this delightful bottle.
Pierre-Marie Chermette, Cuvée Traditionnelle, Vielles Vignes 2010      » $18
Hinting of stables, with leather and hay overtures, this old vine cuvée has notes of tomato and sunshine. Pair it with lighter meats such as pork or turkey, a spicy Cajun gumbo, or Mediterranean dishes.