Bold Blends
Bold Blends:
Celebrate autumn's flavors with red wines from around the world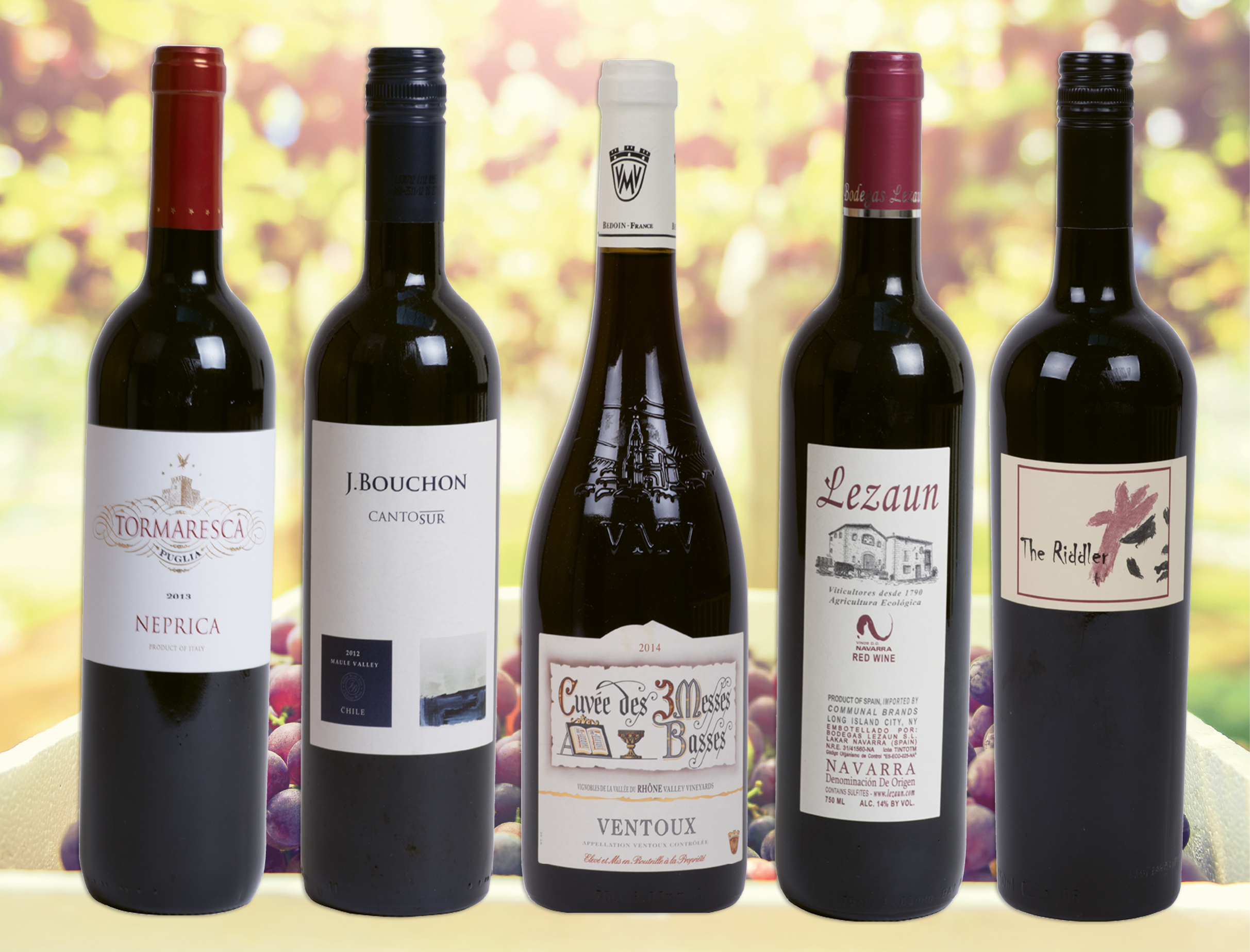 Crisp air and cool nights call for wine, and a full-bodied red draws family and friends together for tailgate picnics and evenings around the fire pit. Blended wine, or wine made from several different grape varietals, is an affordable way to explore complex flavors in one glass. Hunt Mallett, owner of Weinhaus in Asheville (www.weinhaus.com), says that "pairings with seasonal fall crops are easy for these wines, and their prices are easy on the pocketbook." Try his picks for five notable red blends that beckon the spirit of autumn. 
Tormaresca
Neprica
2012 » $14
For this full-bodied blend from Tormaresca estate in southern Italy, the Negroamaro grape is grown on the sun-drenched side of the Adriatic coast and combined with Primitivo and Cabernet Sauvignon. Flavors of dark red fruit and a dry finish make this a good wine to enjoy with roasted pork or Italian fare like pasta or steak.
J. Bouchon
Canto Sur
2012 » $14
Hints of spice, ripe fruit, and coffee bring a full fruit profile to this blend, which is made with Cabernet Sauvignon, Merlot, and Carmenere, the signature grape of Chile where this wine is produced. Mallett notes the
Ventoux
Cuvée des 3 Messes
2014 » $14
This Grenache Noir blend from Vignerons du Mont Ventoux winery in France's Rhone Valley is garnet in color and combines fruity and peppery aromas. Mallett suggests sweet potatoes and grilled meats as pairings for this "soft wine that's terrific with root vegetables."
Bodegas Lezaun
Tinto Navarra
2012 » $12
Mallett prefers this "fresh, young wine" for its compatibility with lighter meals like pizza. This organically grown Tempranillo blend from northern Italy is made with handpicked grapes and indigenous yeasts. He appreciates that the winery "lets the wine express itself" through traditional production methods.
Stratton Lummis
The Riddler
Nonvintage » $22
This garnet-colored Napa Valley blend reveals dark fruit flavors and the aroma of clove and cinnamon. Grapes include Merlot, Cabernet Sauvignon, Malbec, and other lesser-known varietals. "They have so many grapes in there," Mallett says. "Just like its name, they try to keep you guessing."
grape "gives the wine a vegetal feel or taste." Try it with roasted meats, braised short ribs, or aged cheeses.
RESOURCES:
Photographs by Julia Pethel