Blue Ribbon BBQ
Blue Ribbon BBQ:
Our social media followers recommend 10 of WNC's most beloved smokehouses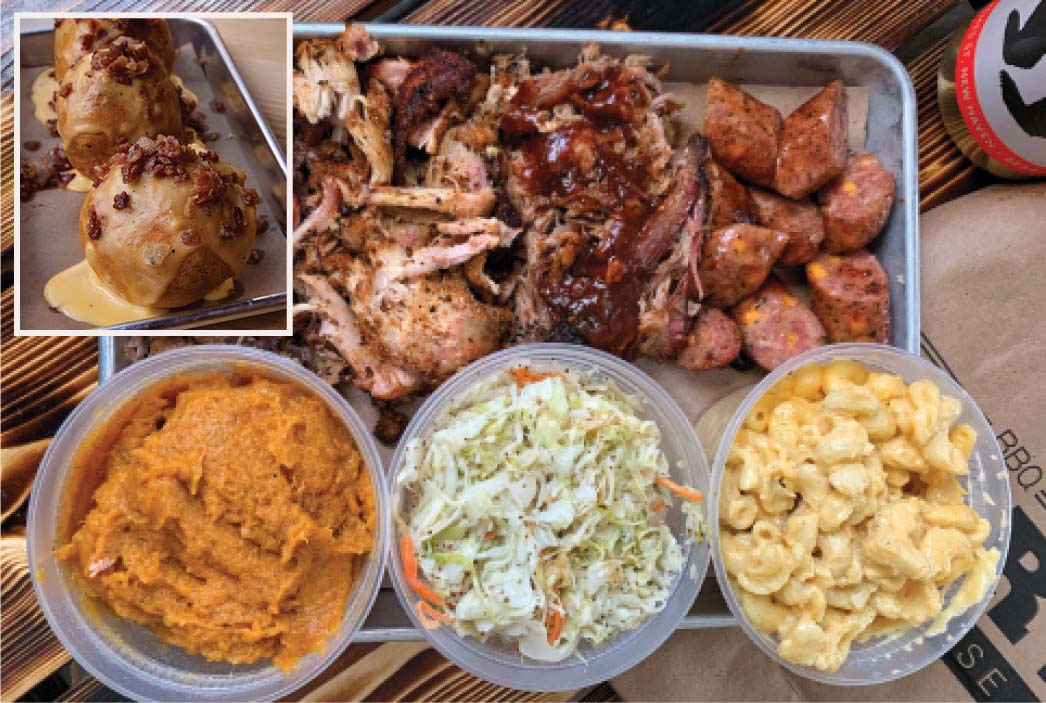 @stfurr08 says "Bear's Smokehouse (pictured above) is a new up-and-comer with really good food." Actually, this joint has been in business in Connecticut since 2013, but partners Cheryl Antoncic and Jamie "The Bear" McDonald opened their first NC smokehouse last fall in Asheville. They specialize in Kansas City-style barbecue pork while also serving ribs, brisket, turkey, chicken, sausage, and even vegan and vegetarian options. Antoncic says they're known for their brisket and burnt ends as well as (wait for it) their Bear Balls, sinful morsels of cornbread, mac and cheese, and pork, battered and deep fried, then topped with a house cheese sauce and bacon crumbles.
With locations in Boone and Banner Elk, The Pedalin' Pig "rocks," according to @tommytwhite. "Amazing BBQ and brisket!" This place draws on Texas and Carolina barbecue traditions, grinds its spices and makes its own rubs in-house, and smokes its meats over hardwood for 14 to 16 hours. According to pit master Preston Dishman, the ribs are a favorite. They're butchered into four-bone sections, which allows the smoke to penetrate more surface area. "We spritz them with apple juice to give 'em a little spa treatment," he says, which comes through in each tender, succulent bite.
(Left to right) The Pedalin' Pig; Smokey Mountain Barbecue; Bonfire BBQ.
In business since 1990, Smoky Mountain Barbecue in West Jefferson draws a steady stream of customers for its real-deal, no-frills meats and sides done right. They cook the whole hog for 20 hours and serve it with a vinegar-based house sauce, but do offer tomato-based and hot sauces as well. In addition to pulled pork barbecue and ribs, the menu spans the gamut, from country ham to fried chicken and all of the Southern fixin's.
When two of Asheville's James Beard-nominated chefs—Chai Pani's Meherwan Irani and Elliott Moss, formerly with The Admiral—teamed up on a restaurant venture in 2015, it was sure to gain attention. Helmed by Moss tending the pits and Irani behind operations, Buxton Hall BBQ has earned accolades from Bon Appétit, Southern Living, Condé Nast, and a slew of others. Serving Eastern Carolina-style meats and sauces, Buxton Hall's whole hog pulled pork plate and the fried chicken sandwich are popular go-tos.
(Left to right) Highlands Smokehouse; Smokey & the Pig; Luella's Bar-B-Que.
Bonfire BBQ in Asheville may have gained adoration from the host of Burgers, Brew & 'Que for its Pork Slam sandwich (piled with three cuts of pork and smothered in a triple-cheese sauce), but devotees also point to the brisket. Aside from traditional plates, the smoked brisket sandwich, called The Packer, comes packed with Brussel sprouts, apple butter mayo, and cheese sauce on Texas toast. And there's plenty more to choose from, including vegetarian options.
In business since 2005 and now with two locations in Asheville, 12 Bones Smokehouse gained nods for their tender butts and sweet racks and also for their jalapeño grits and Damn Good Corn Puddin sides. While the blueberry-chipotle and brown sugar baby back ribs are among the most popular items on the menu, those ready to branch out can go hog wild with the Hogzilla sandwich, packed with sugar bacon, homemade brat, pulled pork, and pepper jack cheese on a hoagie.
According to @the_perch_nc, Highlands Smokehouse in Highlands "has recently upped their game! The brisket, fried ribs, and pork belly burnt ends are worthy of overeating!" And @blurryprixprice says "Hands down the BEST!" This two-year-old establishment, which offers counter- and full-service dining and a full bar, is also believed to have the largest underground pit in the country, where the pit boss smokes the brisket for 14 hours. The smoked wings earn accolades as well.
(Clockwise from top left) 12 Bones Smokehouse; Buxton Hall BBQ; Boone's Howards Station.
In Fairview, Smokey & The Pig smokes all their meats with local hardwood. "We don't let any gas touch our meats," says a spokesperson. The pork is a standard go-to, the baby back ribs don't last long, and the smoked wings, which they only make on Saturdays, sell out quickly. But this joint gets rave reviews for their sides, including the sweet potato crunch, white cheddar mac and cheese, and corn and black bean salad.
From its two locations in Asheville and catering to vegetarians and carnivores, Luella's Bar-B-Que has been a local favorite since it opened in 2007. Menu favorites include the smoked wings and chopped pork barbecue, served with a Carolina vinegar sauce. The deviled eggs, mac and cheese, and fried okra are divine, while the barbecue baked potatoes, stacked with smoked meats and a variety of toppings, is a loaded savory treat.
Open since January 2020 near App State's campus, Boone's Howard Station smokes its pork and chicken, but serves them up in some not-so-traditional ways. The blueberry-chipotle barbecue waffles and barbecue tacos are extraordinary, while @yostoozy reports the smoked mac and cheese (which you can also get topped with barbecue) is "the best I've had anywhere." Traditionalists will find the ribs, pulled pork and chicken plates and sandwiches, and brisket (served with a Lost Appalachian black vinegar sauce) more in line with convention.
RESOURCES:
Courtesy of Bonfire BBQ; by Susan Renfro; Smokey & The Pig; by Hannah Gould; Luella's Bar-b-Que; by Liz Koh Photographs, opposite, Courtesy of Bear's Smokehouse; Smoky Mountain Barbecue; by Andrew Thomas Lee; Courtesy of The Pedalin' Pig