Blowing Rock's Bistro Roca
Blowing Rock's Bistro Roca:
Bistro Roca welcomes you "home" for dinner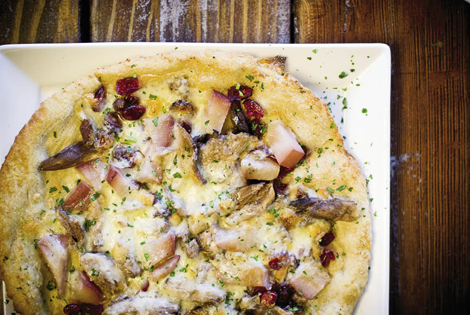 So tucked away is Bistro Roca, that we pass it twice while driving around Blowing Rock's Mayview Lake, just blocks from Main Street. Its seclusion hearkens to the days when the half-timber and stone cabin housed a gin joint in the basement called the 21 Club.
The building, which also houses the adjoining Antlers Bar (open since 1938), has seen several culinary incarnations over the decades, but none were as homey and apropos as Bistro Roca. The French-American-inspired bistro was envisioned as a haunt for locals by Blowing Rock innkeepers Cobb and Cindy Milner, along with partner and Chef Michael Foreman. "Guests feel like it's an extension of their home," says Foreman, a graduate of the Cordon Bleu campus in London. "It's a place where everyone knows you and you them."
Settling in, our rough-hewn table offers superb views of the dining room, which features high ceilings with crossed beams and a freestanding fireplace of the midcentury era. A glowing brick oven made of salvaged pieces from a remodel cooks the hand-tossed Neapolitan pizzas to a crisp perfection.
We follow what is a Bistro Roca tradition and delve into the highly touted appetizer of prosciutto-wrapped figs and shaved manchego. The figs bear the flavor of a mix of garlic, honey, rosemary, sherry, and beer in this dish.
As fanciful as the figs are, he doesn't shy away from classics like burgers or North Carolina pork loin chops, as thick as they come, bathed in bourbon glaze on a mountain of mashed potatoes. A trio of salads served family-style adds to the informality, while a special this evening presents dark, rustic mushrooms three ways—stuffed in ravioli, atop a salad, and mixed with herbs and potatoes. The richly satisfying meal proves as comforting as the company of locals who frequent this cozy establishment.
Bistro Roca
& Antlers Bar
Blowing Rock
143 Wonderland Trail
(828) 295-4008
$$$
www.bistroroca.com