Bites of Brevard
Bites of Brevard:
Sixteen-year-old Matthew Sharpsteen brings food tours to town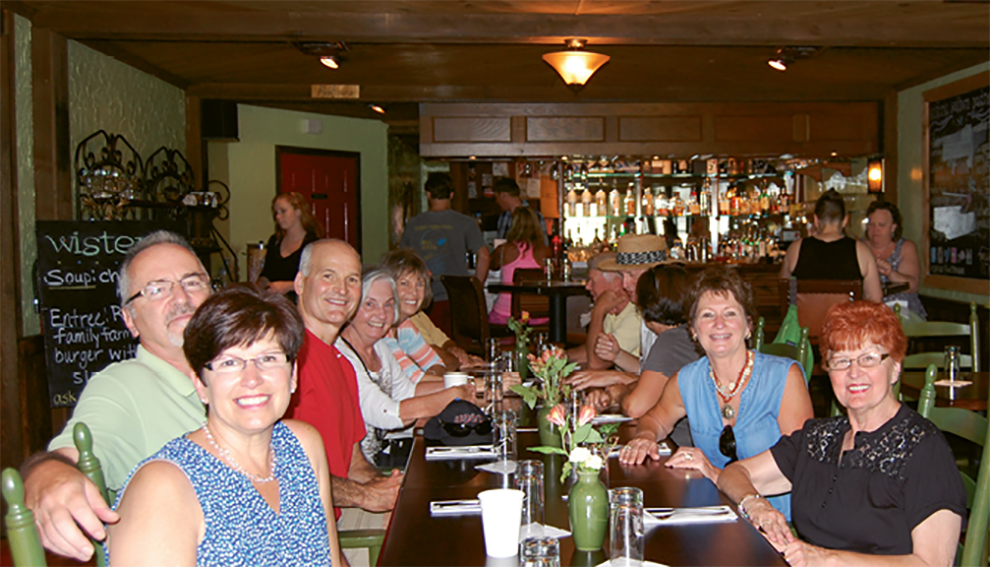 Less than a decade ago, parts of Brevard were a veritable ghost town. The town's industry fell when three factories shuttered in 2005, and that was soon exacerbated by the Great Recession. But in a heartwarming rendering of the little town that could, the folks of Brevard brought the community back to life with a smattering of stylish eateries that fostered a fledgling tourism scene. At the epicenter of Brevard's modern-day food tourism stands a surprising figure: 16-year-old Matthew Sharpsteen.
The antithesis of your typical teen, Sharpsteen doesn't greet you with a moody glare but with a genuine grin. The common high schooler's disdain for learning is replaced with a fervor for knowledge. And where most teenagers might grudgingly shuffle to part-time work, Sharpsteen operates his own business.
After a brief stint in Chicago, Sharpsteen returned to Brevard this spring, armed with a big-city idea: Brevard Bites Food Tours. A flexible homeschooling schedule, thriving 
relationships with local restauranteurs, his family's multigenerational passion for good food, and experience in tour guiding (he began volunteering with the unofficial Hunger Games Tour when he was just 10) made Sharpsteen an ideal proprietor.
Brevard Bites is the first and only food tour in Brevard, a town where the population grows from a sleepy 7,000 to 32,000 during peak summer months. "Basically, vacationing is eating in a place you've never been before," Sharpsteen explains when asked why food tours are booming in touristy towns across Western North Carolina. "If [tourists] start with a food tour, that immediately gives them an opportunity to try six different restaurants. … A vacation becomes so much more when you learn about the history and culture of the town and get to know some of the people behind the scenes who make the town what it is."
Sharpsteen escorts hungry tourists to some of the best eateries in Brevard, where they sample bite-size dishes and meet the chefs. The tours begin at Wine Down on Main, then venture to five other destinations, like Blue Ridge Bakery and Brevard Brewing Company. Sharpsteen is quick to offer gratitude to the restaurants with which he partners, and it's clearly a symbiotic relationship. "Over the last few years, the town has really come together to create something beautiful," he says with a toothy  smile. Indeed, it's a fulfilling pursuit for all. 
---
Brevard Bites - Tours are offered Thursday, Friday, and Saturday, 2-4:30 p.m., and custom tours are available.  $39 per person, tickets must be purchased online; (828) 565-2483; www.brevardbitesfoodtours.com
---
Food Tours Aplenty
Explore more of the region's culinary offerings through these other adventures
Eating Asheville Food Tour, Asheville - Asheville's oldest food tour operates seven days a week and explores the city's culinary neighborhoods, including downtown, West Asheville, and the city's newest 'hood, South Slope. www.eatingasheville.com
Creative Mountain Food Tours,Black Mountain - These tours—featuring traditional, pub, or dessert experiences—prove Black Mountain is an up-and-coming foodie hub. "We have introduced hundreds of guests to this hidden culinary gem who otherwise would have not know about it," says owner Sandi Eskew. creativemountainfoodtours.com
Asheville Farm to Table Tours, Asheville - Hitch a ride and explore the Asheville area's local agriculture. Tours take explorers to family farms in Madison and Buncombe counties, culminating in a delectable fresh meal. www.ashevillefarmtotabletours.com
Table Rock Food Tours, Morganton - "Table Rock Food Tours is unique in that we offer tours in small towns, off the beaten path," says owner Nancy Flango, whose tours explore Blowing Rock and Morganton. "We add an extra element of entertainment by including talks about local history and lore and even cultural stops at galleries and antique shops." tablerockfoodtours.com
HoneyBee's Custom Tours, Morganton - Indulge in a one-of-a-kind custom tour with this event service-turned-guided experience. You can choose from a variety of local wineries, breweries, and restaurants around Morganton. Hoof it on foot or hop on a shuttle—it's up to you. www.honeybeesevents.com
RESOURCES:
Photographs (4) by Julia Pethtel; (1) by Alison Lang; (Creative Mountain) by Max Cooper; (Farm to Table Tours) by Ann D. Stauss; (Table Rock Tours) by Nancy Flango; (top to bottom) by Tessa Waldrep, James Mayfield, Andrea le Roux, courtesy of Noble Cider