Banner Elk
Banner Elk:
The time's right to take in this small town's elevated offerings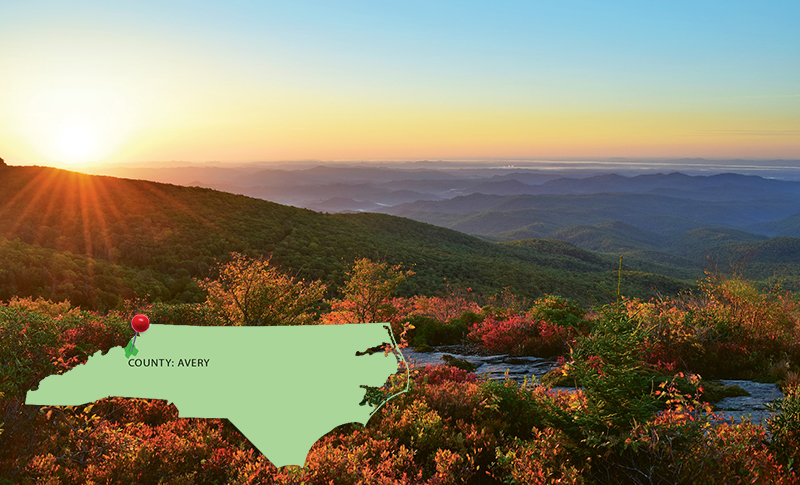 Fall's a perfect time to hit the road for Banner Elk, a town with fewer than 1,500 residents situated within lofty valleys and more-than-mile-high mountains gleaming with autumn color. For starters, it's the only place you'll find the annual Woolly Worm Festival. Taking place the third weekend of October, it offers live entertainment, food, and craft vendors, as well as the chance to watch a woolly worm race—the winning worm's stripes are "read" to predict the severity of the coming winter. Extend your visit to see why this season shines here.
The trails behind Lees McRae College campus are easily accessible from downtown.
GET OUTSIDE
Banner Elk's greenway trail is an ideal way to explore downtown. The path follows Shawneehaw Creek from Little Main Street Inn and Kettell Beerworks (the town's bona fide brewpub) through downtown via two loops in Tate-Evans Park. Wandering south past a tranquil mill pond to end along the super-scenic headwaters of the town's namesake Elk River, the greenway connects key businesses and points of interest, including the Banner House Museum. The home of Samuel Henry Banner, one of the town's early settlers, it offers guided tours showcasing 19th-century life in the High Country.
If just sitting outside soaking up cool, colorful scenery and a little vino is outdoorsy enough for you, Banner Elk Winery is a short distance from downtown, with a pond-side setting for sipping that's hard to match. Those seeking more active adventures will enjoy one of the East's largest zip line resorts, Hawksnest Zipline, just across the ridge in the town of Seven Devils.
Mountain Blue Gallery (right) is among the many walkable shops and eateries.
ARTSY SHOPPING
The area's only year-round professional theater group, Ensemble Stage, presents plays in Banner Elk's Cultural Arts Center, a historic stone landmark. It also houses BE Artists Gallery, a recently expanded showcase for local artists. A short walk away at the main intersection downtown is Mountain Blue Gallery, representing dozens of accomplished artisans. Nearby, Art Cellar Gallery features works and shows in multiple media.
If you're shopping for ski gear, you'll find options galore at Alpine Ski Center, Ski Country Sports, and Extreme Snowboard and Ski. One of the country's first snowboard shops, Edge of the World Outfitters, offers a wide range of outdoor products and local white-water trips. Just across the street, Base Camp B.E. is a "re-store" with choice secondhand outdoor gear.
(Left) Bodegas Kitchen and Wine Bar; (Right) Banner Elk Winery
EAT
Located just a few blocks from downtown, Bodegas Kitchen and Wine Bar has a Caribbean-inspired menu that also includes Sunday brunch. Banner Elk Cafe and Lodge is popular for diverse breakfast, lunch, and dinner options, in an attractive timber and log setting with indoor and patio dining.
With a four-course chef's tasting menu and wine pairings, nearby Artisanal offers upscale dining. You can also take in elevated Cajun fare at Louisiana Purchase and seafood and hand-cut steaks at Stonewalls.
(Left) Woolly Worm Festival; (right) A life-size bronze elk statue beautifies downtown.
STAY
Once a church, then the home of a noted local artist, and lastly, an inn for the past 100 years, the historic Banner Elk Inn offers pet-friendly rooms and cabin accommodations, as well as easy greenway access.
RESOURCES:
PHOTOGRAPHS BY (MOUNTAIN AND WOOLLY WORM FESTIVAL) TODD BUSH; (STATUE, BODEGAS kitchen, Banner Elk WINERY, DOWNTOWN, and Mountain Blue Gallery) Bryce Alberghini; (bridge) COURTESY OF LEES MCRAE COLLEGE