Banner Elk
Banner Elk:
Visitors flock to Banner Elk for the slopes, but locals keep the small-town identity alive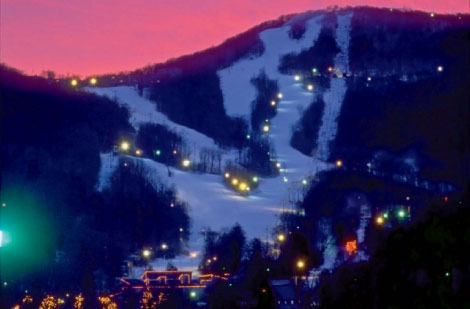 Ifelt like laughing when I stepped out of my car in Banner Elk. This is, after all, a town known for its abundant, early, and mythic (for North Carolina, at least) snowfall. And, sure enough, gray clouds followed me over the mountain. Nearby peaks practically groaned under thick, snow-filled clouds. Five minutes into my visit, they had me—a snow neophyte—scrambling for my coat.
During a Banner Elk winter, those clouds mean business in every sense of the word. Unlike nearly every other city in the South, this one-traffic-light town jumps to life when the snow arrives. Business marquees shout "Think snow!" and roads recently crowded with golfers, hikers, and mountain bikers are filled again, this time with skiers and snowboarders ready to rip.
"It's all about the ski slopes," says Samantha Jones, an Appalachian State University student working at Edge of the World, an outdoors outfitter. "This town is a ski resort in the winter. It's what you do."
Skiing is what has helped keep this town of about 900 year-round residents on the map. Planted in the middle of four well-known mountains—Hanging Rock, Grandfather, Beech, and Sugar—and close to the Blue Ridge Parkway and Appalachian Trail, Banner Elk boasts a laid-back vibe. Visitors and second-home shoppers are lured by the beauty and outdoor-adventure-packed area.
It makes the town's mottos "Just BE" and "Life's Just Better Here" a way of life.
Not surprisingly, it was the natural beauty that captivated the town's originator, Martin Luther Banner, when he came to the area in the 1840s. "On his way to Tennessee, he passed through and liked it so well that he decided to move his family here," explains Martha Beasley, whose family has lived in the town for generations and whose mother, Elsie Lowe Beasley, is writing her second book about the town's first families. Originally known as Banner's Elk, the town incorporated as Banner Elk in 1911.
Since then, like most other Western North Carolina towns, Banner Elk has had its growth spurts. But its character has remained intact, Beasley says. "Even though it's growing and we're surrounded by golf courses and other communities, it has kept its small-town feel," she says. Small can also mean rooms fill up quickly, so be advised and call ahead for reservations, no matter what the weather.
Stay
You can take in a view of town on the front porch at The Perry House Bed & Breakfast [153 Klonteska Dr., (828) 898-3535]. Owned by Robin and Mike Dunn, the circa-1903, five-room B&B has a homey feel, complete with black-and-white family portraits in the foyer. The couple also owns the nearby Dunn's Deli [134 W. Main St., (828) 898-6731], and guests can charge meals, including a host of sandwiches, to their rooms.
Most everything you could need in downtown is within walking distance, notes innkeeper Frank Wimbush who, with his wife, Karen, operates Azalea Inn Bed & Breakfast [149 Azalea Cr., (828) 898-8195]. Past the white-picket fence, you'll find six comfortable rooms named for flowers. Each morning, a full breakfast is served, and afternoon teas with scones and sandwiches are available by reservation.
Eat & Drink
Take advantage of the town's walkability and explore the diverse restaurant scene. With its Creole and Cajun-inspired menu and award-winning wine selection, Louisiana Purchase Food & Spirits [397 Shawneehaw Ave., (828) 898-5656] has won AAA's Three Diamond rating.
At Zuzda Tapas Restaurant & Bar [502 W. Main St., (828) 898-4166], chef and owner Doug Usko has developed a following for his creations, which include the quixotic escargot vol-au-vent ("Le piece de resistance!!!" the menu declares) and the Southern-style, applewood bacon-wrapped barbecue shrimp.
Stop by Banner Elk Winery [60 Deer Run Ln., (828) 260-1790] to enjoy a glass of wine by the fire in the tasting room and learn about the High Country's first winery. Tastings are offered Wednesdays through Sunday from noon to 6 p.m. Or make a date for Friday night, when hors d'oeuvres are served.
Play
"Banner Elk is so small," says native Elizabeth Rutledge, "but, in the whole county, there are a lot of things to do." That includes a ride on your choice of nearby peaks, including the slopes at Sugar Mountain Resort [1009 Sugar Mountain Dr., 1-(800) 784-2768], which bills itself as the largest ski area in North Carolina, with peak elevations at 5,300 feet.
Also, take a four-mile ride from Banner Elk to Ski Beech [1007 Beech Mountain Pkwy., 1-(800) 438-2093], a resort located in Beech Mountain, known as the highest incorporated town east of the Mississippi River. Freestyle riders can enjoy the new Terrain Park, scheduled to open this season. The park will feature boxes, jumps, and rails. But don't worry if you're new to the sport, there's a beginner section where you can hone your skills.
Shop
"Everybody kind of finds their niche," in Banner Elk, says native Nick Hodges, an employee at Bayou Smokehouse, Grill and General Store [130 Main St., (828) 898-8952]. This general store isn't filled with old-timey lotions and balms, but rather items paying tribute to Texas and Louisiana. There are cookbooks, kitchenwares, and T-shirts, but look for Bayou's own Buckin Berry and Texas Pecan barbecue sauces, each with a tiny gator claw swinging from the bottle.
If the hot sauces can't chase away the cold, head to Edge of the World [184 Banner Elk Hwy., 1-(800) 789-3343]. In the winter, ski and snowboard gear shares wall space with customer snapshots and posters of KISS and Cheryl Ladd. In the summer, the snow equipment makes way for life jackets and other whitewater gear—and all the people who make this a frequent hangout. You can arrange guided rock-climbing trips in Pisgah National Forest or rafting excursions on the Watauga River—all the more reasons to make a return visit in the warmer months.