Awl In
Awl In:
Meet the first responders behind a new local leatherworks store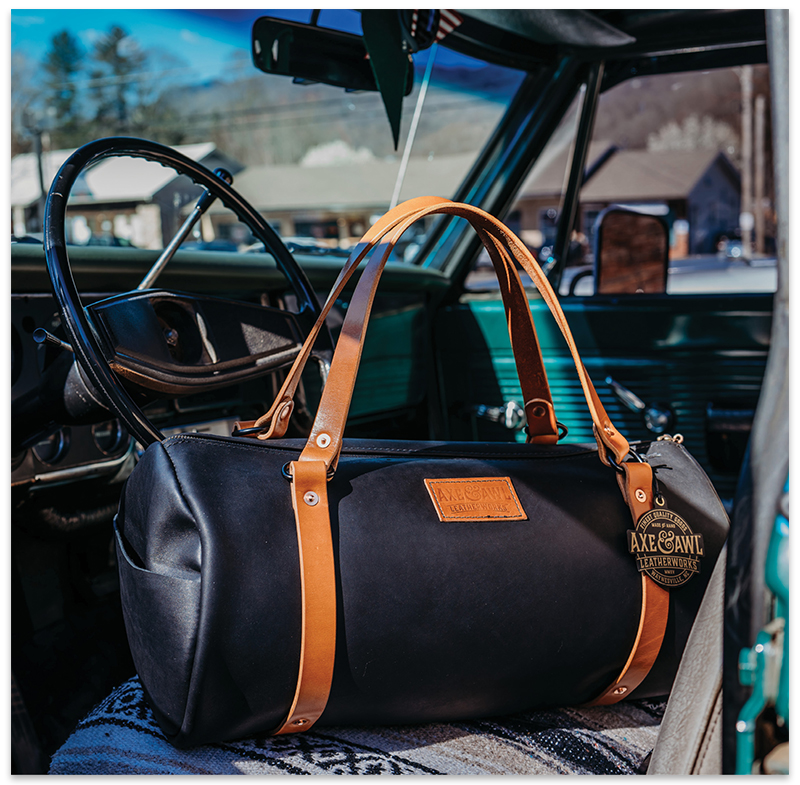 Besides belts, wallets, and other firefighting gear, leatherworkers at Axe & Awl also craft on-the-go duffel bags. 
Ask any fireman and they will tell you, a large part of their day is spent passing time. Between the alarms and daily agendas, there's a lot of time to kill. Which can be a good thing. Just ask former Asheville firefighter Spencer Tetrault. "Any fireman, anywhere in the country, they've got a second job," he says. "The pay just isn't great, but regardless of that, you have down time."
Spencer spent his down time learning to do leather work. What started as a hobby turned into a full blown career with a brick and mortar store when he and his wife Courtney opened Axe & Awl Leatherworks in Waynesville. 
(Left to right) SpencerTetrault, Courtney Tetrault & Travis Reagan; Leather chin straps and glove straps keep a firefighter's gear secured; Axe & Awl's handmade leather belts are sturdy and supportive.  Made-to-order sizing is available, and customers can swap out buckles as well.
"Around 2014 we had just had our second child, and we needed something else besides what we were currently doing—Spencer was a firefighter for the City of Asheville, and I was working as a paramedic in the ER at Mission," says Courtney. "He started learning the craft, taking it from the basics of where leather crafting started, learning hand stitching and making pocket wallets, and it just continued to grow. His coworkers at the fire department kept asking, 'can you make me this' or 'can you make me that'?"
DURABLE GOODS: Axe & Awl's handmade leather belts are sturdy and supportive; Radio straps and helmet bands are just a few of the leather goods available for firefighters.
Before they knew it, they were so booked up with customers—primarily firefighters looking for custom radio straps, mask bags, suspenders, and other equipment—that they had to quit their day jobs. "When we first started out, we weren't making goods for firefighters, we were just making wallets and small pocket goods for anybody. But as coworkers asked for things, that really became the bread and butter of what we did. We would go do a couple fire expos and trade shows every year and sell our wares, and ultimately Courtney was able to leave the hospital after about 10 years to be [Axe & Awl's] first full time worker," says Spencer.
After bringing on Courtney's brother Travis Reagan as another leatherworker, they were able to reintroduce their line of durable goods, offering handcrafted wallets and belts, as well as duffle, tote, and toiletry bags. All are sold from their artfully designed storefront in downtown Waynesville. 
ON SITE: Axe & Awl's storefront location opened in October 2021.
"There was a tannery here from the late 1800's until 1986 that employed hundreds of families in Haywood County. It was one of the driving factors that brought the railroad here," Spencer says of the late A.C. Lawrence Leather Company. "We wanted to highlight our region's history of leather in the store and share the story of how leather affected Haywood County."  
Axe & Awl
41 Depot St. Waynesville
(828) 246-0996
axeandawlleatherworks.com