Awesome Sauce
Awesome Sauce:
Perfect for fall, whip up this lush pesto recipe from Chiesa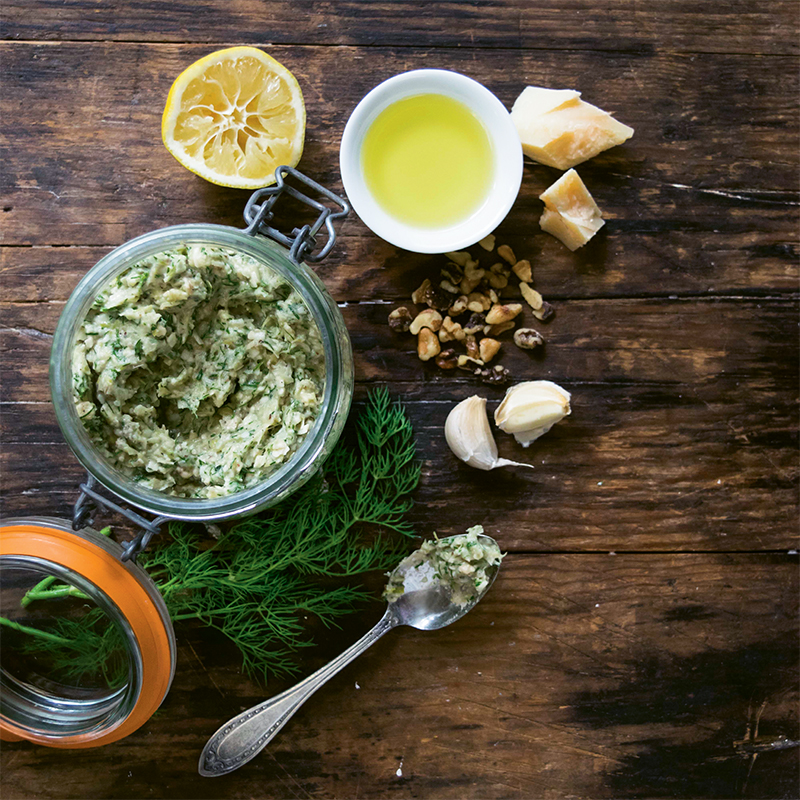 Made with sweet, aromatic basil, pesto screams summertime. Alternatively, Chiesa Italian eatery in Asheville serves up creative seasonal offerings year-round, including a leek and dill pesto that's a match for autumn's chillier temperatures. By replacing basil with mild, savory leeks, the pesto takes on a more complex herbaceous flavor with bright notes of onion, anise, and lemon. Pesto with leeks and dill "is absolutely delightful," says owner Newton Clark. "And using walnuts instead of pine nuts creates a thicker consistency for a heartier, more robust taste." Pair Chef Sam Greco's recipe with pasta, smeared on toast, or swirled into an otherwise everyday bowl of soup. Enjoy it at the upscale restaurant, which means "church" in Italian, or try it at home. Either way, it's a reason to revel in the season.
Leek & Dill Pesto
(serves 10-12)
1 large leek, white part only, sliced thin
1/2 cup dill fronds
1/4 cup walnuts
1 garlic clove
1/4 cup Parmesan, grated
1½ tsp. salt
1½ tsp. ground black pepper
Juice of 1 lemon
1 cup olive oil
Bring two cups of water to a boil in a small sauce pot. Add leeks and cook until tender, about two minutes. Remove from water and immediately plunge into a bowl of ice water to stop the cooking. Once cooled, transfer leeks to a food processor. Add dill, walnuts, garlic, Parmesan, salt, pepper, and lemon juice. Process until smooth, slowly adding the oil in a thin stream until integrated. Add salt and pepper to taste.
Chiesa
152 Montford Ave., Asheville
(828) 552-3110
chiesaavl.com