Asheville
Asheville:
Open for Business: From downtown to the south side, explore the town that keeps reinventing itself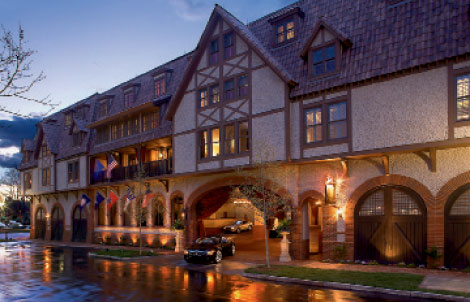 (Grand Bohemian Hotel)
Since the early '90s, an influx of hip bars, one-of-a-kind boutiques, galleries filled with all manner of art, trendy coffee shops, eclectic restaurants, and a bohemian pulse have made Asheville a culturally rich destination. While mainstays are still holding strong, a bevy of new businesses and attractions are cropping up despite the sorry state of the national economy. To keep you in-the-know, here are a collection of restaurants, shops, and accommodations that have recently opened and more that are soon to come.
---
EAT & DRINK
Sample a new brew, eat like a king for cheap, and find your new hot spot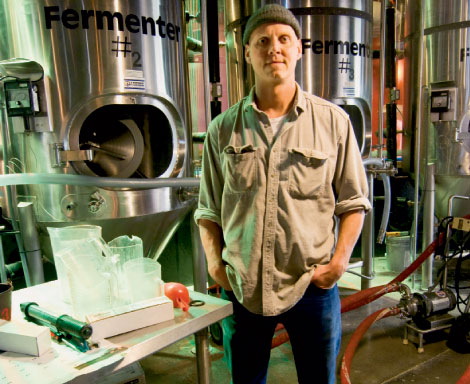 Lexington Avenue (shown above) & Craggie Breweries
Consider them early gifts; these two microbreweries are set to open in time for the holidays. Lexington Avenue Brewery houses a 7,500-square-foot restaurant, 100-capacity music venue, and a 44-bed hostel on the second floor. 39 N. Lexington Ave.; (828) 252-0212. You'll find the other new watering hole brewing suds on Hillard Avenue. Look for session beers, which are lower in alcohol, but fuller in flavor. 197 Hillard Ave.; (828) 254-0360
The Flying Frog Café
"We've had 25 years of success in Asheville, so we figured it's time to give something back," says Vijay Shastri, chef and owner of The Flying Frog Café, which serves an exotic menu of Eastern European and Indian cuisine. That was the inspiration behind The Frog's new more affordable menu, where prices range from $5 to $12. Entrées like the Maharaja Lamb or Roast Duckling are presented as half-size portions, which Shastri assures is still enough to satisfy. 1 Battery Park Ave.; (828) 254-9411; flyingfrogcafe.com
Universal Joint
With a striking blue, gabled roof and white painted-brick walls, this 1930s PURE gas station-turned-restaurant is West Asheville's newest joint. There's a small urban/contemporary dining area inside and a spacious patio out front. But this place isn't just about looks. The food, most of which is scratch-made, gets rave reviews. The burgers (there are nine on the menu, including the signature UJoint with cheddar, bacon, jalapeños, and ranch dressing) receive the highest praise. 784 Haywood Rd.; (828) 505-7262
Chai Pani
Chai Pani has turned classic Indian street food into inexpensive gourmet eats. Entrées are well-portioned, but the mélange of spicy, veggie-centric small plates are great for sharing. Try the samosas (pastries of spiced potatoes, ginger, cilantro, and mint with tamarind chutneys) or the thinly sliced pods of okra, deep-fried and tossed with chipotle and lime.
22 Battery Park Ave.; (828) 254-4003
Sazerac & Tingle's Café
Rye whiskey, absinthe, sugar, and bitters may be an old recipe, but it's the namesake cocktail at Sazerac, a new restaurant serving a French and New Orleans-inspired tapas menu in a setting that blends mid-century modern and French country décor. This hot spot also has a rooftop lounge. 29 Broadway St.; (828) 376-0031; ashevillesazerac.com. Sazerac owners Jack and Lesley Groetsch will be serving Southern comfort fare in time for New Year's Eve at Tingle's Café next door. The all-night diner will mimic the 1930s design of the original Tingle's Café, which occupied the same building for 32 years. 27 Broadway St.
Pack's Tavern
Located on the fringe of the much-anticipated Pack Place Park (opening this spring), this bar and eatery will give patrons a prime vantage point of the new green space. At 6,000 square feet, it's going to be one of Asheville's largest restaurants, with a 3,800-square-foot event space on the second floor. The tavern will offer 40 taps of local beer and a reasonably priced menu of tavern fare. It's set to open in early January.
20 S. Spruce St.
5 Walnut
You won't have trouble finding 5 Walnut, a funky wine bar expected to open in late November. "We're the anti wine bar," says bartender Kristin Welch, noting that the emphasis will be on affordability. The bar will serve a revolving selection of wines by the glass and bottle, as well as a menu of light bites created from local ingredients.
5 Walnut St.
Black Market Pizza
This soon-to-open West Asheville pizzeria has a few surprises in store, namely wild toppings. Located in the old Organic Mechanic building, this eatery will serve East Coast-style pizzas, with toppings such as soy meat alternatives, and even bananas. With local beers on draft and PBR by the can, Black Market Pizza is set to become another neighborhood gathering spot.
631 Haywood Rd.
Asheville Ale House
Fans are rejoicing over Asheville's newest sports bar, which opened in September. Conveniently located near McCormick Field for pre- or post-Tourist game toasts, Asheville Ale House has 19 HD screens and beer on tap and by the bottle. Nosh on fried pickles or calamari, share a mound of nachos, or dig into an Angus burger. They serve until 2 a.m. for the late-night crowd.
144 Biltmore Ave.; (828) 251-1153
---
SHOP
Peek inside several of Asheville's newest retailers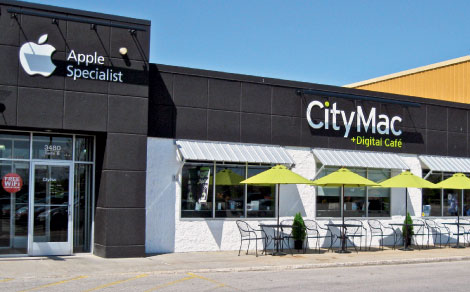 The Spice & Tea Exchange
This spacious downtown store, which opened in late September, is a tantalizing shop for gourmands. Wall-to-wall shelves contain hundreds of jars of exotic salts, sugars, teas, and spices priced by the ounce. Try one of the Exchange's custom blends, like the espresso steak rub or spiced cocoa, or make up your own and have it mixed at the blending station. The sweet and savory seasoning samplers—four to six 1.5 ounce bags of grilling spices and even a cookie baker's blend ($16-$24)—make great gifts. 42 Haywood St.; (828) 505-7348; spiceandtea.com
Fresh Produce
No, Biltmore Village didn't get a grocery store. This refreshingly colorful women's clothing shop sells a selection of pre-shunk cotton shirts, pants, skirts, cardigans, and more, all with an emphasis on comfort. Bright solids with casual designs are moderately priced ($25-$70). Accessories, including a collection of Vera Bradley handbags, are also in stock.
18 Lodge St.; (828) 505-7776
CityMac (shown above)
Asheville isn't short on coffee shops offering WiFi, but the soon-to-open CityMac is supplying the computer, too. "The entire store will be an Internet café," says Apple Specialist Kevin Donaldson; not to mention a retail outlet carrying all Apple products. And if you aren't sure how to use that new iPhone, the staff will offer free training and classes on all the products after the store opens in late November.
755 Biltmore Ave.
Featherheads Emporium
Featherheads took up residence on Haywood Street in early October. Here, you'll find Native American trappings galore. Owner Kimberly Sherrill sells quality pieces handmade by Cherokee and other tribes. Shop for beautifully carved prayer pipes, flutes and drums, decorative hand-painted feathers, fossils, and a large selection of jewelry and rare gemstones.
56 Haywood St.; (828) 251-1125
Parlour
Fashionista and owner of the funky vintage and designer clothing shop The Honeypot, Sarah LeGatski has just opened her newest store, Parlour. Formerly Hunk Clothing, a boutique for men, the downtown shop has kept a lot of the urban brands and European fits the store was known for, and added women's clothing and accessories. Drop in on a Saturday night through the end of the year to hear DJs spin.
9 W. Walnut St.; (828) 253-4044
Urban Outfitters
Asheville has long resisted corporate retailers' attempts to open businesses downtown, but like it or not, Urban Outfitters is moving in on the corner of College and Haywood streets. The shop sells fashionable duds for young hipsters. Look for doors to open January 28.
---
PLAY
More ways to stay entertained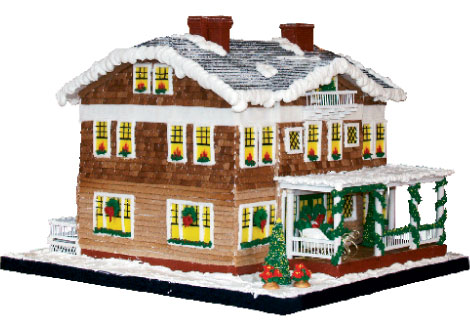 Asheville Legendary Inns Gingerbread Tour (shown above)
Every holiday season, the Grove Park Inn Resort & Spa hosts its gingerbread competition, drawing contestants from across the country who submit one-of-a-kind, sugar-coated wonders. This year, several B&Bs are adopting the gingerbread theme. On Saturdays from November 6 to January 2, this tour takes people by trolley to four historic inns, each decorated for the holidays and showcasing gingerbread houses that illustrate the holiday poem, "Twas the Night Before Christmas." Accommodation packages are available.
ashevillegingerbread.com; tickets start at $30
Funny Business Comedy Club
Asheville finally has an official comedy club in the lower level of the S&W building, below Steak & Wine restaurant. The intimate space, which seats as many as 200, houses a small stage and a bar serving drinks and hors d'oeuvres. Comedy Central's Lachlan Patterson will take the stage opening weekend, November 6 & 7, with many more names in comedy already on the schedule. 56 Patton Ave.; (828) 318-8909; ashevillecomedy.com
LaZoom Holiday Tours
If you haven't taken a ride around Asheville on the big purple bus, you're truly missing out. Owners and zany tour guides Jim and Jen Lauzon serve up Vaudeville-style theatrics and witty antics, spun into a tour that offers lots of oddball facts about the town. This is the first year LaZoom is offering special holiday tours. Visit their website for dates, times, and to purchase tickets.
(828) 225-6932; lazoom.com
The Altamont Theatre
Though this LEED-certified performance venue isn't expected to open until May, the intimate setting (it will seat up to 150) will showcase New York City professionals, as well as local talent, performing Broadway-caliber dance, theater, and musical entertainment. In the meantime, the Altamont Theatre Conservatory began offering classes this fall in acting, singing, and dance at another studio space in town.
18 Church St.; (828) 274-8070;
altamonttheatre.org
---
Biltmore Park
A blossoming south side neighborhood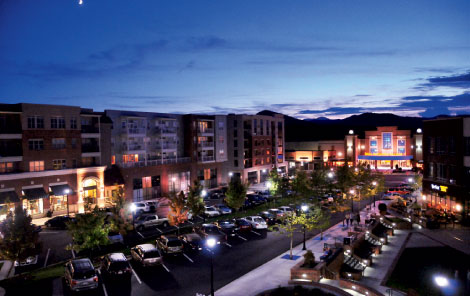 It may not be Pleasantville, but it looks a lot like it; manicured and idyllic. Located off Interstate 26 in South Asheville, Biltmore Park is an attractive planned community, complete with condos, apartments, and townhouses, a YMCA, movie theater, ample office and retail space, and a hotel. Construction began in 2007, and is now nearing completion. If you haven't visited, you're in for a treat. And if you haven't seen the park in a while, here's what's new.
Eat
While P.F. Chang's, Brixx Wood Fired Pizza, and 131 Main—serving a bistro-style menu of scratch-made American classics—already draw crowds, but two new restaurants are set to open this winter: Travinia Italian Kitchen and Hickory Tavern Grill & Raw Bar.
Shop
Several shops, like shoe boutique Talloni, outdoor retailer REI, and Barnes & Noble have put down roots, but many more are set to open soon. Stores like Dwellings, a contemporary home store, women's clothing shop Moda, and Bon Bébé, a posh children's boutique, are all coming to the park. And Echo Gallery recently opened, showcasing contemporary works by six River District artists.
Stay
The 165-room, LEED-registered Hilton Asheville Biltmore Park offers all the amenities one might expect from a swanky accommodation. It also boasts the region's largest solar hot water system. The in-house restaurant, Roux, serves breakfast, lunch, and a dinner menu featuring small plates like Drunken Prawns and Bistro Meatloaf Sliders. The hotel's salon, Sparrow Spa, is an instantly calming space, with light blue walls and bamboo floors. All natural products and a variety of treatments make it worth the visit, even if you don't stay the night.
43 Town Square Blvd.; (828) 209-2700; ashevillebiltmorepark.hilton.com
To learn more, visit biltmorepark.com
---
STAY
Fresh spots for R&R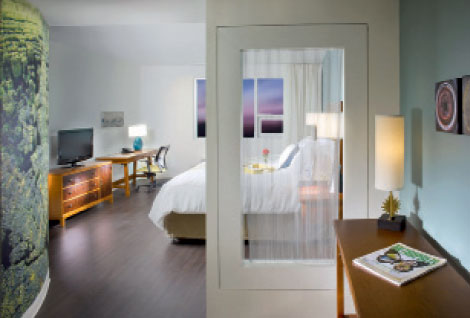 Hotel Indigo (shown above)
Towering 14 stories atop a hill on Haywood Street, Asheville's newest high-rise has a commanding presence, but also a sustainable building plan. The boutique hotel, set to open November 3, has 100 rooms, 12 condos for sale or rent, and a penthouse offering impressive views of downtown. The hotel's design is based on the Fibonacci sequence, featuring lots of curvature, and the décor reflects Asheville's colorful side with brightly painted rooms, contemporary furnishings, and local art adorning the walls. Look for specials in January as low as $129, but otherwise, rooms start at $140 and run upward of $200 a night.
151 Haywood St.; 1-(877) 270-1392;
hotelindigo.com
Grand Bohemian Hotel
Situated near the gates of Biltmore Estate and modeled after a Bavarian lodge, the luxurious hotel features a fine-dining restaurant, bar and lounge, spa, art gallery, and an elaborate ballroom/event space. Rooms are $160 to $400 a night. 11 Boston Way; 1-(877) 274-1242; bohemianhotelasheville.com
Just Moved
Find these thriving establishments at new locations
Sugar Momma's Cookies
13 Broadway St.; (828) 251-7277
Beans & Berries
165 Merrimon Ave.; (828) 254-6969
Just Ducky Originals
10 All Souls Crescent; (828) 277-7084
BlackBird Frame & Art
365 Merrimon Ave.; (828) 252-6036; blackbirdframe.com
Twice as Nice
Check out these popular joints at new second locations
Tupelo Honey Café (expected to open in February)
1829 Hendersonville Rd.; (828) 505-7676; tupelohoneycafe.com
Thirsty Monk
Gerber Village, 20 Gala Dr.; (828) 505-4564; monkpub.com
Spiritex
16 Haywood St.; spiritex.net