Artistic Expansion
Artistic Expansion:
The Bascom's new art center is set to bring out Highland's creative side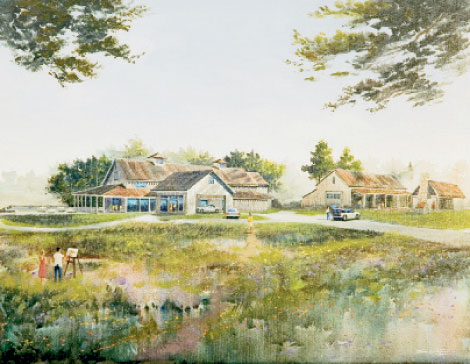 An $11 million, multipurpose arts complex may seem like an improbable project for a town with fewer than 2,000 full-time residents. But a tiny gallery with grand ambitions has pulled it off in Highlands, expanding from a room in the public library to a sprawling, six-acre campus downtown.
The Bascom, a nonprofit visual arts center, has held classes and exhibitions in its inconspicuous corner of Hudson Library since 1983. As demand for classes increased and the exhibition schedule quadrupled over the past few years, the board of directors decided it was time to expand. The new center officially opens with the Collective Spirits wine festival this month.
A 150-year-old covered bridge marks the approach via U.S. 64, leading to a 21,000-square-foot main building that combines an agrarian aesthetic with technological sophistication. The center's architecture incorporates a reconstructed, circa-1838 barn and houses gallery and event space, as well as indoor/outdoor classrooms with retractable exterior walls. With spacious lawns, conference rooms, covered terraces, and a coffee shop, The Bascom will also play host to private events and weddings.
"I see it as a community center and gathering place," says Bob Fisher, chairman of The Bascom's board of directors. "There are a lot of gated communities in Highlands, which breeds isolation." Fisher hopes the new facility can become a social hub for the town's seasonal influx of vacationers and second-home owners.
So far, 15 exhibitions have been scheduled for 2009, as well as an abundance of classes and workshops for adults and children. Several festivals are in the works, too, gathering visitors on the expansive meadow and the campus' meandering sculpture trail. As Fisher notes, "It's the closest thing to Central Park that Highlands will ever have."
—J. Hansbrough