Artful Excursions
Artful Excursions:
Set off on the new Blue Ridge Craft Trails to encounter a thriving heritage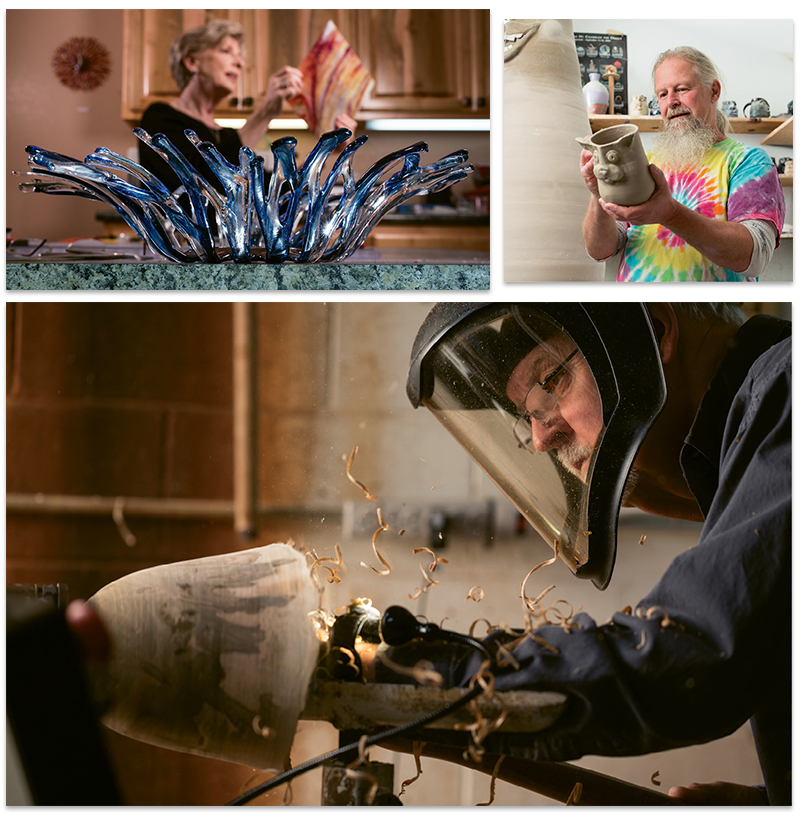 State of the Arts - When complete, the Trails will include access to some 200 points of interest, including the studios of glassmaker Karen Hovis (top left), ceramist Rob Withrow (top right), and sculptor Joe Waldroup (bottom).
"Come make an experience" is the clarion call of the developing Blue Ridge Craft Trails. Established by the Blue Ridge National Heritage Area (BRNHA), a partner of the National Park Service and creator of the two-year-old Blue Ridge Music Trails, the new initiative will ultimately span 25 counties in Western North Carolina, directing visitors to some 200 points of interest that showcase the region's craft heritage, including galleries, artist studios, and cultural sites.
Expanding on the work of HandMade in America—the lauded nonprofit that closed in 2015 after 20 years of helping WNC's small towns transition from textile mills and tobacco farming to economies boosted by the arts, culture, and history—BRNHA facilitates cultural tourism across the region. Through the Craft Trails' curated self-drive itineraries (found on the organization's website), visitors can step into artisans' studios to observe pottery-making or beading, for instance, as well as try their hand at creating an artistic object, suggests Leslie Hartley, the project coordinator. There are also recommendations for food, breweries, music, outdoor activities, and scenic views to round out an excursion.
Dream Weaver - Visitors can expect to encounter artists like Carmen Haynes (right), as well as pieces like this hand-built, raku-fired lamp (left).
While the entire Craft Trails system won't be complete until late 2020, the itineraries in Cherokee and Clay counties are ready for exploration. Interest points include the Murphy River Walk, Cherokee County Historical Museum (containing over 2,000 Cherokee artifacts and an interpretive center for the Trail of Tears), pottery studios, and several art and craft galleries, including those at John C. Campbell Folk School. Later this summer, the trail in Henderson County will be complete too.
Divided into the Far West, Central Mountains, High Country, and Foothills regions, or by the types of craft mediums, the Trails' easily navigable website goes into detail about the history of a particular craft, its relation to the area, and the locations where contemporary examples can be found.
"We've taken up the excellent work where HandMade in America left off," says Hartley. "We've conducted outreach and research in these communities to see how we make this sustainable beyond the initial phase."
With the desire for more authentic experiences only growing in the travel industry, searching out unique works of art and meeting the makers might be the most sustainable idea for craft heritage yet.
Craft a Route
Learn more at blueridgeheritage.com.