The Alchemist
The Alchemist:
Ralph Berger transforms scrap metal into designs of intricate beauty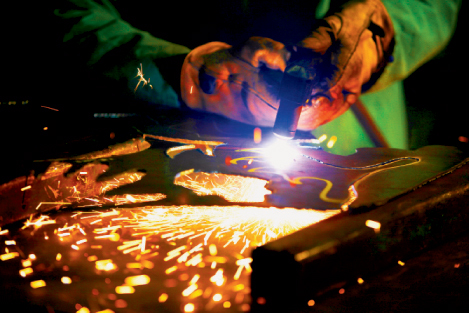 Metal melts at 2,400°F, and Ralph Berger's plasma torch burns at 40,000 degrees F. It makes a cut so precise that he can effortlessly draw shapes into a sheet of quarter-inch-thick steel. With the torch, a welder, and a heap of scrap metal, Berger puts on a safety mask and starts melting steel. Like an alchemist changing base metals into gold, he transforms scrap metal into sculptural creations that showcase labyrinth-like designs.
"My sculptures are a study of the relationship between positive and negative space," says Berger. "Everybody sees different things when they look at the clouds, and it's the same way with my art."
In Berger's hands, a harrow blade that once plowed a field becomes a work of art open to interpretation. His sculptures are reminiscent of the intricate, interlocking patterns of M.C. Escher's mathematical tessellations. "I've done abstract doodles for 20 years as a cathartic process," he says. "Now, these doodles become part of the metal."
Berger scours salvage yards to find his materials, collecting old tools and equipment such as wagon wheels and mill saw blades. One metal buoy was transformed into a garden sculpture, which his wife, Joyce, titled "A Toy for Sisyphus," after the Greek mythological character known for his persistence; a trait she admires in her husband.
After many years in retail and a brief foray into alpaca ranching, Berger was in a motorcycle accident five years ago that forced him to reconsider what he wanted to do with his life. A welding class in Morganton took him in another direction.
Noting the generous support he's received from his wife, Berger says, "The last two years have been the most successful of my life." His work now graces the North Carolina Arboretum, the Handmade House at The Ramble in Asheville, and several area galleries.
And through the light of his torch, Berger continues to shape his newfound career, and art, into a marvelous design.