50 Fall Fests
50 Fall Fests:
After so many months of cancelled and postponed events, the urge to get together and celebrate is palpable. Here to satisfy is a season of great gatherings bursting with local culture: From woolly worms, elk, and Bigfoot to mountain arts, food, music, and more, these festivals truly have something for everyone.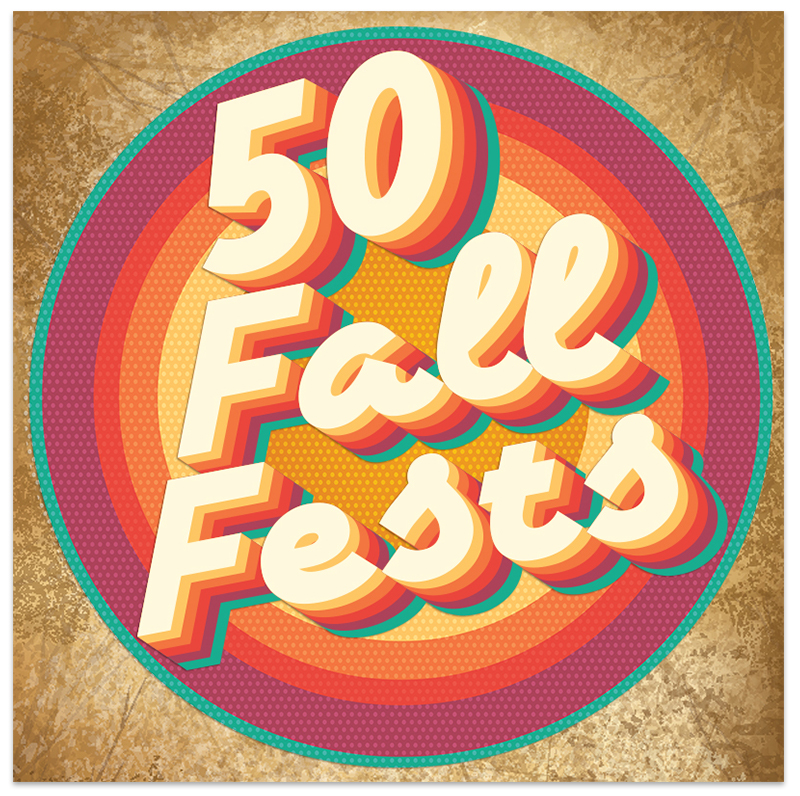 PLAN AHEAD! A word to the wise festival-goer: given the still-shifting sands of the pandemic, some festivals may adjust their safety protocols or even cancel or reschedule as their dates grow closer. Be sure to check event websites for the latest. Also, note that some beloved WNC events fill up well in advance. At press time, two standout fall festivals were already sold out of tickets: the September 10-11 Mountain Song Festival, in Brevard, and the November 11-14 Highlands Food & Wine Festival.
(Clockwise from top left) Mountain State Fair; Sporty's Brass Band at LEAF; & Land of Oz's Autumn at Oz Festival
CULTURE
Mountain State Fair
September 10-19 - Fletcher
The appearance of the gondola line, Ferris wheel, colorful tents, and stages at the Western North Carolina Agricultural Center is a welcome sight: it's a sure sign that fall has arrived and that the Mountain State Fair, now in its 27th year, is back in all its glory. This mega event, which includes the food, rides, and exhibits iconic to any fair, is also a celebration of the regional traditions. Heritage music and dancing, art exhibits, and livestock and agriculture competitions draw crowds of all ages. Ready to really go for it? On Friday, September 10, and Friday, September 17, unlimited rides all day will be available for $28 (plus gate admission). wncagcenter.org
Mountain Heritage Day
September 25 - Cullowhee
Western Carolina University's Mountain Heritage Day is meant to highlight the best parts of Southern Appalachia—art, food, music, history, and more. Over 100 vendors, a 5K race, a car show, and wagon rides will entertain all ages. With special events recognizing the influence of the Eastern Band of Cherokee Indians on Western North Carolina, this is a rousing tribute to the history and culture of the area. wcu.edu
Morgantonfest
September 10-11 - Morganton
Morgantonfest is really three festivals packed into one, as the streets of downtown close for merriment on three subsequent weekends, the last of which is September 10 and 11. Expect dancing, music, festival food, and craft vendors, along with a special Friday night performance by ACE Party Band. A cool twist: also at the festival, local middle and high schoolers will face off in the Morganton Arts Design and Engineering (MADE) Competition, bringing real life robots to the party. morgantonfest.org
Bigfoot Festival
September 17-18 - Marion
**The organizers have postponed this festival to May 27-28, 2022.** Since its inception in 2018, the Bigfoot Festival has proven one of the fastest growing events in recent WNC history. Created by Bigfoot 911, a local volunteer group that scours the mountains for signs of Sasquatch, the event is both highly entertaining and eminently educational. Researchers, investigators, and cryptozoologists—many claiming to have seen the elusive big and hairy one—are scheduled to speak throughout the festival. Attendees can participate in the Bigfoot calling and costume contests, listen to music by a local acapella group, and sample Bigfoot-inspired foods while perusing what's quite possibly the biggest selection of Bigfoot merch on the planet. marionbigfootfestival.com
Fiesta Hendersonville
October 2 - Hendersonville
**The organizers have postponed this festival until fall 2022.** With over 20 Latin American countries represented, Fiesta Hendersonville offers a spectacular display of culture as food, art, music, and dance cover blocks of Hendersonville's Main Street. Presented by Hola Carolina, this festival comes with the hope of honoring cultural diversity and raising cultural awareness in Western North Carolina through education and art. holacarolina.org
Land of Oz's Autumn at Oz Festival
September 10-12, 17-19 & 24-26 - Beech Mountain
Once a fully functioning theme park meant to bring the vision of L. Frank Baum's Oz books to life, the Land of Oz closed in 1980. But after years of vandalism and structural disarray, the magical place was partially restored and is now open select days throughout the year. For three weekends in the fall, the park welcomes visitors for Autumn at Oz. Food vendors, arts and crafts, and special performances commemorate the adventures of Dorothy and friends. Feel free to pull your best gingham dress or lion's mane out of the closet—dressing up as your favorite Wizard of Oz character is encouraged. landofoznc.com
Olde Time Antiques and Collectibles Fair
September 17-18 - West Jefferson
Halfway between Boone and the Virginia state line sits West Jefferson, a small town beloved for its landscape, history, and local artists. These artists will be joined by vendors from throughout the region at the Olde Time Antiques and Collectibles Fair. Antiques of all stripes are the primary draw, with local restaurants, businesses, and performers joining in the festivities. visitnc.com
Festival of Mountain Life
September 21 - Cherokee
All year, the Great Smoky Mountains National Park's Oconaluftee Visitor Center gives visitors a glimpse into the lives of early European settlers and Native American people who lived on the North Carolina side of the Great Smokies. On September 21, the center's Mountain Farm Museum and Mingus Mill will come especially alive. Educational displays and artifacts will demonstrate life on an early settler farm, as will demonstrations of activities such as blacksmithing, hearth cooking, and lye-soap making. greatsmokies.com
Blue Ridge Pride
September 25 - Asheville
Pride Month officially ended with the last day of June, but Asheville's Blue Ridge Pride will be holding its annual pride festival in the region's peak season. The festival, held in downtown Asheville's Pack Square, will align more closely with National Coming Out Day in October and features entertainment, vendors, a procession, and the 12th annual PRIDE pageant. blueridgepride.org
Old Timey Fall Festival
September 25-26 - Burnsville
To preserve and salute the deep traditions of Western North Carolina, the Old Timey Fall Festival invites heritage crafters from around the area to demonstrate methods passed down through generations. Singing, clogging, a car parade, children's activities, and a nail driving contest are all on the docket. theoldtimeyfallfestival.com
Hilltop Fall Fest and Soapbox Derby
October 4-5 - Rutherfordton
The "Go for the Gold" Soapbox Derby is the headliner at this multifaceted celebration, which also includes foot and bike races, arts and crafts, music and dancing, and special tours of sites on the NC Gold Trail. myrutherfordton.com
107th Cherokee Indian Festival
October 8 - Cherokee
After over a century of outings, the Cherokee Indian Festival has perfected its combination of agricultural show and carnival fun. Expect all of the usual county fair-style favorites, with the added elements of Cherokee culture and activities like stickball, archery demonstrations, and art and dance setting this event apart. visitcherokeenc.com
LEAF 49.5th Festival
October 14-17 - Black Mountain
Twenty-five years since its start, the LEAF Festival has drawn more than half a million "LEAFers" to its events. These people are drawn to (or back to) Lake Eden in Black Mountain to commune with the outdoors and with a community that values art, music, creativity, and rejuvenation. Cultures from 101 countries have been represented in LEAF's smorgasbord of arts and music, and workshops and panels allow attendees to connect with new forms of creative expression. Entertainment includes Tito Puente Jr., urban Angeleno Cumbia-Folk band Las Cafeteras, Cuban rising star Cimafunk, mandolinist Sierra Hull, slam poets, Unifire Theater, and the Asheville Hoops Troupe, to name just a few. theleaf.org
Punkin Chunkin Festival
October 15-17 - Brasstown & Hayesville
A chili cookoff, pie-eating contests, and air cannons and catapults stuffed with pumpkins—it's no wonder thousands of people flock to Hayesville for the Punkin Chunkin Festival. Attendees will witness world champions and local teams literally launch pumpkins into the air to see who can fire them the farthest. claychambernc.com
Pumpkinfest
October 23 - Franklin
Although Pumpkinfest's wide range of activities is not to be ignored, the true centerpiece of this event is the World Famous Pumpkin Roll. Starting at 9 a.m., anyone with a pumpkin can register to compete in rolling theirs down Phillips Street in downtown Franklin. If you're coming in from out of town, rest assured that you can buy your pumpkin at this 25th annual iteration of the festival. townoffranklinnc.com
Prohibition Hotrod & Moonshine Festival
FOOD & DRINK
Prohibition Hotrod & Moonshine Festival
September 24-25 - Wilkesboro
A century ago, in the midst of prohibition, modified cars were used to safeguard illegal moonshine away from the law. These speedy steeds became the first hotrods, creating a whole new kind of a rush, and some NASCAR drivers even got their start as bootleggers. Wilkesboro's Prohibition Festival celebrates the joint history of moonshine and fast cars—without the need to run from pesky police. The event features a car show open to vehicles dating from 1989 or before, moonshine tastings, a spirits competition, live music, and food. prohibitionfest.net
Asheville Greek Festival
September 25-26 - Asheville
The pandemic has made international travel difficult, to say the least, but just trade the Mediterranean Sea for the Blue Ridge Mountains, and you can still try the food of Greece this fall. Asheville's Holy Trinity Greek Orthodox Church invites anyone craving spanakopita, moussaka, meatballs, or baklava to show up and chow down through this two-day, socially distanced drive-thru affair. The menu, available on the event website, boasts five distinct Greek main plates with a host of sides and desserts. avlgreekfest.com
Spruce Pine BBQ and Bluegrass
October 2 - Spruce Pine
The town of Spruce Pine may be famous for its gem and mineral deposits, but the focus shifts to barbeque and classic American music for one day in the fall. Bluegrass, country, folk, and Americana performers take the stage throughout the day, with award-winning barbecue served up by veteran vendors. sprucepinbbqbluegrass.org
VeganFest
October 3 - Asheville
Veganism, health consciousness, and local community support are all pillars of VeganFest. Held in downtown Asheville's Pack Square, this occasion gives opportunities for plant-based and meat eaters alike to try new food, learn about local companies and products, and invest in a healthy lifestyle. ashevilleveganfest.com
Apple Butter Festival
October 9 - Bakersville
As the apple season lingers throughout fall, this festival salutes one of the sweetest ways to make the most of the harvest. Arts and crafts, music, food, and more will be available, not to mention apple butter—in myriad forms—itself. mitchellnchistory.org
Apple Harvest Festival
October 16 - Waynesville
Thirty-four years after it debuted, the Apple Harvest Festival now crowds the streets of Waynesville. Over 200 vendors line the downtown area, filling it with food, arts and crafts booths, music, and local apple growers. Guests will have no excuse not to try numerous varieties of apple-based treats such as cakes, ciders, and pies. haywoodchamber.com
Tryon Beer Fest
November 6 - Tryon
Raise a stein (or a few) at the 10th annual Tryon Beer Fest, a sudsy afternoon of live music, outdoor games, local food vendors, and of course, local brews. A distinctly Western North Carolina affair, the fest will also feature some familiar German Oktoberfest fare and other fitting traditions. tryonbeerfest.com
(Clockwise from top) An elk at home near Maggie Valley; Woolly Worm Festival & Flock to the Rock.
FLORA & FAUNA
Flock to the Rock
September 18 - Chimney Rock
In the midst of migration season, Chimney Rock State Park's overlook of the surrounding mountains, lakes, and forests provides a perfectly picturesque backdrop for birdwatchers. Guided hikes, hawk watching, live bird demonstrations, and family-friendly activities are all included in the day's offerings. chimneyrockpark.com
DuPont Forest Fest
September 25 - Brevard
Once used as a backdrop for key scenes in the book-turned-movie The Hunger Games, DuPont State Forest has a budding reputation for natural beauty that has spread across the nation. This year, in celebration of National Public Lands Day, the Friends of DuPont Forest will spice up this fest with new adventures, in addition to the traditional hikes and waterfall exploration, outdoor yoga, trail biking, horseback riding, and forest education. dupontforest.com
Smoky Mountain Elk Fest
October 1-3 - Maggie Valley
In 2001, 52 elk were released into the Great Smoky Mountains National Park in an effort to revive the population after hunting and a loss of habitat sent the species into regional extinction. Now, the herd's numbers have grown into the hundreds, and that is something to celebrate. Art, educational activities, and live music will take place throughout the weekend gathering at Maggie Valley Festival Grounds, with proceeds funding elk-habitat maintenance. visitncsmokies.com
Woolly Worm Festival
October 16-17 - Banner Elk
Onlookers cheering their favorite contender in a festival competition is not uncommon, but Banner Elk's Woolly Worm Festival strays from conventions when it comes to races. Instead of bicycles or runners, the contestants are thick, prickly caterpillars often colored black, brown, or rust red. Before these woolly worms start their transformation into Isabella tiger moths, legend has it that their color can predict weather. Hence, the winner of the festival's race will determine what to expect in the coming winter—colder or warmer weather, more or less snow. While the race is the most well-known part of the event, food and craft vendors and live entertainment aplenty fill out the bill. woollyworm.com
(Top) The Sam Bush Band performing at 2019's Merlefest; (bottom left) Bascom Lamar Lunsford Festival; (bottom right) French Broad Riverfest
MUSIC
MerleFest
September 16-19 - Wilkesboro
Founded in 1988, MerleFest honors the life and music of Eddy Merle Watson, son of Doc Watson, with an unparalleled festival experience. Today, it has grown immensely, while some aspects have not just remained the same but become tradition. Held on the Wilkes Community College campus, MerleFest features music the Watsons dubbed "traditional plus"—a mix of southern Appalachian and any other music that they felt up to playing. This year's lineup ranges from Americana to soul, bluegrass to blues. Sturgill Simpson, Tedeschi Trucks, Melissa Etheridge, and Mavis Staples are headliners this year, joined by dozens of other artists on 13 stages over four days. merlefest.org
French Broad River Festival
October 1-3 - Hot Springs
Hot Springs is a small town—with a population hovering around 500—but it's a popular mountain getaway that knows how to roll out the red carpet for outdoors-loving visitors. French Broad River Fest is not only heaps of fun, it starts with a river clean-up where volunteers raft through the local stretch of the French Broad to pick up litter. The festival offers a weekend of music (Town Mountain, John Stickley Trio, Empire Strikes Back, and more), camping, raft racing, and children's events. frenchbroadriverfestival.com
Bascom Lamar Lunsford Festival
October 2 - Mars Hill
The Bascom Lamar Lunsford Festival, the second oldest folk festival in Western North Carolina, is dedicated to the regional music and dance of Southern Appalachia. This year's festival will take place live and in-person at Mars Hill University after last year's virtual gathering. mhu.edu
Mountain Acoustics Luthier Invitational
October 16-17 - Burnsville
The rich history of acoustic music in the Southeast is based not just around playing and performing, but also the building of instruments. The work of luthiers includes both building and repairing stringed instruments, all done to perfection to ensure quality and sound. Guitars, fiddles, banjos, mandolins, and harps, made by specialists from West Virginia to Florida, will all be showcased at the Mountain Acoustics Luthier Invitational. mountainacoustics.com
Smoky Mountains Bluegrass Fest
October 23 - Maggie Valley
With a prime view of the North Carolina side of the Great Smoky Mountains at the height of autumn, Maggie Valley's Festival Grounds makes an ideal location for a fall bluegrass festival. This year's performers are Balsam Range, Kruger Brothers, and Unspoken Tradition. haywoodarts.org
(Clockwise from top left) A work by Mary-Ann Prack at Lenoir's Sculpture Celebration; Jason Janow Jewelry at Craft Fair of the Southern Highlands & a work by Brian Beam at WNC Pottery Festival.
ARTS & CRAFTS
Sculpture Celebration
September 11 - Lenoir
The sculpture capital of North Carolina sits just at the edge of the Blue Ridge Mountains, in Lenoir. Each year, a talented cast of sculptors—primarily from the Southeast—comes to compete with fellow artists. Thanks to the Caldwell Arts Council, which stages the celebration, if you're interested in browsing for your next favorite piece or want to admire striking sculptures while enjoying food trucks and music, this is the perfect place to do just that. caldwellarts.com
Art in Autumn
September 18 - Weaverville
Less than 10 miles from downtown Asheville, more than 100 artists will come together in downtown Weaverville to put fine art and local crafts front and center. visitweaverville.com
Art on Main
September 25-26 - Hendersonville
During the last week of September, the curves of Main Street in downtown Hendersonville fill with local and regional makers of fine arts and crafts such as fiber art, painting, photography, metal work, and jewelry. The artists, numbering close to 100, are juried throughout the weekend as thousands attend the festival. artonmainnc.com
Madison Heritage Arts Festival
October 2 - Mars Hill
Set on the campus of Mars Hill University, the Madison Heritage Arts Festival adjoins the Bascom Lamar Lunsford Festival. The latter celebrates the folklife of Southern Appalachia and the arts festival brings together arts and crafts with traditional local food options, including mouthwatering baked goods. marshillheritagefestival.wordpress.com
ColorFest
October 2 ›› Dillsboro
At ColorFest, 40 artists will demonstrate their skills firsthand. Witness the work of local creators while walking the streets of exquisitely quaint Dillsboro, and check out the vendors, local restaurants, and art galleries all geared up for the festival. discoverjacksonnc.com
Asheville Art in the Park
October 2, 9 & 16 - Asheville
On the first three Saturdays of October, local artists will gather in Asheville's Pack Square Park to showcase and sell their handmade works in glass, metal, jewelry, and ceramics. ashevilleartinthepark.com
Spruce Pine Potters Market
October 9-10 - Spruce Pine
Featuring plates, sculptures, mugs, vases, and other pieces, all made by hand, the Spruce Pine Potters Market hosts the premiere ceramic artists of Western North Carolina. Participating are both emerging and established artists, many of which are connected with the local Penland School of Craft. sprucepinepottersmarket.com
Tryon International Film Festival
October 8-10 - Tryon
Last year brought the most participation yet to the Tryon International Film Festival, and 2021 holds even more promise for filmmakers and watchers alike. Films entered into the competition will be shown at one of six venues, or at a bonus amphitheater where screenings include music, food, and drink. Both the opening gala and award ceremony are hosted by Tryon Fine Art Center and The Tryon Theatre, but throughout the weekend, the entire town participates in the festivities. tryoninternationalfilmfestival.com
Cashiers Valley Leaf Festival
October 8-10 - Cashiers
This lively event jubilates in both the coming of fall and local artisans. More than 100 vendors and merchants will be on hand, along with plenty of food, music, and a juried art show. villagegreencashiersnc.com
Church Street Art & Craft Show
October 9 - Waynesville
The event's name is a bit of a misnomer: Waynesville's Church Street did indeed once play host, but in the close to four decades the show has existed, it has outgrown its namesake. Now on Main Street, this juried show of art and handcrafted goods features woodworking, jewelry, candles, watercolors, and fibers. When not admiring the art and the demonstrations, attendees can also watch clogging or listen to Scottish pipes. downtownwaynesville.com
Mountain Glory Festival
October 9 - Marion
Whether driving through rural areas and marveling at the sight of painted quilt squares on barns or pondering the centuries-old tradition of quilt making, it's easy to connect quilts with mountain life. Marion's Mountain Glory Festival revels in the ongoing popularity of this time-intensive craft, despite the shift from works made from necessity to imaginative pieces of fiber art. Other elements of this festival such as handicrafts, festival food, and old-time mountain music celebrate creativity and life in a quintessential small WNC town. mtngloryfestival.com
Craft Fair of the Southern Highlands
October 14-17 - Asheville
After undertaking a four-day online fair in July, the Craft Fair of the Southern Highlands returns in person to cultivate a breathtaking array of fine crafts made and sold in the mountain region. The fair will fill both levels of Harrah's Cherokee Center in downtown Asheville. Works range in mediums, covering everything from wood to glass, fiber to metal, and much more. southernhighlandguild.com
Lake Lure Arts & Crafts Festival
October 16-17 - Lake Lure
There's no way that a day in the community surrounding Lake Lure could ever be boring: nestled in Hickory Nut Gorge, the town has the lake itself on one side and Chimney Rock State Park on the other. Still, with more than 90 craftspersons, at least 10 food vendors, and two full days of entertainment, this festival promises a particularly exciting experience. The free event also includes space for kids where they can play mini golf, sit for face painting, and more. lakelureartsandcraftsfestivals.com
Maggie Valley Arts & Crafts Fall Show
October 16-17 - Maggie Valley
In one of Maggie Valley's oldest and most well-attended events, attendees and artisans come together at the base of the Cataloochee Valley to marvel at handmade goods from across the Southeast. On top of the typical artistic mediums, the show features items ranging from soaps to wooden bowls, as well as a chainsaw art demonstration. maggievalleyfestivalgrounds.com
North Carolina Ceramic Arts Festival
October 23 - Asheville
Many mountain art shows focus on the longstanding customs of Southern Appalachia, but the North Carolina Ceramic Arts Fest pushes further. Conventional standbys such as sculptures, pottery, and jewelry are joined by tilework and a demonstration of raku, a Japanese style of pottery associated with tea ceremonies. All this, complemented by a fleet of local food trucks, will be centered in downtown Asheville's Pack Square Park. northcarolinaceramicartsfestival.com
WNC Pottery Festival
November 6 - Sylva
Forty master potters will gather at Sylva Bridge Park to display their handmade pottery as the leaves around them reach the peak of fall color. No matter the weather, Sylva's community will be open to all interested in exploring the world of pottery. wncpotteryfestival.com
RESOURCES:
Photographs courtesy of the festivals; photographs (Watson stage) by Devin Ulery; (Sam Bush band) by Gordon Burns; (Lunsford Festival) by Natural Craft Photography; (drummer) courtesy of French Broad River Fest; (Doom Flamingo) courtesy of French Broad River Festival; (Flock to the Rock) courtesy of Chimney Rock State Park; (Woolly Worm Festival) by Todd Bush; (Prohibition Hotrod & Moonshine, 2) by David Brown Photography; (Mountain Heritage Day) courtesy of Western Carolina University; (Punkin Chunkin) by Bob Walters; (Oz) courtesy of Land of Oz, NC; (LEAF) courtesy of LEAF; David Simchock