Delicious Pork Chops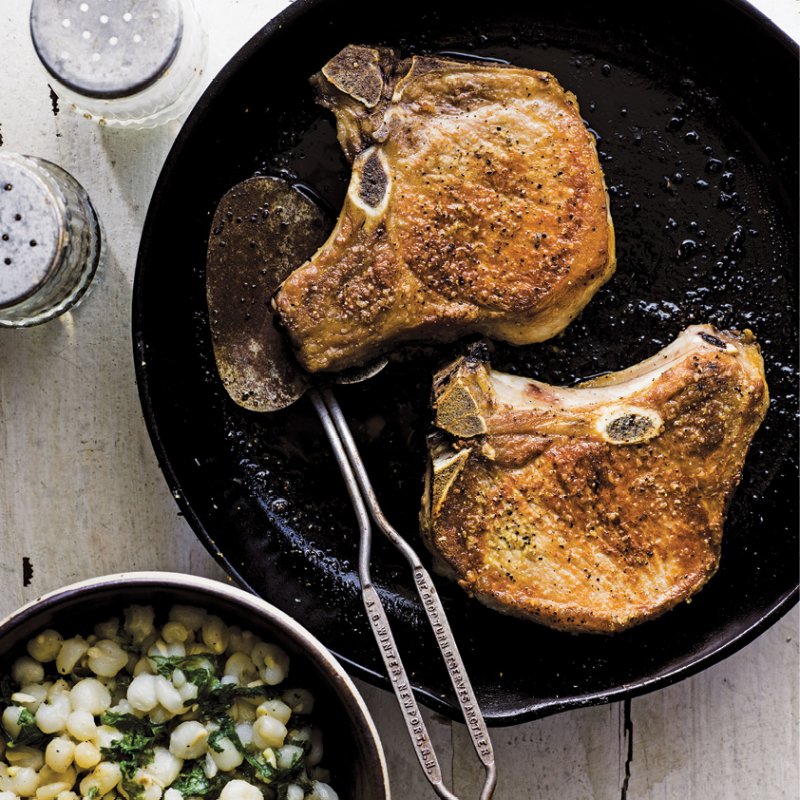 DESCRIPTION:
From Victuals by Ronni Lundy. © 2016 by Ronni Lundy. Photograph © 2016 by Johnny Autry. Published by Clarkson Potter, an imprint of Random House.
INGREDIENTS:
4 pork bone-in rib chops, 1/2 inch thick (about
2½ lbs. total)
Salt, to taste
Lemon pepper, to taste
Bacon grease, for cooking
1 Tbsp. all-purpose flour (optional, for gravy)
1 cup whole milk (optional, for gravy)
DIRECTIONS:
Season the chops on both sides with salt and lemon pepper, rubbing lightly so the seasoning adheres. In a wide, heavy skillet (of course cast-iron is best) on medium-high heat, melt enough bacon grease to just coat the bottom of the pan. You don't want a puddle—just a sheen.
Lay the chops in the skillet with a little space between them. If your skillet size demands, fry them in two batches rather than nestling them together. Turn the heat up a bit to brown the first side quickly, about 3 minutes. Flip the chops over and when they just start to turn brown, turn the heat down to low and cover the skillet. Let sizzle on low for 5 minutes. Then remove the lid, and if the chops need to brown a little more, turn up the heat and do it quickly. Transfer the chops to warm plates.
If you'd like to make a gravy, brown the flour in the skillet drippings over medium heat, and then slowly pour in the milk, stirring. Bring to a boil, stirring, and continue to stir until it just begins to thicken. Season with salt to taste, and serve immediately.