Dal with Greens & Country Ham
Dal with Greens & Country Ham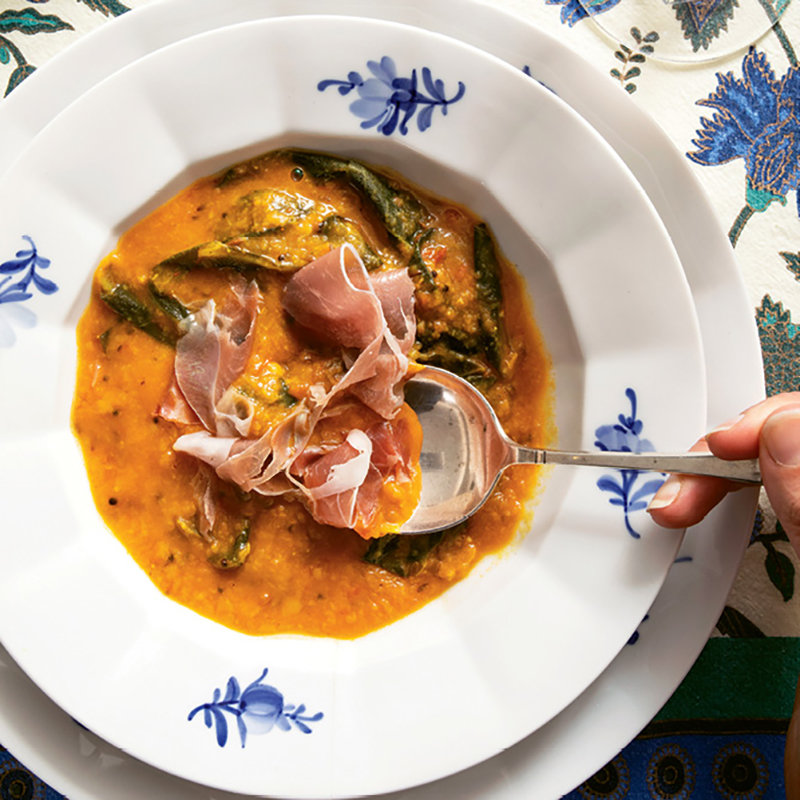 DESCRIPTION:
Courtesy of Chai Pani's Meherwan Irani
INGREDIENTS:
Dal
1 cup masoor (red) dal lentils
1 cup toor (yellow) dal lentils
4 cups water
2 Tbsp. kosher salt
1/4 cup red onion, diced 
1/4 cup tomato, diced 
Tadka
1/4 cup olive oil
1 tsp. mustard seeds
1 tsp. cumin seeds
2 whole red chilies
2 Tbsp. garlic, minced 
2 Tbsp. ginger, diced
1 Tbsp. turmeric
Greens
1/2 lemon, juiced
2 cloves garlic, chopped
1 bunch collards, destemmed & rough chopped
DIRECTIONS:
For Dal:
Combine both dals in a pot and rinse five to six times until water runs clear. Drain and then add water, salt, onion, and tomatoes. Cook until the lentils have completely broken down and are fully cooked, about 30 minutes. Add water if consistency is too thick; it should be like thin pancake batter.
For Tadka:
The key to Indian cooking is the tadka, or method of tempering spices that are then infused into the food. Heat oil on medium-high until shimmering. (To test, drop in one or two seeds; if they pop, the oil is ready.) Add the mustard seeds and let them pop for a few seconds. Add cumin seeds and red chilies and let cook for a few more seconds, then immediately add the garlic and ginger and cook until slightly brown. Add turmeric and cook for 30 seconds. Remove from heat until ready to pour into cooked dal. 
For Greens:
Bring a large pot of generously salted water to a boil. Add lemon and garlic. Drop the collards in and blanch until they darken and become tender, about six to eight minutes. Remove and strain.
Assembly
To finish the soup, pour tadka into cooked dal. Allow to cook for a few minutes and adjust the water for consistency (you don't want it too thick or thin) and salt for taste. Add blanched collards and stir on medium-low for three to four minutes. Garnish with shaved country ham and serve. 
Read more from A Friendsgiving Feast