Crispy Roasted Okra with Smoked rémoulade
Crispy Roasted Okra with Smoked rémoulade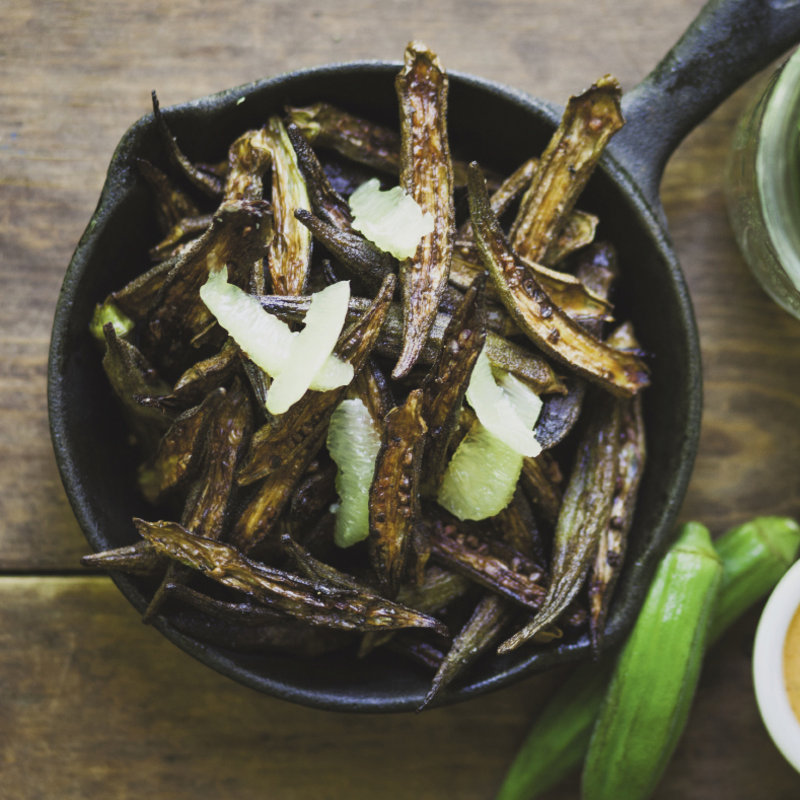 DESCRIPTION:
Long notes that, in traditional Appalachian cooking, few things were fried. So at Over Yonder, he goes easy on the deep-fried foods. Here, he offers his version of a fried okra appetizer.
INGREDIENTS:
1.5 lbs. fresh okra, stems trimmed close to the top & sliced in half lengthwise 2 Tbsp. canola or olive oil Kosher salt & ground black pepper, to taste 4-5 lemon wedges Smoked Rémoulade (Yields 4 cups) 1/2 cup green onion, sliced 1/2 cup celery, diced 1/2 cup parsley, chopped 1 garlic clove, chopped 1 lemon, seeds & rind removed 2 Tbsp. smoked paprika 1 tsp. salt 1/2 cup tomatoes, seeded & diced 3 Tbsp. yellow mustard 3 Tbsp. Creole or grainy mustard 4½ tsp. prepared horseradish 1/2 tsp. hot sauce Dash Worcestershire sauce 2 egg yolks 1/4 cup cold water 1/2 cup canola oil
DIRECTIONS:
Preheat oven to 450°F. Place okra, oil, salt, and pepper in a bowl and toss to coat evenly. Spread in a single layer on a sheet pan. Roast 40-50 minutes, stirring every 10-12 minutes, just until tips of okra turn dark brown. (If desired, remove from oven after 30 minutes and finish on an outdoor grill for a nice smoke flavor.) Serve with lemon wedges and smoked rémoulade. Smoked Rémoulade Place onion, celery, parsley, garlic, lemon, paprika, salt, tomatoes, mustards, horseradish, hot sauce, Worcestershire sauce, egg yolks, and water in a blender and blend. Slowly drizzle oil until emulsified into mixture. Keeps for seven days refrigerated. Serve with Long's crispy roasted okra.