Chamomile Panna Cotta with Herb Brittle & Lemon Zest
Chamomile Panna Cotta with Herb Brittle & Lemon Zest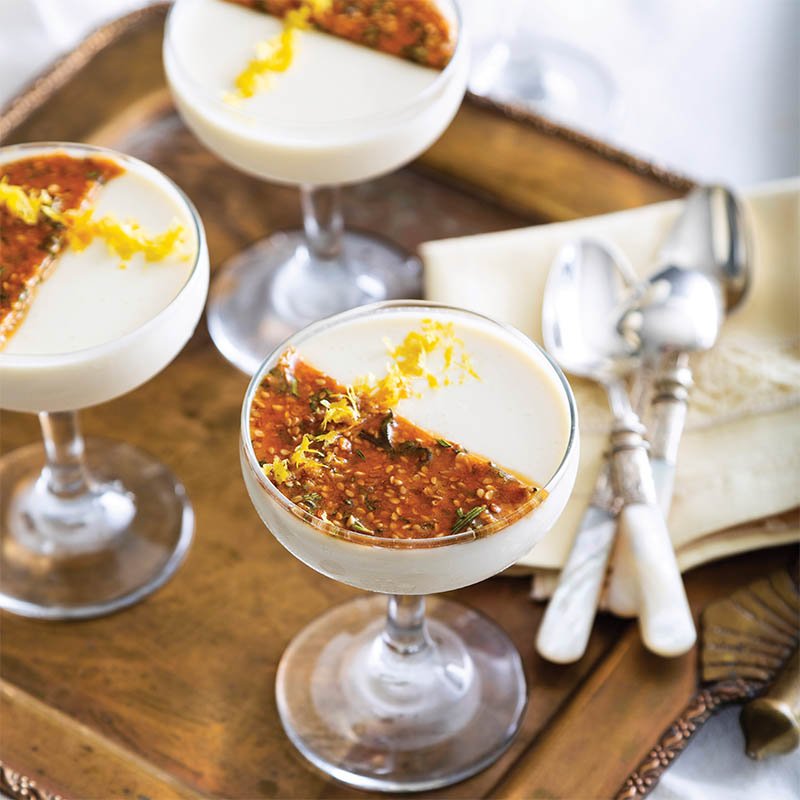 INGREDIENTS:
1 cup whole milk
1/4 cup loose chamomile flowers, or six bags chamomile tea
1/4 cup organic sugar
1/8 tsp. salt
1 Tbsp. (1 packet) powdered gelatin 
2 Tbsp. honey
2 cups heavy cream
DIRECTIONS:
In a saucepan over medium heat, warm the milk with the chamomile and bring just to a simmer. Remove from heat, and let sit for 15 or more minutes. Strain or remove and gently squeeze the tea bags after fully steeped. 
In a small bowl, whisk the sugar, salt, and gelatin together. Return the strained milk to the saucepan and add honey. On low heat, add the sugar mixture, whisking all the while. Stirring gently with a spoon, warm through, avoiding a simmer, until the sugar and gelatin have completely dissolved. Remove from heat and add cream. 
Stage your cups, ramekins, or small metal moulds. Carefully pour the panna cotta mixture into each serving dish. Skim any foam with a small spoon, and gingerly place uncovered on a cleared space in the refrigerator. If turning out after set, swiftly submerge the mould in very warm water, flip onto your serving plate, and lift one side to release the panna cotta.