Bay & Black Pepper Poached Pear with Ginger-Molasses Cake
Bay & Black Pepper Poached Pear with Ginger-Molasses Cake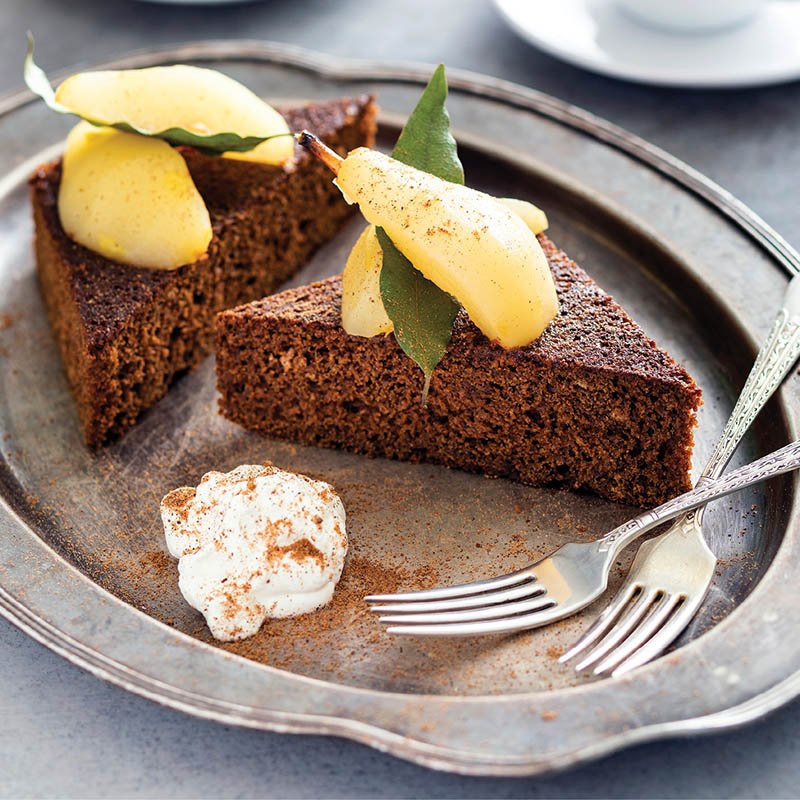 INGREDIENTS:
Poached Pears
2 cups white wine
2 cups water
Juice of one lemon 
8 bay leaves (if more than 1 year old, purchase a fresh bottle if possible)
2 Tbsp. black pepper, lightly crushed
1 cup sugar
1/2 cup honey
4 ripe, but not soft, pears 
Ginger-Molasses Cake 
3/4 cup butter
1 cup molasses or sorghum
2½ cups all purpose flour
1/2 cup whole wheat flour
3/4 cup packed brown sugar
1/2 tsp. salt
1 Tbsp. baking soda
1 Tbsp. ground ginger
1/4 tsp. nutmeg
1/4 tsp. cardamom
1/4 tsp. white (or black) pepper
2 eggs
1½ cups milk
1 tsp. vanilla extract
DIRECTIONS:
For the Poached Pears
Bring wine, water, lemon juice, and spices to a boil. Reduce heat and simmer for 10 minutes. After the poaching liquid is infused and aromatic, strain the spices, and add sugar and honey. Stir until dissolved. Remove from heat momentarily.
Tenderly peel pears, making sure to avoid bruising them. Cut lengthwise in half, leaving the stem on one side. Using a melon baller or small spoon, carefully scoop out seeds and blossom remnant at bottom. As soon as each is peeled, gently submerge in the poaching liquid and when all are in the pot, heat over medium, monitoring closely so that it does not reach a roiling boil. Allow the pears to simmer. After 5-10 minutes, depending on their firmness, gently use a spoon to flip each pear. Cook until a thin paring knife or cake tester easily pierces the pears. 
Remove from heat and, using a slotted spoon, transfer each pear to a bowl or baking dish. Pour remaining poaching liquid to cover the pears. Refrigerate overnight or for several days. 
For the Ginger-Molasses Cake 
Preheat oven to 350°F. Combine butter and molasses in a small saucepan, and warm until butter is melted. 
In a large bowl, combine flours, brown sugar, salt, soda, and spices, and whisk together. In a separate bowl, whisk together the eggs, milk, and vanilla. Whisk the milk mixture into the dry ingredients, followed by the butter-molasses mixture. 
Pour the batter into a 9x13-inch cake pan lined with parchment paper, or buttered and dusted with cocoa powder (flour will leave a white residue). Bake for 30-40 minutes, or until a tester comes out clean. 
Serve with poached pears warmed through and drizzled with a couple of tablespoons of poaching liquid and a dollop of whipped cream if desired.