Barbecue Spiced Trout & Smoked Tomato Butter
Barbecue Spiced Trout & Smoked Tomato Butter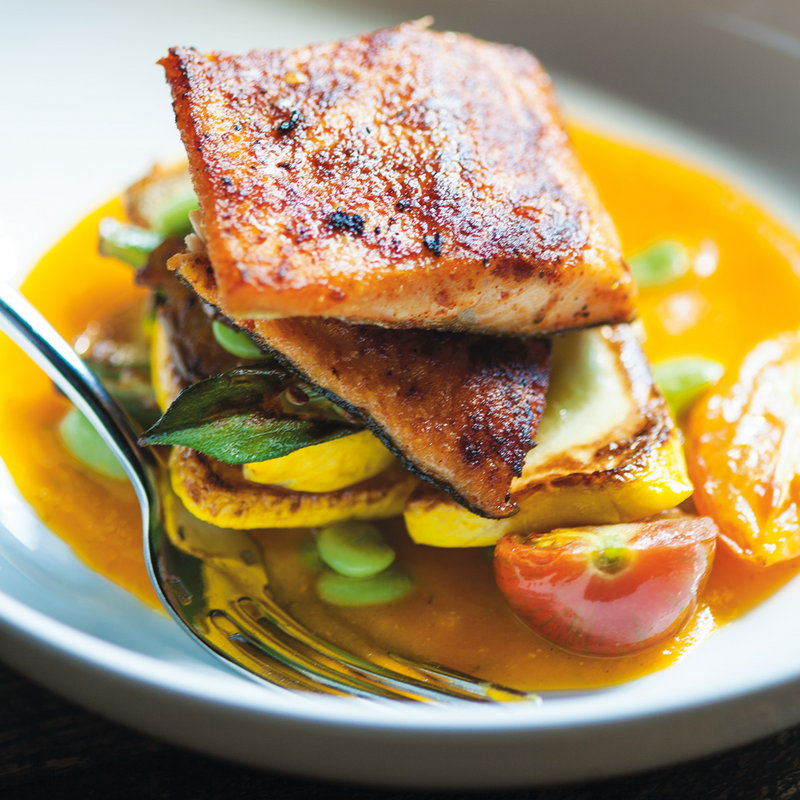 DESCRIPTION:
 Courtesy of Peter Pollay, Posana Cafe
INGREDIENTS:
2 lbs. yellow tomatoes
Barbecue spice, to taste
Salt & pepper, to taste
2 Tbsp. brown sugar
Hickory chips
4 cloves garlic, minced
1/4 lb. cold butter, cubed
3 lbs. patty pan squash
1 lb. butter beans
1 lb. oyster mushrooms
1 lb. heirloom cherry tomatoes
White wine for deglazing
6 Sunburst Farms trout filets
DIRECTIONS:
To make the Smoked Tomato Butter: Cut yellow tomatoes in half and season with barbecue spice, salt, pepper, and brown sugar. Using hickory chips in a smoker, smoke tomatoes until slightly cooked and juices begin to leak, about 15 to 20 minutes. (If you don't own a smoker, oven roast at 400°F for 15 minutes.) Using a blender, purée tomatoes with two cloves of garlic, salt, and pepper. Add butter and blend until combined. Set aside in a warm place.
To make the vegetables: Cut patty pan squash in half lengthwise and slice in half moons a quarter-inch thick. Bring a pot of water to a boil and blanch butter beans until al dente, about a minute or two, and then place in an ice bath to shock them. Cut oyster mushroom clusters into thick slices and toss with olive oil, one clove of garlic, salt, and pepper. Let marinate for 10 to 15 minutes. Grill oyster mushrooms until charred and aromatic. Allow to cool, then chop off stems and discard. In a pan, sauté patty pan squash with one clove of garlic, butter beans, grilled oyster mushrooms, and cherry tomatoes, deglazing with white wine and finishing with butter. Season trout filets with barbecue spice and sauté on medium-high heat until fully cooked, about five to seven minutes.
To serve, place sautéed vegetables in a bowl, top with trout, and drizzle with smoked tomato butter.