White Wheat Cake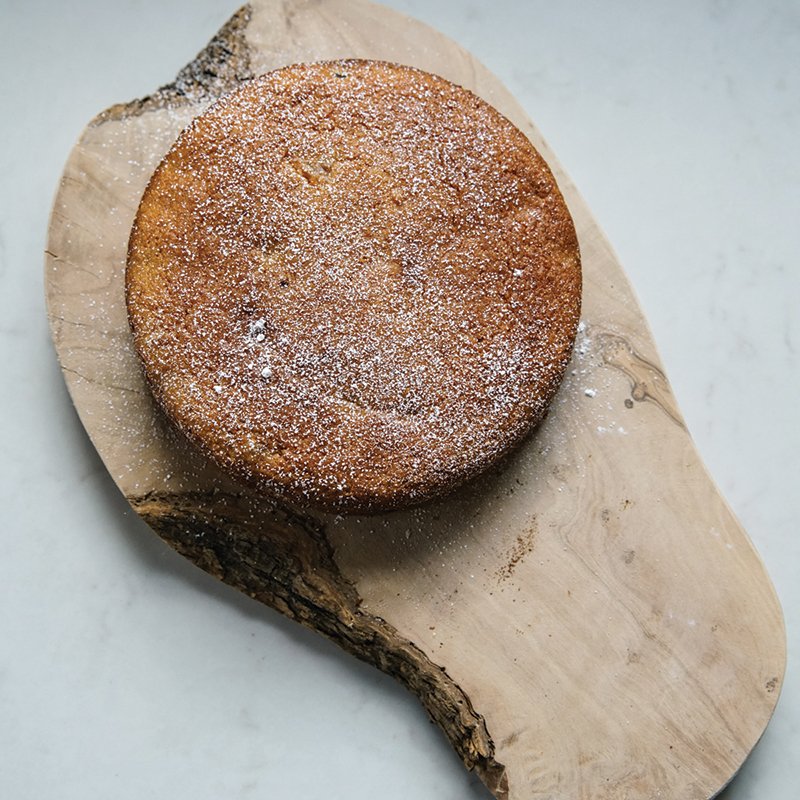 INGREDIENTS:
(Yields 1 7-inch cake)
1/4 cup + 1 tbsp. granulated sugar
1/4 cup unsalted butter
1 large egg, separated
2 heaping tbsp. apricot jam
3/4 cup whole white wheat flour
3/4 tsp. baking powder 
1/4 tsp. baking soda
1/8 tsp. fine sea salt  
1/3 cup buttermilk
3/4 tsp. almond extract
1/4 tsp. pure vanilla extract
1 1/2 oz. bittersweet chocolate (at least 60% cacao), coarsely chopped
DIRECTIONS:
Preheat oven to 350°F. Line bottom of 7-inch springform pan with parchment paper cut to fit, then grease pan and dust with flour, tapping out any excess.
In the bowl of a stand mixer fitted with the paddle attachment, cream sugar and butter on high speed until light and fluffy. Adjust to low speed and add egg yolk and jam, then increase speed and mix until fluffy.
In a medium bowl, sift together flour, baking powder, baking soda, and salt. Measure the buttermilk into bowl and stir in almond and vanilla extracts. Add flour mixture and buttermilk mixture to the butter mixture in two additions, mixing only until incorporated after each addition. Add chocolate and mix until just incorporated.
In a separate medium bowl, whip egg white until it holds stiff peaks. By hand, gently fold the beaten egg white into the batter, then pour batter into the prepared pan. Smooth the top with a spatula.
Bake until the cake springs back when you touch the center lightly and a toothpick inserted into the middle comes out clean, about 35 minutes.Remove pan from oven and place on a cooling rack. Allow to cool five to seven minutes before removing from springform pan. Cool completely on cooling rack before serving. Store covered in the refrigerator for five to six days.
Reprinted with permission from Southern Ground by Jennifer Lapidus,Copyright(c)2021c