Tomato Soup Three Ways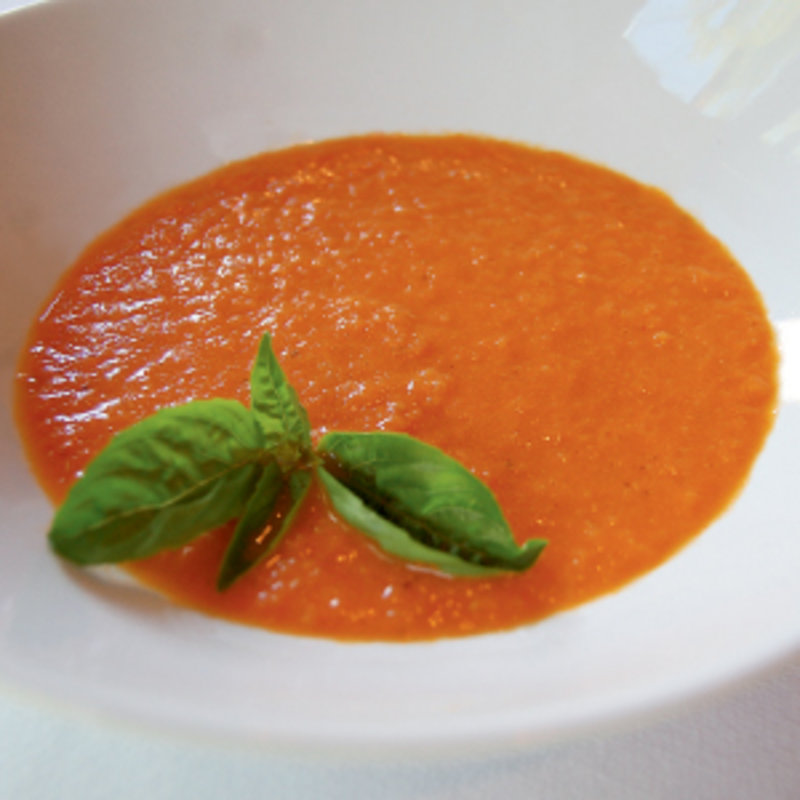 INGREDIENTS:
4 lbs. assorted tomatoes 1/2 cup vegetable oil 4 Tbs. blackening seasoning 2 yellow onions, peeled & wedged 3/4 cup sun-dried tomatoes 2 cloves garlic, finely chopped 3 cups water, or low-sodium vegetable or chicken stock   Salt & pepper, to taste Honey, to taste  
DIRECTIONS:
Prepare your smoker. If you don't have one, smoker boxes used with gas grills are an economical option. Zell typically uses hickory wood chips soaked in equal parts water and white wine. You can change the flavor of the food by modifying with different liquids and ratios. For example, use beer or a dark soda instead of water and wine and add aromatic elements such as bay leaves and peppercorns. Smoker should reach 225°F before beginning. Preheat oven to 350°F. Remove stem ends from tomatoes, wedge large tomatoes, or halve smaller ones. In a medium bowl, toss tomatoes with a quarter cup vegetable oil and three tablespoons of blackening spice. (Zell prefers Paul Purdhomme's Blackened Redfish Magic.) Place half the tomatoes on a sheet pan with a rack and smoke for an hour, or until tomatoes are soft and have a strong smoky aroma. Place remaining tomatoes on an unlined sheet pan and roast in oven for 20 minutes, or until soft and edges are slightly browned. In a medium bowl, toss onions with remaining vegetable oil and blackening spice. Roast onions on an unlined sheet pan, for 20 minutes, or until soft and edges are slightly browned. In a stockpot, combine roasted, smoked, and sun-dried tomatoes with onions and garlic. Add water or stock and simmer until sun-dried tomatoes are soft. Puree mixture in food processor until smooth. Adjust consistency by adding water or stock. Season with salt and pepper. Add honey a teaspoon at a time to balance acidity.