Through the Fires
Through the Fires:
Martin Luther King Jr. visited WNC at two turning points that shaped the civil rights struggle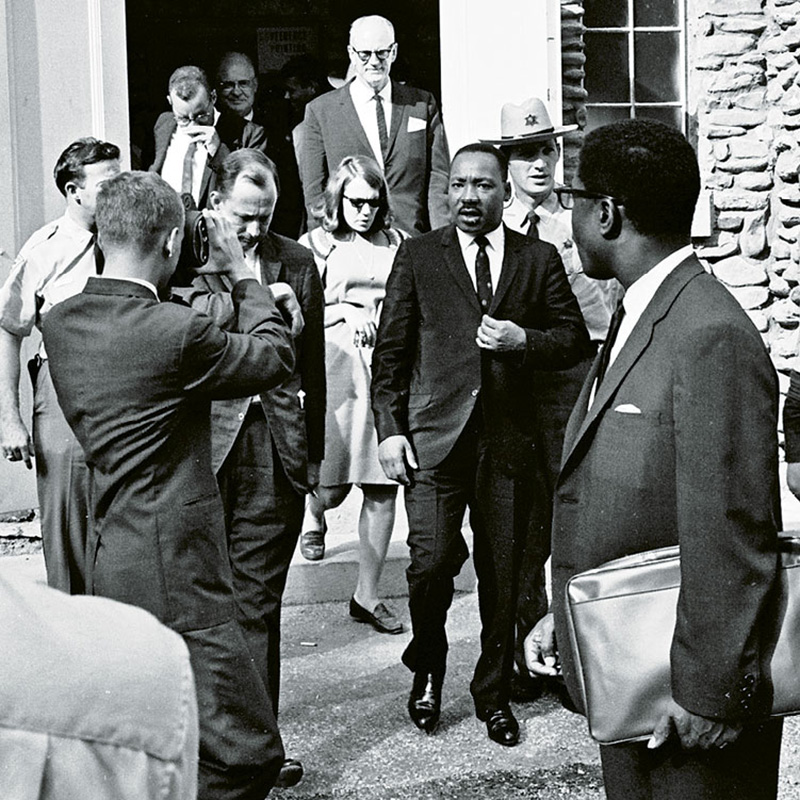 On January 18, 1964, Martin Luther King Jr. walked into the Oval Office with three of his closest aides to talk about racial problems and politics with President Lyndon B. Johnson. Then he headed to Western North Carolina to plan the future of the civil rights movement, which had made great gains but still had far to go.
A strategic retreat
President John F. Kennedy had been slain just weeks before, and at the onset of what was sure to be a politically charged election year, Johnson was pledging to move along landmark legislation that would secure essential rights for black Americans. Most Southern lawmakers were sure to resist the changes though, and meanwhile, the FBI, fueled by Director J. Edgar Hoover's intense animus for King, was striving in secret to debilitate King and his movement.
Seeking expert counsel and a breather from the heated political context, King retreated with his closest advisers to Black Mountain's In-the-Oaks, an estate owned by the Episcopal Diocese of Western North Carolina. Over the course of three days, King and other leaders of the Southern Christian Leadership Conference, the group spearheading the push for civil rights, weighed strategies for moving forward.
It was, in part, a respite, with time taken to commiserate about setbacks like the bombing at an Alabama church that killed four little girls and to celebrate triumphs like the March on Washington.
The retreat also offered some recreation, recalled one attendee, the Reverend C.T. Vivian, years later. While King rarely found the chance to unwind, "he did sometimes during those days in the mountains, believe it or not," Vivian told historian Ben Kamin in his book Dangerous Friendship. "There was still some relaxin' time and jokes and fun. We took breaks and played softball and Ping-Pong, cards, and Martin just seemed to let off a lot of steam." Still, the pressing work at hand was ever-present as the SCLC plotted its next steps.
Today, there is still no complete account of all that was discussed at the summit, in part because of King and his colleagues' growing concerns about official surveillance and repression. Harry Wachtel, a New York lawyer who was one of King's main confidants, "privately warned King to assume that government agents were infiltrating" the SCLC, historian Taylor Branch wrote in Pillar of Fire, the second volume of his three-part MLK biography. And indeed, declassified FBI documents have shown how Hoover's agents tapped confidential informants in an effort to discover the deliberations at Black Mountain, apparently to little avail.
While the SCLC leaders had planned to keep a tape recording of the proceedings, Wachtel "shuddered to think what hostile authorities might do with recorded proof" of what was discussed, Branch wrote. "Such things could be political dynamite, Wachtel told King, who finally agreed to have the recordings destroyed."
Still, Branch and other historians have been able to piece together the essence of what transpired at the retreat. Importantly, the SCLC leaders pondered how to counter allegations of Communist influence on their movement, and when, where, and how to mount new civil disobedience campaigns.
In some ways, King and his crew left Black Mountain with more questions than answers, but with a better understanding of the challenging terrain ahead. Departing to catch a flight at the Asheville airport, King and his entourage received a stark reminder of the risks he and the movement faced: An anonymous caller hinted the plane would be bombed.
At first, local authorities dismissed the threat. But just before departure, the pilot ordered an evacuation of the plane to check for explosives. Walking across the tarmac, King reminded his wife and aides of the stark reality.
"I've told you all that I don't expect to survive this revolution; this society's too sick," he said, according to his staffer Dorothy Cotton. When someone asked him not to say such words, he responded, "I'm just being realistic."
Appealing for nonviolence at Montreat
A year and a half later, King returned to the same area to preach at Montreat for the Presbyterian Church's annual Christian Action Conference. King's arrival at the gathering was delayed, as he had decided to visit the Watts section of Los Angeles to help diffuse the recent riots there.
When King made it to Montreat on August 20, 1965, he found the center heavily guarded by sheriff's deputies and state troopers: The FBI had reported a local death threat from someone claiming he was prepared to shoot "that S.O.B. who is visiting Montreat." Buncombe County Sheriff Harry Clay told the press that "violent hate groups have planned demonstrations and law-breaking acts at this gathering."
(In fact, a faction within the Presbyterian leadership had itself pushed to keep King away from the conference, but failed in a 311-120 vote before the church's general assembly to rescind the invitation.)
Perhaps because of the law enforcement presence, there were no incidents at Montreat, aside from some anti-King literature that was distributed. A crowd estimated at 2,500 amassed to hear King's sermon, which not only repeated his pleas for racial justice but also turned attention to America's growing military intervention in Vietnam. "In the past, the church has been too slow to condemn war," he said, spreading his philosophy of nonviolence to the international arena. "Something keeps telling me, 'Thou shalt not kill.'"
Less than three years later, King met a violent end in Memphis, but his ideas lived on. Last August, the Montreat Conference Center hosted a celebration and teach-in, Dr. King's Unfinished Agenda, to mark the 50th anniversary of MLK's Montreat address. U.S. Representative John Lewis, a contemporary of King's in the movement, was the keynote speaker.
"To come here, where Dr. Martin Luther King walked and talked and spoke and preached, it's almost too much," Lewis said. Lewis praised the progress America has made on racial justice matters since the 1960s, but noted, as King surely would have, that "there's still a lot of work to do."   
RESOURCES:
Photograph by Ewart Ball, courtesy of the Presbyterian Heritage Center